Sales Have Ended
Registrations are closed
Thank you so much for your interest in attending one of the workshops offered by Tu & Motherkind's - Parenting in a Pandemic. We've had an overwhelming response to the workshops and if you were unable to attend, you can however connect with the facilitators and get key takeaways from the workshops which will be available on social media. #ParentinginaPandemic #tuBaby Zoe Blaskey: Instagram @motherkind_zoe; www.motherkind.co Dr. Emma Svanberg: Instagram @mumologist; www.mumologist.com Dr Nneka Ikeogu: Instagram @mellownest.mindful.parents; www.mellownest.co.uk You'll also be able to follow along on social media using #ParentinginaPandemic #tuBaby
Sales Have Ended
Registrations are closed
Thank you so much for your interest in attending one of the workshops offered by Tu & Motherkind's - Parenting in a Pandemic. We've had an overwhelming response to the workshops and if you were unable to attend, you can however connect with the facilitators and get key takeaways from the workshops which will be available on social media. #ParentinginaPandemic #tuBaby Zoe Blaskey: Instagram @motherkind_zoe; www.motherkind.co Dr. Emma Svanberg: Instagram @mumologist; www.mumologist.com Dr Nneka Ikeogu: Instagram @mellownest.mindful.parents; www.mellownest.co.uk You'll also be able to follow along on social media using #ParentinginaPandemic #tuBaby
Parenting in a pandemic: four free workshops to support new & expectant parents from Tu x Motherkind
About this Event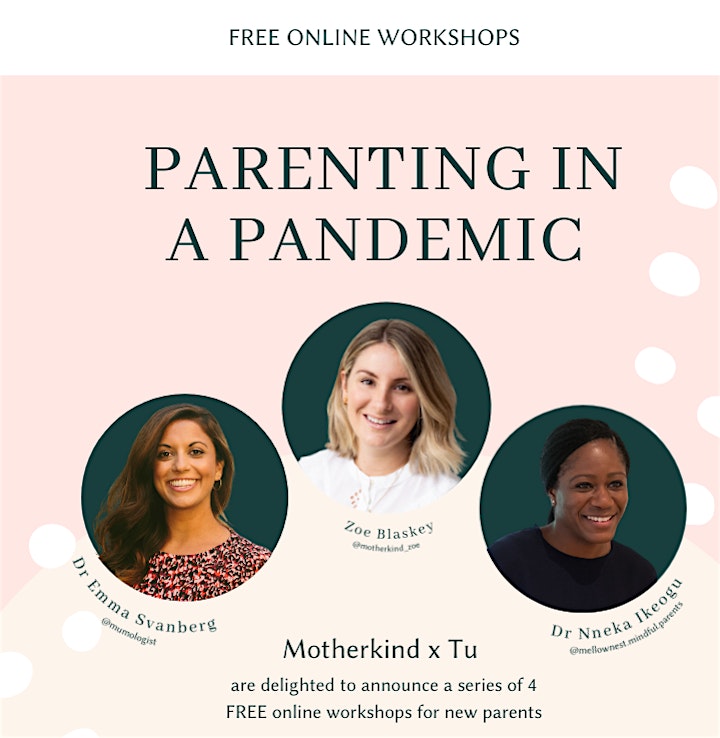 Tu has teamed up with leading wellbeing platform Motherkind to host a series of four workshops for free, to support new & expectant parents.
Tu completed a survey with new and expectant parents, and one thing is clear - parents need more support. This workshop series is designed to respond to what parents told us they are most concerned about.
The workshops will cover relationships, self care, how to process becoming a parent in a pandemic and what your baby needs at this time.
All the workshops will benefit all new parents and other caregivers.
#ParentinginaPandemic #tuBaby @tuclothing
We kindly ask that you only register for one of the workshops and do not share the workshop link.
In order to reach as many parents as possible you will only be able to attend one of the four workshops, but key takeaways from the others will be available on social media.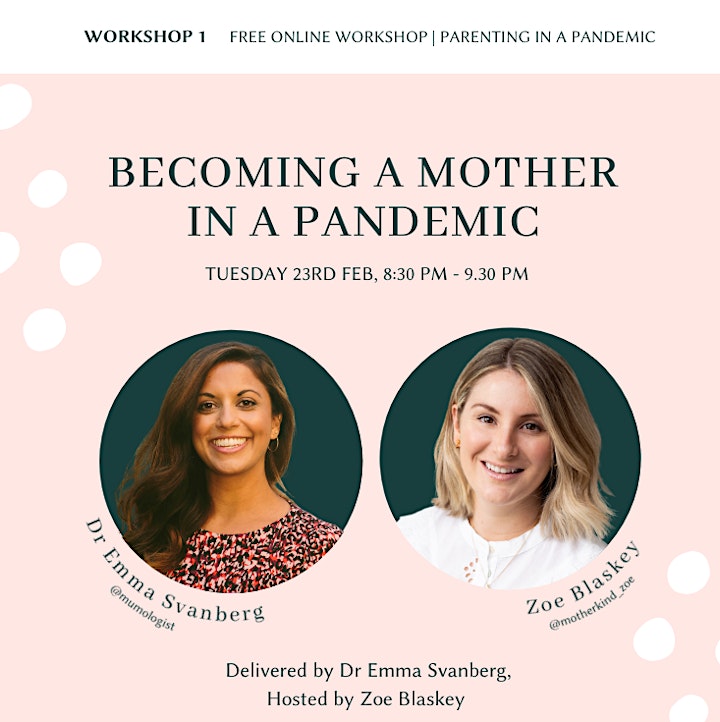 WORKSHOP 1: Becoming a mother in a pandemic: a space to consider what you've missed and what you've gained with Dr Emma
23 February at 8.30 pm GMT
Expectations and reality of new motherhood
What becoming a mum has meant in a global pandemic - a space to reflect and share
Tools and concepts to build mental resilience and ease stress and anxiety
Further resources
Open to all parents and care-givers
Q&A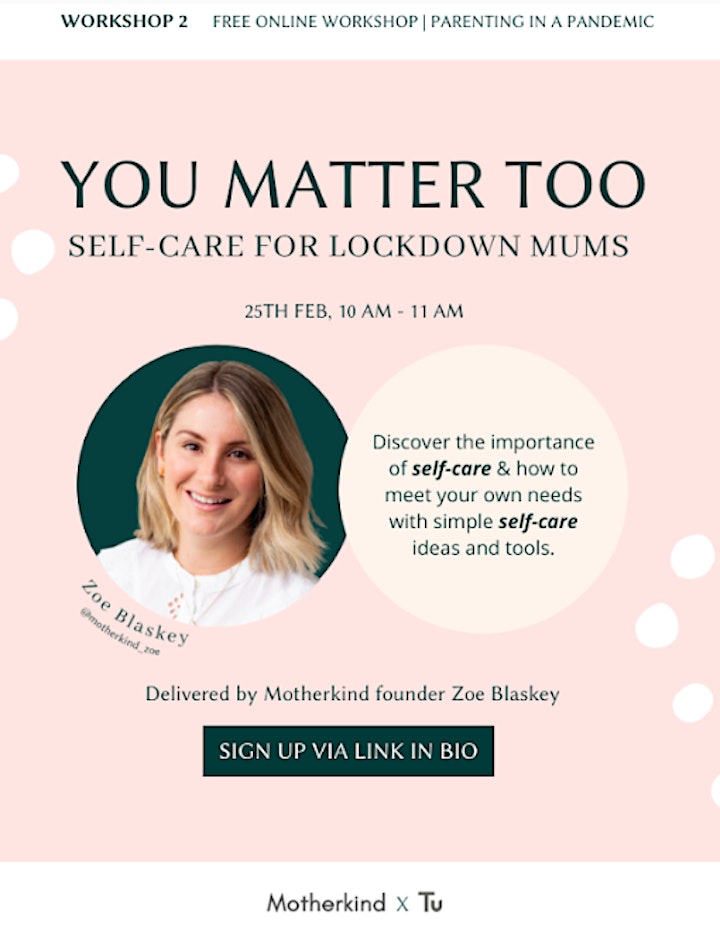 WORKSHOP 2: You matter too - self-care for lockdown mums with Zoe Blaskey
25 February at 10 am GMT
Why self-care matters more than ever - introducing the concept of matrescence
How to fit in self care with a baby
Micro self care ideas and tools (5 mins each and free)
Resistance to self care - how to meet your own needs
Coaching exercise in honesty and connection - sharing how you really feel. Because loneliness isn't just about talking to people - it's about feeling connected to people through honesty (taking off the masks we wear).
Open to all parents and care-givers
Further resources
Q&A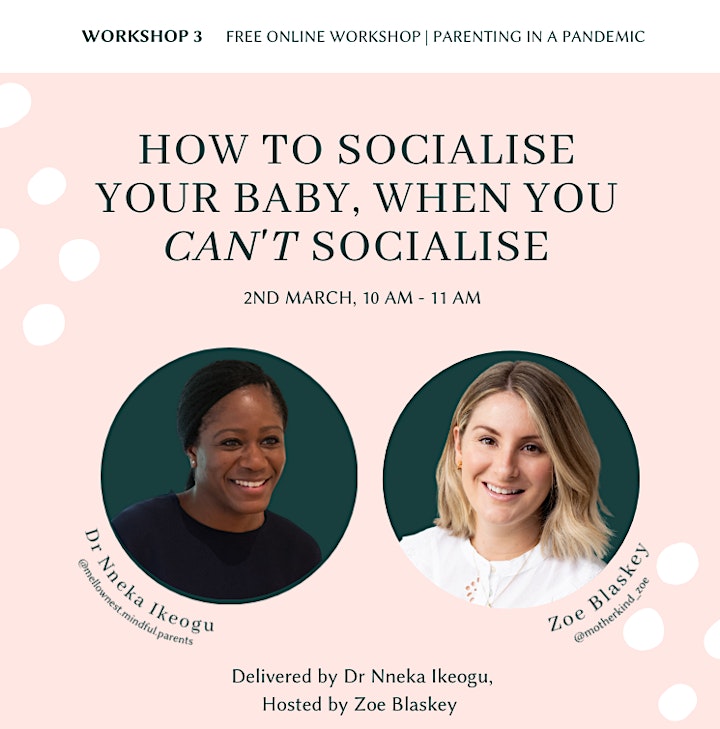 WORKSHOP 3: How to socialise your baby, when you can't socialise with Dr Nneka
2 March at 10 am GMT
The brain development of 0-12 months, and what is important to know about socialisation
Why connection with parents is vital
How to help babies transition to nursery / other childcare
Separation anxiety post lockdown
Further resources
Q&A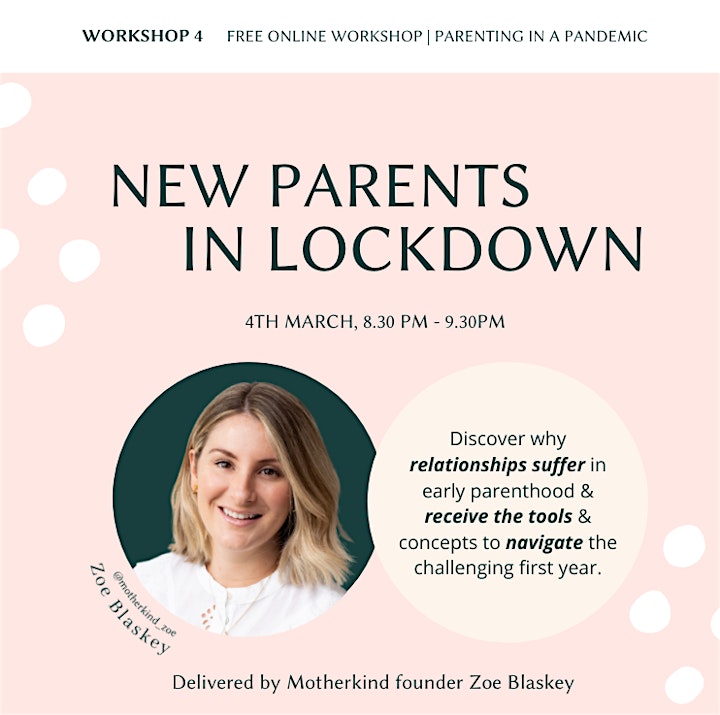 WORKSHOP 4: New parents in lockdown: how to not hate your partner and reconnect as a couple with Zoe Blaskey
4 MARCH AT 8.30 pm GMT
Why relationships suffer in early parenthood and how normal it is
Communication skills
Invisible labour: shifting roles and responsibilities
Relationship tools and concepts to navigate the challenging first year
Further resources
Q&A
Bio of Workshop Facilitators:
Dr Nneka Ikeogu (DEdPsy MA Bsc) is a qualified Educational and Child Psychologist and the co-founder of Mellownest. Nneka has practised as a Psychologist for the last 10 years and has worked with hundreds of children, parents and teachers. Through individual coaching workshops, Nneka has seen real transformation in the mindsets of parents which in turn has transformed the lives of their families. Nneka's mission is to empower parents to embrace a relationship-centred approach to parenting where punishments and consequences are abandoned in favour of a focus on emotions and connection – and where every child feels truly loved.
Chartered clinical psychologist Dr Emma Svanberg (DClinPsy) is known as The Mumologist and works with parents and parents-to-be supporting them through their parenting journey. Working as part of a collective, Emma and her colleagues together offer whole-family support in person and through her online community The Village. Emma is a published author and her work has been featured in The Guardian, Marie Claire, BBC News and Mother & Baby. She brings over 10 years of academic and clinical experience to help you understand why this period should not be treated as 'business as usual', but is a time of immense pressure and stress for parents. Emma lives in London with her partner and two children.
Zoe Blaskey is the founder of Motherkind, a wellbeing platform for modern mums. Through Motherkind, Zoe coaches mothers of all backgrounds from Global CEO's to full time mums on how to navigate the huge challenges of modern motherhood. Zoe hosts The Motherkind Podcast which is the UK's number one family podcast on iTunes and speaks every week to world leading experts on a range of topics from self care, mental health, career, nutrition and parenting. Past guests include Madeline Shaw, Bryony Gordon, Dr Gabor Mate, Dr Kristen Neff, Dr Shefali Tsabury and Amelia Freer. Zoe has been featured in Red, The Times, Psychologies, Goop, SheerLuxe and the Evening Standard. The Telegraph celebrated the podcast as 'the antidote to the toxic perfectionism of modern motherhood'. Zoe was also personally asked by Arianna Huffington to write on modern motherhood for her global wellbeing platform, Thrive. Zoe has two daughters and lives with her husband Guy in London.
You will get an email confirming your spot and a zoom link which you simply click to attend the workshop.
Please submit any questions for the workshop host beforehand at angie@motherkind.co We won't store or share your email, if you want to keep in touch with other parents on the workshop, you'll be given the opportunity to share your own details at the end.
FAQ's:
Will the workshop be recorded? No, we won't record the workshop.
Will I be muted / visible? You will be muted (so don't worry if your little one is crying!), but have the option of turning your camera on or off. The way you will interact with the host and other mums is via the chatbox.
Do I need a Zoom account to attend? No, you simply click on the link and it will open up Zoom, there is no need to register with Zoom.
What happens if I can't make it on the day? Let us know as soon as you can, so we can offer the place to someone on the waitlist, as spaces are limited.
Can my partner attend too? Yes absolutely – as long as you're using the same computer.
Is this only for mums? All parents and care-givers are more than welcome to join.
Can I share the Zoom link with my friends? No, as numbers are limited please don't share the link as that may mean mums registered might not be able to join.
Can I follow or share on social media? Yes, #ParentinginaPandemic #tuBaby @tuclothing