Description
n opportunity to visit Paris France Temple Open House during the forthcoming open house. We have secured 50 tickets split over three sessions to visit the temple and the grounds. Currently, tickets for the open house Saturdays are fully booked with limited available during the week. A temple recommend is not required for the visit and is open to members and non-members
The travel itinerary:
Friday 5th May
Leaving Southampton Chapel at 10 am we will be travelling to Paris by coach via the Channel Tunnel and arrive early evening at our hotel. Members will then be able to travel into Paris City Centre.
Saturday 6th May
Following breakfast at the hotel, we will continue to the Paris Temple.
We have tickets to visit the Open House during the following three sessions 10.30, 11.30 or 12:30 sessions.

We aim to leave the Temple around 2 pm and travel back to Southampton, due back in the evening.
Remember you will need a valid passport to travel and if you are not using a British/EU passport, please check to see if you require a visa.

Cost
The cost will cover travel by coach, channel tunnel crossing, accommodation, breakfast on Saturday morning and is dependent on the number of people sharing a room.

It does not cover travel insurance, lunch or Friday night evening meal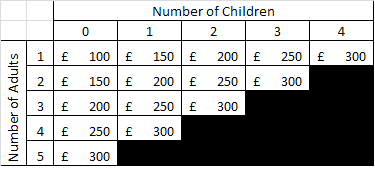 The cost will need to be paid into the ward via tithing slips with a deposit of £20 per person needed by Sunday 19th March and the remaining balance by Sunday 23rd April.
Information from the Group Booking Supervisor

Open house tours will begin at the gates of the temple gardens where you will be driven to see a short video. The video provides an overview of temples and what guests will see during the tour.



Following the video, you will take a walking tour of the temple. After the tour, guests are invited to visit the reception area to enjoy various displays about the temple and ask questions. The tour will generally last about an hour. You can spend time in the gardens freely and take pictures. When desired, you can reach your coach/minibus/vehicle

at the exit.


All ages are welcome.


Modest attire and comfortable shoes are suggested.


Photography or recording of any kind is not permitted within the temple, but photos of the interior are available online. Photos are encouraged outside and in the gardens.



Strollers and bulky items will be deposited and kept at a reception of the temple.
Frequently Asked Questions
I want to attend but can't make the 5th/6th May, can I still go? Tickets for other sessions are available via https://templeopenhouse.lds.org/


Is a temple recommend needed to attend? A temple recommend is not required for the visit and is open to members and non-members.


Do I need to book my own ticket for the open house? No, a group booking has been secured for our trip.




Can I share a room with someone to bring the cost down? Yes, the Church instruction allows for same-sex sharing outside of families. Youth and Primary children need to share with a parent.
Any others please speak to Brother Scott Alexander, 07747722460