MOB Promo Presents: PARLA X CUFFS X TRIBLESS - 'The Further Weekender' (Alt-rock, Punk, Post Hardcore)
About this event
Following the release of their debut EP 'Fervour/Further' Cardiff post-hardcore trio PARLA hit the road to play the record in full, and they're bringing mates in CUFFS & Tribless along for the ride.
Adv Tickets £5
PARLA / Emo infused post-hardcore from Cardiff.
FFO: Basement, Bloom, AlexisonFire
'We can't help but be intrigued when an EP is billed as laced with feeling, grit, and balls to the wall persistence, and if you have ever heard Parla before, you know they possess the skills within their music to achieve this description.' - Off The Hook music
CUFFS / Cathartic Rap Punk from the heart of Bristol
FFO: Bob Vylan, Frank Carter & The Rattlesnakes, Dead Swans
Quality mates from Bristol known for a golliath stage presence & poignant social commentary.
'CUFFS have harnessed the frantic punk energy of Black Flag with the modern poignancy of modern punk. It's a powerful combination that creates an intoxicating sound.' – CLUNK Magazine
TRIBELESS / Expansive Alt-Rock from South-Wales
FFO: As Everything Unfolds, Tonight Alive, Vukovi
A brand new lineup yet to be seen on the live circuit - Tribeless hit the ground running with their debut EP 'Gravity' & dove straight into a UK tour with Those Damned Crows back in 2019. It's a pleasure to have them on the road.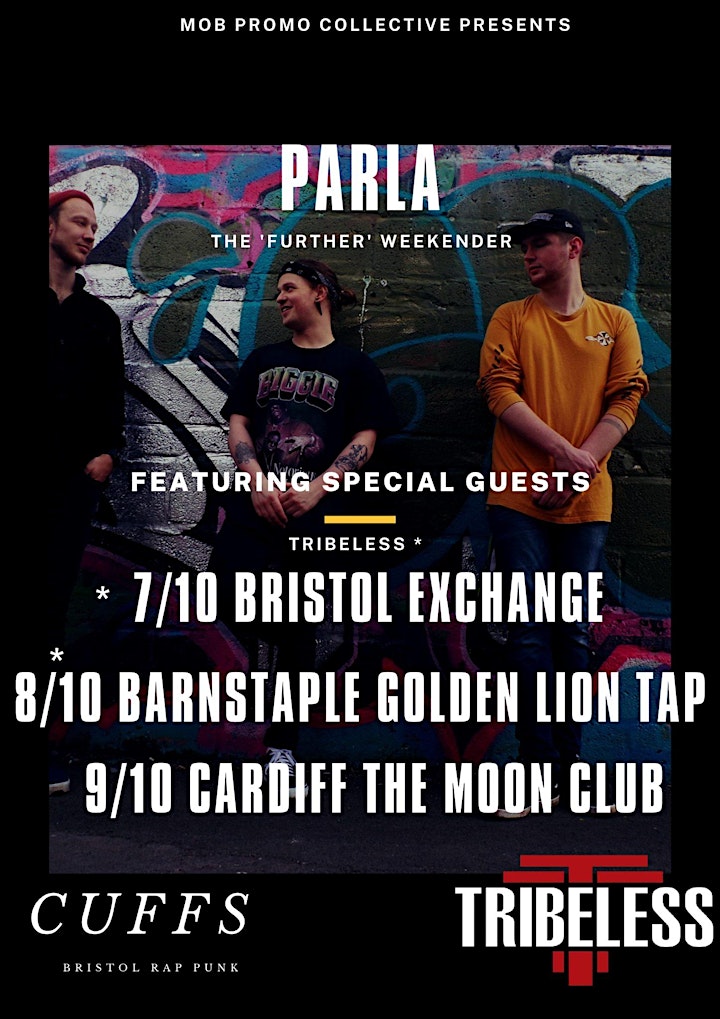 Organiser of PARLA X CUFFS X TRIBLESS plus support live at The Exchange Bristol