Parliament Commemorates WWI Armistice with Mozart's Mass in C Minor

Wednesday, 31 October 2018 from 18:00 to 21:30 (GMT)
Event Details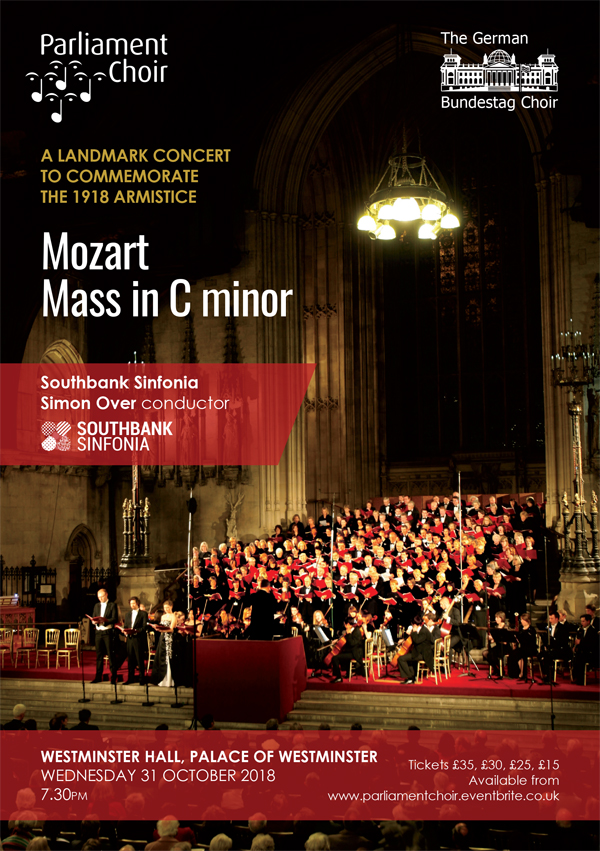 Parliament will commemorate the centenary of the Armistice which ended the First World War with a landmark event in Westminster Hall at the Houses of Parliament on Wednesday 31st October 2018.
The United Kingdom Parliament and German Bundestag Choirs will perform together in one of the world's most historic settings. They will be accompanied by Southbank Sinfonia, the Parliament Choir's regular musical partners.
The concert will feature Mozart's beautiful Mass in C Minor and will be conducted by the Parliament Choir's Founder-Conductor and Southbank Sinfonia's Music Director, Simon Over.

Tickets are available to the general public, priced £15, £25, £30 and £35 (plus Eventbrite booking fee) and may be purchased at
www.parliamentchoir.eventbrite.co.uk.
A souvenir programme will be provided free of charge, but attendees are invited to make a donation to support the charitable work of the choir which provides bursaries to young musicians.
We look forward to welcoming you to Westminster Hall for this historic event.
Ticket information
Tickets are available at the following prices - £35, £30, £25 and £15.
An Eventbrite fee is payable in addition to the ticket price.
Please note: Westminster Hall is a long room and seats will be in blocks with the higher priced tickets seated at the front of the Hall nearer to the performers and the lower priced tickets at the rear of the Hall. Seats in each price block are not numbered and will be allocated by the ushers on arrival on a first come first served basis.
Tickets may not be re-sold at a price in excess of that shown on this page and admission to the event will be refused if the organisers suspect that this has happened.
We regret that no refunds are available for tickets purchased for this event.
Programmes
A souvenir programme is being published for this historic event. These will be available free of charge at the concert in Westminster Hall. Attendees are asked to consider making a donation for the programme which will support the Parliament Choir's charitable work of providing bursaries to young musicians. Donations may be made in cash at the concert.
Admission and security
Admission to Westminster Hall is subject to the normal airport-style security required for entry to the Houses of Parliament. This can be a lengthy process and you should leave plenty of time to queue for admission to the Hall. Please arrive at the Houses of Parliament as soon as possible after 6.00pm. There will be some pre-concert entertainment provided by members of Southbank Sinfonia.
There are no storage facilities for coats or bags so you should avoid bringing any unnecessary items with you. The security staff may refuse admission to those bringing large items.
Tickets are for admission to the concert in Westminster Hall only. Due to the security arrangements at the Palace of Westminster, it will not be possible for you to leave the Hall to visit other parts of the Parliamentary estate.
Please note that restoration work is being carried out in Westminster Hall.
Disabled access
If you require wheelchair access or have a disability which requires special provision for you to attend the event, please let us know as soon as possible so that we can make the appropriate arrangements. You can email us at enquiries@parliamentchoir.org.uk.
How to get there
Rail and Underground
Visitors travelling on the London Underground can use the District, Circle or Jubilee lines to get to Westminster station, which is fully wheelchair accessible. Victoria, Charing Cross and Waterloo mainline stations are about 20 minutes away by foot and have connecting buses.
Bus
Buses stop near Parliament Square in Victoria Street (opposite the Houses of Parliament) and further up towards Trafalgar Square, in Whitehall. All buses in London are now wheelchair accessible.
Walking
If you're travelling by foot, you can access Parliament by Westminster and Waterloo bridges. Both are wheelchair accessible, as are the Golden Jubilee pedestrian bridges (the old Hungerford Bridge), which connect the South Bank with Victoria Embankment.
Cycling
Members of the public cannot bring bicycles into the parliamentary estate. Public bicycle racks are a short distance away outside 7 Millbank. There are Cycle hire docking stations situated in Smith Square, which is a five-minute walk away from Parliament, and on Abingdon Green, opposite Victoria Tower Gardens.
Map
Westminster Hall and the Cromwell Green visitor entrance are marked in gold on the map below.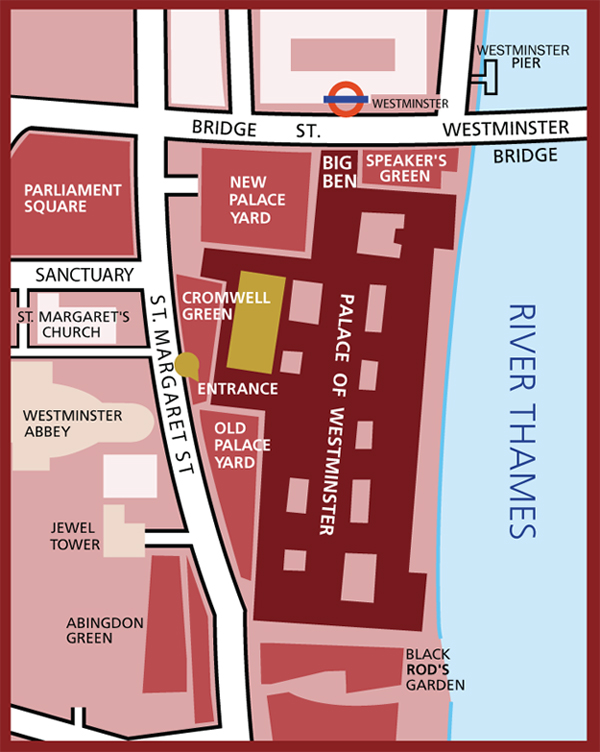 Parliament Choir Charity Registration Number 1085042
When & Where

Westminster Hall
Houses of Parliament
SW1A 0AA London
United Kingdom


Wednesday, 31 October 2018 from 18:00 to 21:30 (GMT)
Add to my calendar
Organiser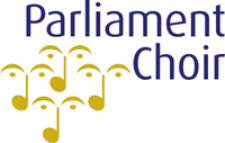 Founded in 2000 for those – MPs, Peers and staff – who work in the Palace of Westminster, the Parliament Choir now has over 120 full members united across traditional party divides by the common love of choral singing. The Parliament Choir has sung with many leading soloists including Sir Thomas Allen, Dame Felicity Lott and Dame Emma Kirkby and with some of the finest young singers at the beginning of their careers.
It has performed in some of the country's most spectacular buildings, among them Westminster Abbey, Westminster Cathedral, York Minster, Coventry Cathedral, Queen Elizabeth Hall and the Royal Festival Hall.
In 2010 the Choir celebrated its tenth anniversary with a concert in the historic Westminster Hall within the Palace of Westminster and two sell-out performances of Britten's War Requiem: in Coventry Cathedral (on the eve of the 70th anniversary of the bombing of the cathedral) and in Westminster Cathedral.
In 2012 the Choir performed a medley, specially arranged by the Parliament Choir's Composer-in-Residence Nicholas O'Neill, at the Commonwealth Carnival of Music, an international celebration for the Diamond Jubilee held in Westminster Hall.
In 2014 it was joined by the Bundestag Choir to perform Mendelssohn's Lobgesang at a special concert in Westminster Hall to commemorate the outbreak of the First World War.
Abroad, it has sung in Prague, at Notre Dame Cathedral in Paris, and at the Bundestag in Berlin for a Christmas concert with the German Bundestag Choir. Its members are regular participants at the Anghiari festival in Italy.
The Parliament Choir is a charity and through its links with the Southbank Sinfonia supports young musicians starting out on their musical careers.
For more information:
About the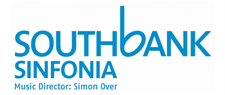 Southbank Sinfonia is an orchestra of young professionals described by The Times as 'a dashing ensemble who play with exhilarating fizz, exactness and stamina'.
Now firmly established as Britain's leading orchestral academy, Southbank Sinfonia provides the most talented graduate musicians with a much-needed springboard into the profession. The orchestra presents over 60 concerts each year across the UK and Europe performing orchestral repertoire, chamber music and opera as well as music for ballet, dance and theatre.
Players work regularly with leading performing arts organisations, including the Royal Opera House and Academy of St Martin in the Fields. Southbank Sinfonia has been awarded the Praemium Imperiale Grant for Young Artists by the Japan Art Association.
Southbank Sinfonia, under its Music Director, Simon Over, has played for all the Parliament Choir's major concerts since 2002.
For more information:
Parliament Choir Charity Registration Number 1085042