Actions and Detail Panel
PaRNET Colloquium
Fri 13 January 2017, 10:30 – 15:30 GMT
Description
White Rose Postgraduate Practice-as-Research Network
We are pleased to announce that our next event will take place at The Bluecoat in Liverpool. This will be a one day event, which will bring together postgraduate students researching through creative practice. We aim to provide a collaborative, supportive forum in which students can discuss their research sucesses and concerns.
This event will include a tour by Jade French of the Auto Agents exhibition, which is part of her practice-led PhD research, and a Zining workshop. Participants will have the opportunity to create a Zine together to reflect on the themes present in the exhibition - independence, control, autonomy, action - and to see first hand how this practice can be used to enable thinking and discussion.
Please bring along any documents/images/newspapers/magazines or other ephemera that relates to your research. Be prepared to cut up and reassemble what you bring to use as part of the Zine!
In the afternoon, we will have two workshops, including one by artist Alaena Turner and another still to be announced.

Lunch will be provided and we have a number of travel bursaries available to students from the Universities of York, Sheffield and Leeds. (These may only cover a contribution towards full travel costs). Please email the organisers, when you RSVP, if you would like to claim one of these.
This event is supported by the White Rose College of Arts and Humanities.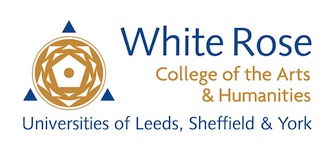 Feedback for previous events includes:
'Incredibly useful for networking connections and to hear the approaches and experiences of others.'
'Hugely useful!'
'To talk to others about practice as/in research is really vital.'
'Really enjoyed both workshops and discussion.'
'I found the workshops stimulating.'
'Useful insight into other researchers' practice. Enjoyable participatory workshops.'
'Extremely helpful thank you – great specific information and debates generated from material.'
'I appreciated having the discussion about redefining my own aesthetic criteria. I have questions I'd like to explore at the next session.'
'It was a brilliant day yesterday! Thank you for inviting me, I learnt a lot and it was so nice to not feel alone!'
'It was all massively helpful'.
Cover photograph of work by Alaena Turner: 'Secret Action Painting (7)', 2016, acrylic and oil on wood, 60 x 60cm