Description
White Rose Postgraduate Practice-as-Research Network
We are pleased to announce that our next event will take place at The Bluecoat in Liverpool. This will be a one day event, which will bring together postgraduate students researching through creative practice. We aim to provide a collaborative, supportive forum in which students can discuss their research successes and concerns.
This event will include a tour by Jade French of the Auto Agents exhibition, which is part of her practice-led PhD research, and a Zining workshop. Participants will have the opportunity to create a Zine together to reflect on the themes present in the exhibition - independence, control, autonomy, action - and to see first hand how this practice can be used to enable thinking and discussion.
Please bring along any documents/images/newspapers/magazines or other ephemera that relates to your research. Be prepared to cut up and reassemble what you bring to use as part of the Zine!
In the afternoon, fine artist Alaena Turner will lead a workshop exploring her research practice. Turner's work 'Secret Action Painting (7)' from the Auto Agents exhibtion can be seen as the cover photo of this webpage.
The day will conclude with a workshop led by Deryn Rees-Jones, who is Professor of Poetry at the University of Liverpool. From 2016-2018 she is the recipient of a Major Leverhulme Research Fellowship. Rees-Jones's critical and creative writing engages with the body, gender and performance. Her monograph Consorting with Angels was a critical landmark in arguing for a line of development in twentieth century women's poetry. More recent critical writing has engaged with contemporary women poets' ekphrastic writing, the poetics of the film-poem, theories of the lyric in relation to end-of-life; and a critical-creative engagement with Helen Thomas, the memoirist and wife of the poet Edward Thomas. What It's Like To Be Alive: Selected Poems, a Poetry Book Society Special Commendation, was published in October 2016. Deryn Rees-Jones' poetry has received numerous awards. Her first book, The Memory Tray, was shortlisted for a Forward prize; Burying the Wren(2012) was shortlisted for the T S Eliot prize, the Roland Mathias prize and was a Poetry Society Recommendation; she has also received awards from Arts Council England, the AHRC, and the Society of Authors, including an Eric Gregory and a Cholmondeley award. Her poems were recently described in the Los Angeles Review of Books as 'reinventing the British lyric.' Deryn works in close collaboration with artists on creative projects, most recently Charlotte Hodes. Her ongoing projects with Hodes include several films, and artists' books, which explore creative practice and engage directly with the relationship between visual and literary texts. She is currently engaged in a new multi-disciplinary collaborative exploration of the muse, Erato, and is now writing a study of the artist Paula Rego. Deryn Rees-Jones co-directs the University of Liverpool's Centre for New and International Writing (www.liv.ac.uk/new-and-international-writing/) and is an editor of the interdisciplinary feminist journal Women: A Cultural Review. She is also the editor of Liverpool University Press's successful new contemporary poetry series, Pavilion Poets.
Lunch will be provided and we have a number of travel bursaries available to students from the Universities of York, Sheffield and Leeds. (These may only cover a contribution towards full travel costs). Please email the organisers, when you RSVP, if you would like to claim one of these.
This event is supported by the White Rose College of Arts and Humanities.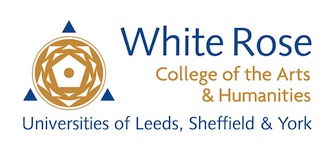 Feedback for previous events includes:
'Incredibly useful for networking connections and to hear the approaches and experiences of others.'
'Hugely useful!'
'To talk to others about practice as/in research is really vital.'
'Really enjoyed both workshops and discussion.'
'I found the workshops stimulating.'
'Useful insight into other researchers' practice. Enjoyable participatory workshops.'
'Extremely helpful thank you – great specific information and debates generated from material.'
'I appreciated having the discussion about redefining my own aesthetic criteria. I have questions I'd like to explore at the next session.'
'It was a brilliant day yesterday! Thank you for inviting me, I learnt a lot and it was so nice to not feel alone!'
'It was all massively helpful'.
Cover photograph of work by Alaena Turner: 'Secret Action Painting (7)', 2016, acrylic and oil on wood, 60 x 60cm