Description
Unfinished, uncertain, unknown:
processes of practice-led research
On Friday, 7 July 2017 the White Rose Practice-as-Research Postgraduate Network (PaRNet) will be holding a conference at the University of Leeds. In the morning delegates will participate in a series of workshops exploring what 'process in research' means across different disciplines. In the afternoon, we'll have a feast of presentations on the theme of 'unfinished, uncertain, unknown: processes of practice-led research.' Next will be open discussions on topics selected by delegates throughout the day. The day will conclude with a drinks reception generously provided by the University of Leeds, School of English.
Registration from 9.30am in the School of English Foyer at the University of Leeds.
10am-1pm Practice-in-process workshops
1pm-2pm Lunch
2pm-4.10pm Presentations
4.10pm-4.30pm Tea/Coffee break
4.30-6pm Delegate led round table discussion
6pm Post-conference reception
The conference is particularly interested in the process of practice-research as opposed to discussions regarding definition and conceptualisation. We're using practice-led, practice-based, practice-as, practice/… as the grammar demands. We welcome your interjections to this discussion whatever you call your practice/research.
Lunch will be provided, please email if you have any special dietary requirements.
We have a number of travel bursaries available to PGR students. (These may only cover a contribution towards full travel costs). Please email when you RSVP, if you would like to claim one of these. Bursaries will be awarded on a first come, first served basis.
This conference will involve discussion, presentations, practical activities and moving between different workspaces on campus. Please contact the conference organisers by email to tell us if you have access requirements and let us know what they are.
Contact: Matthew Elliott parnetconference@leeds.ac.uk
Thanks to the White Rose College of Arts and Humanities for making this event possible!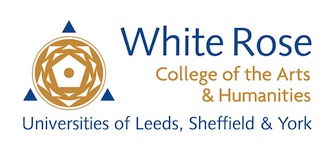 Cover photo: Work created as part of Kirsty Surgey's research process