Part 3: Develop, Scale Up, Stay Ahead: Accessing Finance for your Business
A review of the finance eco system, how/if/when to scaleup when coming out of a pandemic and what structural changes are required for growth
About this event
This workshop is free to anyone from the Antrim & Newtownabbey Borough and is part of the Optimal Programme of Support.
Business is hard; this past year has been even tougher than normal. But whilst your business has faced unprecedented challenges, you've also adapted to survive and keep going.
If you have less than 50 full-time employees and are based within Antrim & Newtownabbey Borough Council area, the Optimal business growth programme offers support through mentoring, workshops and networking.
As part of the Optimal programme of support we are offering a series of free workshops.
Finding the finance to grow and develop your business is usually one of the biggest challenges that any entrepreneur faces.
There are a multitude of sources of funding, from family and friends through credit cards to grant bodies to investors and if you are lucky your bank. The process can be frustrating for many, take much longer than anticipated and is not easy to complete. Entrepreneurs tend to be exasperated with the process mainly due to expectations that cannot be met and quite often looking for the wrong finance in the wrong place.
This practical workshop will cover a review of the finance eco system, how, if and when to scale up coming out of a pandemic as well as what structural changes are required in line with growth financial planning.
It will take you through various local case studies of entrepreneurs and businesses; whether they were developing, scaling up or staying ahead and the finance model they used and the process they went through.
You will hear from different finance organisations; what they can offer so that you can analyse the different funding models to meet your growth potential and most importantly how to ensure a smooth communication between you and your funder.
The workshop will help you to:
• Identify profile of bank and non-bank funders
• Identify which funders are right for you
• Appraise the risk profile of different funding models
• Learn about the theory of fundraising and how to use it
• Identify key requirements to be funding ready
• Get the knowledge and skills you need to impress investors
• Prepare solid financial and business models
This project is part funded by Invest Northern Ireland and the European Regional Development Fund under the Investment for Growth & Jobs Northern Ireland (2014-2020) Programme.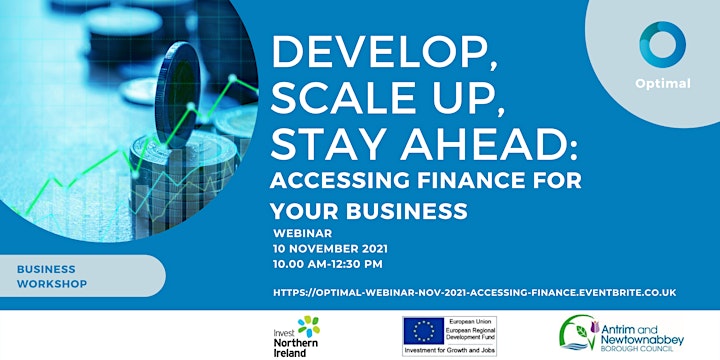 Organiser of Part 3: Develop, Scale Up, Stay Ahead: Accessing Finance for your Business
Mallusk Enterprise Park
Let us help you host your next event!
Mallusk Enterprise Park is more than just a landlord.
We have office and industrial units randing from 200 to 1250 sq ft.
You can hire our great value meeting space for a full or half day, which accomodates up to 40 people. 
Free car parking is available on site.
Mallusk Enterprise Park is a Charity which is governed by a CEO and a voluntary board of directors.
E: business@mallusk.org
028 90838860

www.mallusk.org