'This seminar seeks to engage in the politics of knowledge building in education and international development'.
About this event
This series is an opportunity to critically engage with diverse theoretical, conceptual, and methodological perspectives within education and international development. The seminar aims to promote dialogue on ideas that address issues of epistemic injustice by celebrating the multiplicity of perspectives in development. The opening talk is a collaboration between the EGID seminars and the Faculty of Education, Quantitative Research Group. We have a fantastic lineup of speakers this term:
13 May 2021, 09: 00 to 10:00 a.m. BST, 'Indigenous Quantitative Methodologies and the Indigenous Data Sovereignty movement', with Dr Maggie Walter, Distinguished Professor, Sociology, University of Tasmania, Australia
3 June 2021, 13: 00 to 14:00 BST , 'Engaging in Indigenist Research guided by localised knowledges', with Dr Carly Christensen,  Sessional Lecturer at the University of Toronto and the University of Manitoba, Canada
17 June 2021 13: 00 to 14:00 BST, 'Understanding educational inequality through polyphonic voices of the poor', with Dr Arif Naveed, Lecturer, Department of Education, University of Bath, UK
Drawing on their research and practices, our speaker will engage with the diversity of knowledge systems in development.
Note: Please note the dates for the speaker (s) of your interest so you can register for the noted date (s). Unfortunately, once you proceed with the booking you will not be able to see any details aside from the event dates.
Aside from the first talk which starts at 10:00 a.m. BST all others will commence at 13:00 GMT and end at 14:00 GMT
Zoom details (please note the Zoom details for the opening talk are different from the next two talks):
Opening Talk:
13 May:
Meeting ID: 93744960922
Password: 618128
Next two talks:
3 June and 17 June:
Meeting ID: 924 5915 6053
 
Password: 831515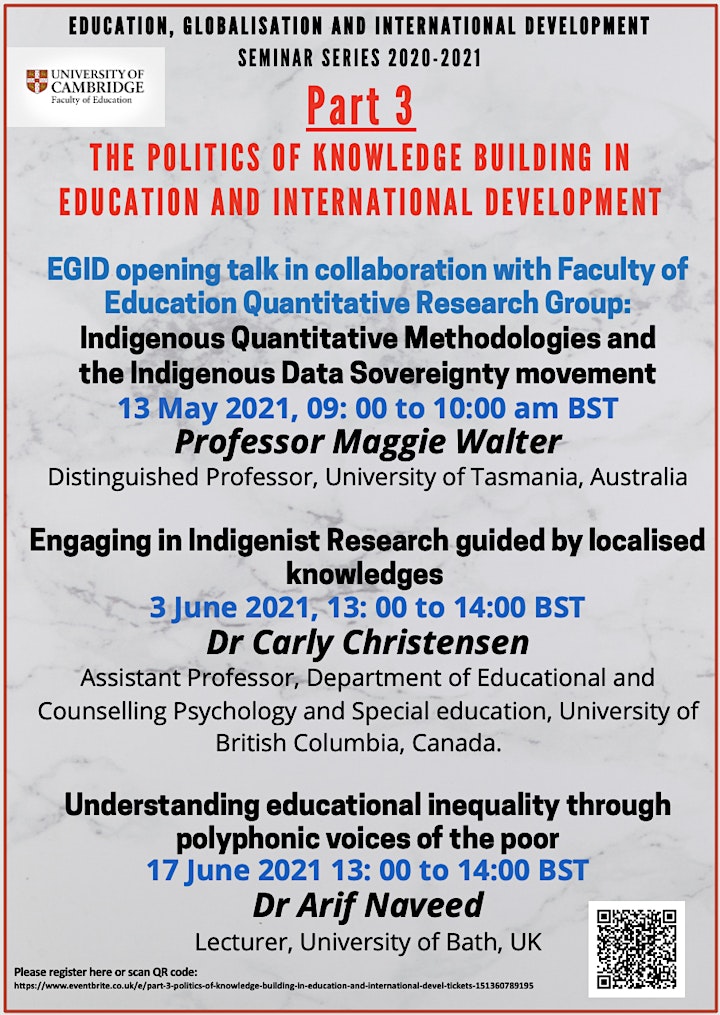 Organizer of Part 3: Politics of Knowledge Building in Education and International Devel