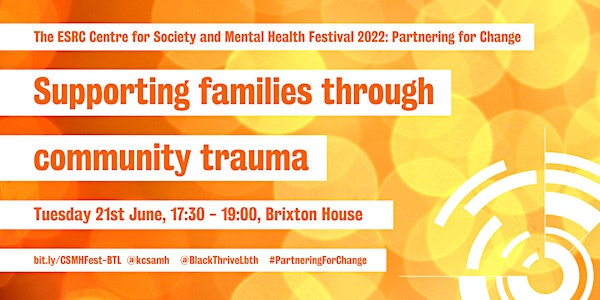 Partnering For Change: Supporting families through community trauma
Location
Brixton House
385 Coldharbour Lane
London
SW9 8GL
United Kingdom
Black Thrive works to address the inequalities that negatively impact the mental health and wellbeing of Black people in Lambeth.
About this event
This event is part of the ESRC Centre for Society and Mental Health 2022 Festival: Partnering for Change.
Join Black Thrive in an open and honest conversation with parents, therapists, and organisations to discuss healing trauma in our modern Black communities.
Parenting teenagers can be tough but perhaps even more worrying for parents when accessing services is difficult, and even the police can be a threat. We are all aware navigating services such as the education system, youth justice system, health and mental health can contribute to the trauma our families face. These systemic issues faced by some parents is clear but how can we build together as a community to call for effective change? How will we hold organisations accountable? What support is already available? What should services offer our parents and families?
During this session, you will be introduced to local people and organisations working hard to change outcomes and challenge the system.
We welcome you to join this collaborative conversations alongside:
Ira Campbell, a Parent and Co-CEO of Marcus Lipton Community Centre which forms part of the Ecosystem Coldharbour
Karen Dhlamini, a Parent and therapist working with Black Thrive to provide therapeutic support across different spaces including young people and their families.
Zena Kada, a Parent and Mental Health Nurse really pushing for positive change for parents and their families.
Jay Perkins, Founder of Partisan an organisation collaborating with community organisations like Juvenis to offer therapeutic support to families and young people.
Livia Whyte, Head of Special Projects and Legacy, Black Thrive
As well as other parents, community members and local organisations, and you. Your voice is important.
Let's work together to envision what the future of thriving family support needs to look like!
About Black Thrive: Black Thrive bring together individuals, local communities, statutory agencies and voluntary organisations to address structural barriers that prevent Black people from thriving. Black Thrive place the voice of the community at the center to influence policy, service design and delivery and to provide feedback about the community's experience of services.
Interested in other Black Thrive events? We also welcome you to register to join our Systems Change through Black-led research event starting at 15.30pm on 21st June. Register here:
https://www.eventbrite.co.uk/e/partnering-for-change-systems-change-through-black-led-research-tickets-347140054247
Click here to download the programme of Black Thrive-led Festival events.
Click here to download the full programme for the ESRC Centre for Society and Mental Health 2022 Festival: Partnering for Change.