About this Event
Join us for an evening of drinks, creativity and fun with this interactive workshop designed to help you rediscover the uniqueness of your brand, be it personal or business.
You will:
- Learn how to craft a visual identity for your brand
- Identify your brand values
- Figure out who your ideal client is
- Use colour psychology in creating the perfect colour scheme
- Understand font personalities and how to choose fonts that will attract your ideal client
This workshop will involve getting crafty to create a visual board that shows off your brand in a practical way.
Leaving you feeling refreshed, inspired and connected to the heart and soul of your business, ready to take it to the next level.
The event:
Designed for freelancers and small business owners in the creative industry that desire to create an amazing brand that connects with people.
You will:
- Rediscover the uniqueness of your business
- Connect you to the heart of what you love to do
- Discover simple ways to step into your creative flow
- Gain clarity on your offering
- Leave with a renewed sense of purpose
Hosted by :
Christina Banjo – Always Create Co. / Creative Director and Designer
Christina is a creative director and designer working in the fashion industry for over 5 years and the founder of creative community Always Create Co.
Tired of attending the 'same' type of networking events Christina started Always Create Co. in 2018 to bring together like-minded freelancers, entrepreneurs and creators that want to build enriching connections and work on collaborative ideas together. Always Create focuses on events that enhance knowledge in business and delivering amazing content and courses to help our members live and work at their best.
Zay Ahmed – Always Create Co. / Digital Marketing Strategist and Website Design Agency
Zay is the founder of a digital marketing and website design agency - Zay Creative.
She has worked with brands across fashion, finance and technology for the last 10 years helping them connect to their audiences through creative- intelligent design and marketing.
Joining Always Create Co. as co-founder to help create the platform of amazing freelancers and entrepreneurs and provide the experiences that unite us together.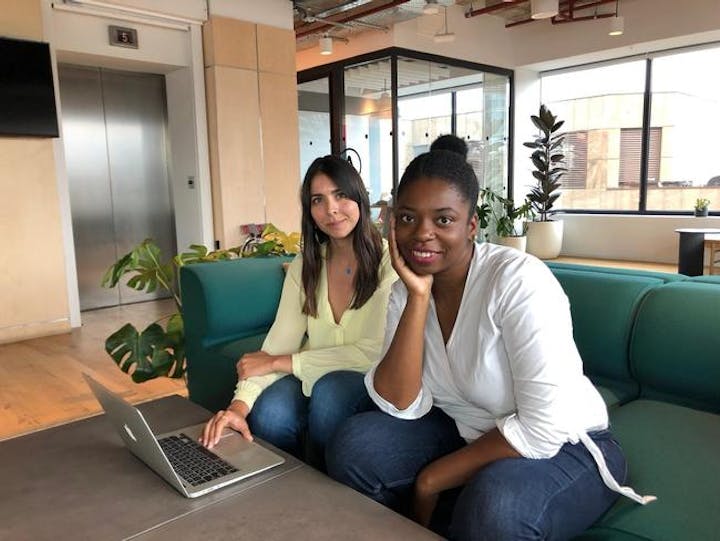 Your hosts! Zay and Christina @WeWork