Description
Appraisit Events is proud to present an evening of Pashto Folk Music featuring Sardar Yousafzai and UK based Pashto artists. Sardar Yousafzai is an enlightened and popular Pashto singer who composed some very famous verses written by prominent Pashtun poets Ghani Khan, Rahmat Shah Sail, Ikramullah Gran, Abasin Yousafzai and Iqbal Shakir with his melodious voice.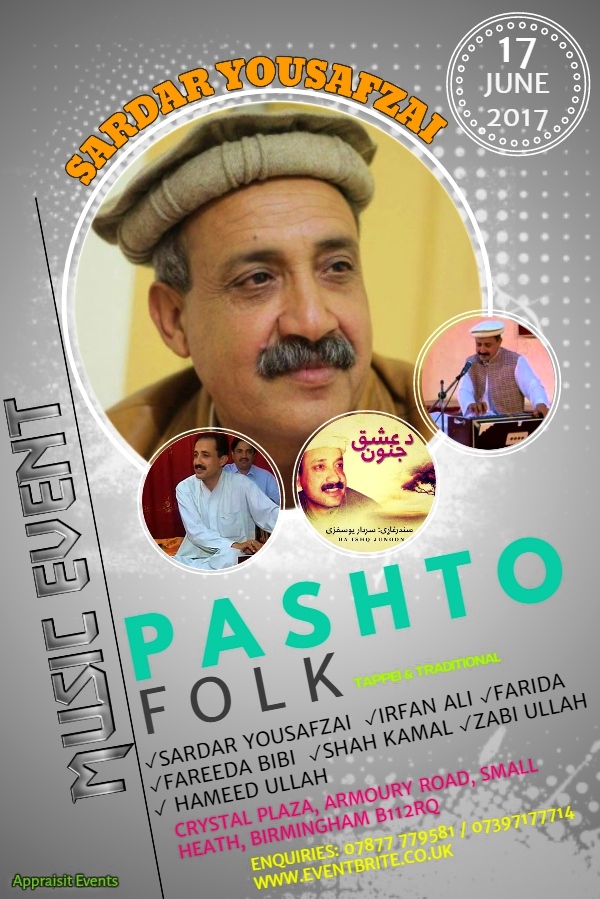 The collaboration of artists from Pakistan and Afghanistan represents the broad Pashto culture which spans political borders and ideaology. Pashto music is commonly performed in Pakistan's Khyber Pakhtunkhwa province, northern Balochistan province and the Federally Administered Tribal Areas as well as parts of eastern Afghanistan and among the Pashtun diaspora. The major center for Pashto music and arts is found in Peshawar, Pakistan.
Come Join us on 17th Of JUNE 2017 in Birmingham. Details are as shown below;
START TIME: 06:30 PM END TIME: 11:30 PM
ADDRESS:
Crystal Plaza
Armoury Road
Birmingham
B11 2RQ
Contact us at info@appraisitevents.co.uk or Call us at +44 (0) 7877 779581.