Location
Bethel Convention Centre
Kelvin Way
West Bromwich
B70 7JW
United Kingdom
Refund policy
Refunds up to 30 days before event
Sales Have Ended
Ticket sales have ended
Passion, Place and Purpose will take place in Sept next year at the Bethel Convention Centre. A Full Schedule and details of speakers will be provided via updates through Email and Newsletters in the coming months. We look forward to seeing you next year. Evangelist Cynthia Morrison Founder – Passion Place and Purpose (PPP) passionplaceandpurposeewc@gmail.com
Description
THE OFFICIAL - Passion, Place & Purpose PPP 2019 | Empowering Women Conference
PPP 2019 | Birmingham presents
The Advancement!
If you attended PPP 2018 | Birmingham you can already attest to the fact that this Conference was both inspirational and impactful and lived up to the goal of propelling your leadership to the next level!
God is raising up a mighty army that is equipped with both the knowledge and understanding of the truth of His divine word for this hour. This is an army that is brave, bold and willing to walk in the fullness of this revealed truth and is not distracted or pre-occupied with their gender or any negative rhetoric.
The earth is groaning and in travail, we can see the signs in the earth today. But God's advancing army is about to manifest in the Kingdom strategies that has been divinely downloaded into them for this season. This is a prophetic time and season to be on the offensive to take back what the enemy has stolen.
Everything that we've been carrying up to now is coming into divine contraction, WE are about to give birth!
A pronouncement will be made at PPP 2019 | Birmingham, that will propel some and activate others into their next level or season.
Evangelist Cynthia Morrison
Passion Place & Purpose EWC
Host & Founder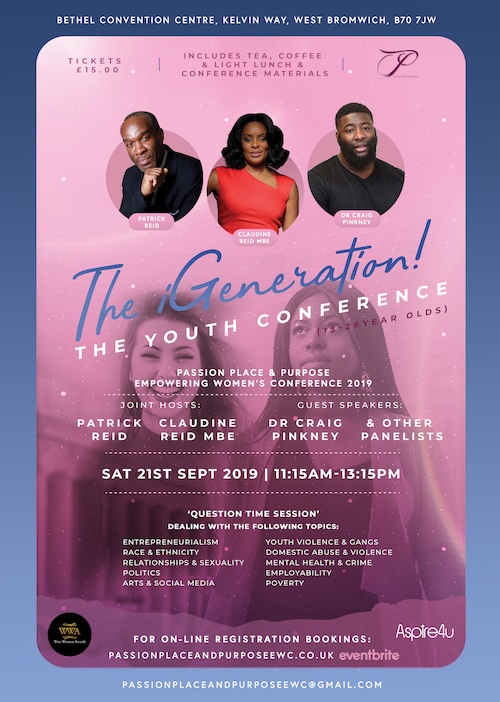 PPP 2019 | Birmingham presents, 'The iGeneration Youth Conference'
Lead facilitators: Patrick Reid & Claudine Reid MBE
Guest Presenter: Craig Pinkney, Criminologist and Urban Youth Specialist
THIS YOUTH CONFERENCE IS BEING DELIVERED ALONGSIDE THE MAIN PPP 2019 'THE ADVANCEMENT CONFERENCE' SAME DAY.
BRING YOUR CHILDREN ALONG AGED 13-26 IMPACT GENERATIONS!
In this hour, I believe a clarion call is going forth for a generation of fearless leaders to arise, go forth and take their place in the Kingdom.
This IS the day and the hour in which God is mantling His people to rise up and build in every facet of society. YOU are part of this 'emerging generation;' YOU are the world changers, that no matter where you come from, no matter what you look like, or what age you are, YOU were born for such a time as this!
There is a great opportunity in front of you, and tremendous purpose inside of you. This iGeneration Youth Conference is going to move you, stir you, focus you, motivate you, equip and build you. It is time for a NEW BREED to come forward in this season and take your place in the Kingdom!
Bring a friend along and join in the 'Real Talk', the 'Straight Talk' presentations, debates and discussions around issues facing the iGeneration. For example: Relationships, Religion, Mental Health & the Church, Entrepreneurialism, Youth Violence and Crime, Domestic Abuse & the effect on children; Sexuality Race & Ethnicity, Arts & Media, Politics etc.
Date: Saturday 21 September 2019
Time: 11.15-13.15pm
Registration Fee is: £15.00 includes *lunch and materials
Ages: 13-26 years old
*Halal & Vegetarian selection
Book early – limited spaces, but we expect this session to be oversubscribed.