Event Information
Refund Policy
Contact the organiser to request a refund.
Eventbrite's fee is nonrefundable.
About this Event
Passion & Play Workshop Series
During this period of social distancing and lack of physical touch we know its more important than ever to continue creating ways we can connect with one another through the exchange of ideas & experiences.
Our Passion & Play workshop series aims to bring together like minded individuals to educate, inform and inspire others to be more exploratory with their sexuality, expressive with their desires and enthusiastic about consent. This will take the form through a mixture of talks, sharing circles, participatory exercises and dance workshops.
Join us on Zoom every day in May between the hours of 5pm - 6pm BST for an intimate online workshop headed by our fabulous facilitators. All workshops are safe, discreet and nurturing environments that allow you to be as expressive, vulnerable and involved as you may wish to be.
Our workshops are being offered on a donation basis whereby we ask you to pay what you can afford:
£5 - If your wages have been affected by the current situation
£8 - Still receiving your full months wage.
£12 - Able to pay it forward and help others less fortunate attend.
FREE - If you are NHS staff
If you are wanting to buy a ticket for more than 8 workshops please email us to arrange.
We don't want finance to get in the way of people attending our workshop so please get in touch if you genuinely cannot afford the lowest fee - hello@pinkypromiseland.co.uk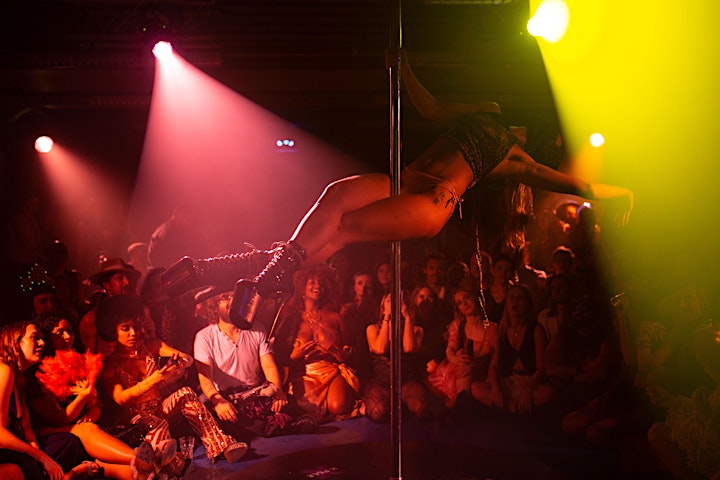 Workshop Programme
For a detailed description of each workshop and facilitator please view our website here
Week 1
Friday 1st May - Erotic Leadership for Femme Folx w/ Melissa Tofton
Saturday 2nd May - DIY Sex Tech Dreams w/ Alice Stewart
Sunday 3rd May - Vulnerability & Connection w/ Lydia Entwistle
Week 2
Monday 4th May - The Art of the Sacred Whore w/ Ellie Walker
Tuesday 5th May - Mini Sex Club: The Orgasm w/ Sex Club
Wednesday 6th May - Romancing your inner lover w/ Taila Rose
Thursday 7th May - Womxn Circle w/ Amy Anam Cara
Friday 8th May - Kinky communications: Aftercare for all w/ Amelia Louise
Saturday 9th May - Slow Initmacy in the time of Pandemic w/ Dominique Antonina
Sunday 10th May - Arousal & Desire: Awakening and Balancing Libidos w/ Lola Jean
Week 3
Monday 11th May - Full Body Orgasmic Breath work w/ Jem Ayres
Tuesday 12th May - Sexy Life Drawing w/ Body Love Sketch Club
Wednesady 13th May - Worship yourself w/ Celeste
Thursday 14th May - Creating Emotion through motions w/ Annette Rebecca
Friday 15th May - Truth or Dare w/ Gaia Harvey Jackson
Saturday 16th May - Expressing your love & desires through poetry w/ Loussin Torah
Sunday 17th May - Sex Work & Activism w/ Sonia (Electric Girl)
Week 4
Monday 18th May - Lessons in Self Pleasure w/ Jem Ayres
Tuesday 19th May - A Guided Journey into your Desires w/ James Boswell
Wednesday 20th May - Booty Voodoo Dance Class w/ Kitty Velour
Thursday 21st May - Movement Magick w/ Francesca Mariano
Friday 22nd May - Love & Lust in mythology w/ Embers Collective
Saturday 23rd May - Real Talk - Tell me what you want w/ Amy Anam Cara & Jonny Lee
Sunday 24th May - Sensual Rope Magic w/ Sophia Rose
Week 5
Monday 25th May - Dirty Talk: From teasing to audio erotica w/ Lola Jean
Tuesday 26th May - Smutty Letters for Desperate Times w/ Rosy Pendlebaby
Wednesday 27th May - Mens Sharing Circle w/ Joe Friday
Thursday 28th May - Sacred Sexual Practice w/ Stephanie Lawrence
Friday 29th May - Sharing Circle: Non Monogamy w/ Dominique Bull
Saturday 30th May - Exploring Pleasure & Eroticism through Zest w/ Molly Tovv & Talullah Bentley
Sunday 31st May - Consent & Boundaries w/ Emerald May & Drew Lawson
Location
Refund Policy
Contact the organiser to request a refund.
Eventbrite's fee is nonrefundable.