Past, Present, Future Critical Legal Postgraduate Research (25th Anniversar...
Description
Please note that this booking is through the 3rd party service Eventbrite and by making this booking you are a customer of Eventbrite.
Past, Present, Future Critical Legal Postgraduate Research
The School of Law was founded in 1992 as a Department of Law with three members of academic staff. Over the last twenty-five years it has become a School comprising the Departments of Law, Department of Criminology, as well as the Institute for Criminal Policy Research. We have four research Centres, 40 members of staff, and an overall student body of over 1,000. The School is proud of being a pioneer in establishing and developing a hub for the field of critical legal studies. While our national and international reputation has been forged through critical legal research, more recently we have gained recognition for critical criminological and activist research, socio-legal scholarship and policy-engaged empirical research. In recognition of this the last Research Excellence Framework exercise ranked us as being in the top 10 law schools in the UK and in the top 3 in London, while our research environment was judged conducive to producing research of the highest quality.

In this our 25th Anniversary year we will be holding a series of events reflecting on our history and successes as well as looking forward to the opportunities and challenges facing critical legal and criminological teaching and scholarship in the 21st century. Find out more about the 25th Anniversary celebrations here.

This conference celebrates the achievements of our past and doctorate students. You are all cordially invited to celebrate with us. This is a free event however booking is required via this page.

Please note that all timings are approximate.
Friday 11 May
9.30 – 10.00 Refreshments (Room 416)
10.00 – 10.15 Welcome - Professor Adam Gearey, Carolina Amadeo, Harley Ronan (Room B35)
10.15 – 10.30 Opening remarks - Professor Stewart Motha (Room B35)
10.30 – 12.00 Panel 1 – Chris Lloyd (Chair), Brenna Bhandar, Gilbert Leung, Illan Wall (Room B35)
12.00 – 13.00 Panel 2 - Ozan Kamiloglu (Chair), Jose Bellido, Steven Banks, Stephen Connolly (Room B35)
13.00 – 14.00 Lunch (Room 416)
14.00 – 15.00 Panel 3 – Eddie Bruce-Jones (Chair), Susy Menis, Richard Bowyer, Thanos Zartaloudis (Room B35)
15.00 – 16.00 Panel 4 – Bernard Keenan (Chair), Adam Gearey, Elisabetta Bertolino (book presentations) (Room B35)
16.00 – 17.00 Panel 5 – Natalia Delgado (Chair), Sara Ramshaw, Vassilis S. Skouteris, Anastasia Tataryn (Room B35)
17.00 Reception - George Birkbeck Bar, 4th Floor Birkbeck Main Building
Saturday 12 May
9.30 – 10.00 Refreshments (Room B04)
10.00 – 11.00 Panel 6 – Adam Gearey (Chair), Kevin Barker, Maria Kyriakou, Adeshola Mos-Shogbamimu (Room B35)
11.00 – 12.30 Panel 7 – Shailesh Kumar (Chair), Kojo Karam, Cherry James (Room B35)
12.30 – 13.30 Closing comments (Room B35)

Organisers: Professor Adam Gearey and Dr Elena Loizidou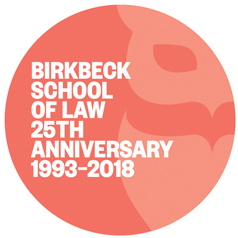 Please note that latecomers to the event are not guaranteed entry. Please be advised that photographs may be taken at the event for use on the Birkbeck website and in Birkbeck marketing materials. By attending this event, you consent to Birkbeck photographing and using your image for these purposes. By registering for this event you consent to your email address being added to the School of Law, Birkbeck mailing list. Your email address will not be shared with third-party organisations. If you would like to request your removal from our mailing list please contact law-events@bbk.ac.uk