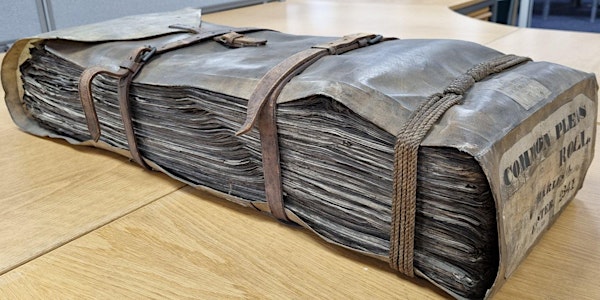 PAST Records Workshop - Early Modern Legal Records
Location
The National Archives
Bessant Drive
Richmond
TW9 4DU
United Kingdom
Refund policy
Refunds up to 7 days before event
Eventbrite's fee is nonrefundable.
The National Archives holds one of the largest collections in the world, containing over 11 million historical government and public records
About this event
The Postgraduate Archival Skills Training (PAST) programme offers students a unique opportunity to obtain the skills and knowledge needed to undertake academic research using original records at The National Archives.
*Please note that this is a one-day workshop on site at The National Archives on Wednesday 15 June 2022*
This Early Modern Legal Records workshop will provide you with the essential skills to identify and access original source material amongst the legal records of central government. During each session you will receive tuition and guidance on a range of archival research skills from our early modern records specialists, and you will also undertake practical exercises involving hands-on document work.
During the workshop you will trace the changes in the legal systems and records held by The National Archives from the early modern period (c.1509-c.1782). The day will begin with an introduction to the early modern legal system, providing a brief summary of the medieval English legal system, before moving on to explore the key changes to this system which took place in the sixteenth and seventeenth centuries. The following sessions will focus on the different types of court available to litigants during this period, from the common law courts of Westminster, to courts and commissions held outside of London, as well as the conciliar courts such as Star Chamber, Requests, and Chancery. In the final session of the day, our records specialists will demonstrate how to trace a single case across several record series using the skills introduced over the day.
At the end of the workshop you will have increased confidence in your ability to find and access previously challenging early modern legal documents, and to read and understand their contents. This event is aimed at current taught postgraduate and PhD students, although other researchers are welcome to attend. This is a level three workshop within the PAST programme, and will be investigating complex and demanding archival collections, but you will be supported by expert staff throughout. There are no pre-requisites for attendance.
For more information about the PAST programme please see The National Archives' website or email past@nationalarchives.gov.uk.
You can join the conversation and learn more about our other PAST workshops by following #TNAPAST
Programme:
09:00-09.30 Registration and Coffee
Tea, coffee & pastries in the public restaurant area
You may also use this time to register for a Reader's Ticket if you wish to order documents to view after day one. Please note, you do not need a Reader's Ticket to participate in the workshop, but the reading rooms are open until 7pm if you wish to pursue your own research. Please note that this is not compulsory, and any evening work will be private research, without tutors from the course present. Details of the documents you need for a Reader's Ticket can be found here.
09.30-10:30 Session 1: Introduction to Early Modern law
This introductory session will give you an overview of the legal systems in place in medieval England, and how this system changed at key points in the sixteenth and seventeenth centuries. This will include an overview of legal education in the early modern period
10:30-12:00 Session 2: Conciliar Justice
This session will introduce conciliar justice in the early modern period, the main courts where individuals could seek justice, how these courts functioned, and how to use their records effectively. This session includes practical exercises in using original records
12:00-12:45 Lunch
12:45-13:45 Session 3: Early Modern Common Law
This session examines how the common law courts and their records changed in the early modern period. Students will learn to locate and use records from these complex and often underused early modern collections through practical work with original documents
13:45-14:00 Break
14:00-15:00 Session 4: Regional Justice
This session covers early modern justice outside Westminster, and provides an overview of how the assize courts, town and county depositions, Admiralty depositions, and other forms of regional justice worked in practice, before students will take part in practical work with these original documents
15:00-15:15 Break
15:15-16:30 Session 5: Building a Case
This session will end the workshop with case studies demonstrating how to trace a court case throughout several document series. Students will be talked through the process and will have the opportunity to work out how different documents fit together. This session will include examples from both the conciliar courts and common law
16:30-17:00 Wrap up and Questions
17:00 Close