Description
Grace Church Bristol and Sovereign Grace UK are pleased to host a lunch with an open invitation to all interested pastors and leaders (but especially those who have attended any of our previous conferences).
This gathering is designed to be a time for both teaching and fellowship. We want to gather around God's Word to celebrate the glorious gospel and better apply it to the churches we love and serve. We want to develop and strengthen relationships and unity between us as gospel men, though we minister in a variety of different contexts.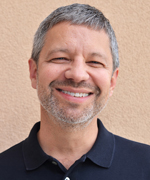 We are pleased to say that Jeff Purswell (pictured above) will be joining us and opening up God's Word in a short teaching time. Jeff is part of the Sovereign Grace Leadership Team, serving as Director of Theology and Training. He is also a pastor at Sovereign Grace Church Louisville, Kentucky.
This pastors gathering is planned for Wednesday 19th July 2017, and will be held at the Grace Church offices in Bristol (a short drive from the M32 motorway).
We plan to begin with coffee at 11am, followed by the opportunity to hear Jeff open up the Scriptures to us, and finish with a time of relationship building and fellowship over lunch. We aim to be done by 2pm (at the latest!).
We would love for you to be able to make it if you possibly can. There is no charge to attend this lunch, but we ask that you reserve a place via the online registration system so we have an idea of numbers for planning the food. Please do let us know if you have any special dietary requirements.
If there are other leaders that you think would benefit and you'd like to bring along, please do invite them to register.
I hope very much to see you there.
Warmly, in Christ
Nathan
On behalf of Grace Church and Sovereign Grace UK