Description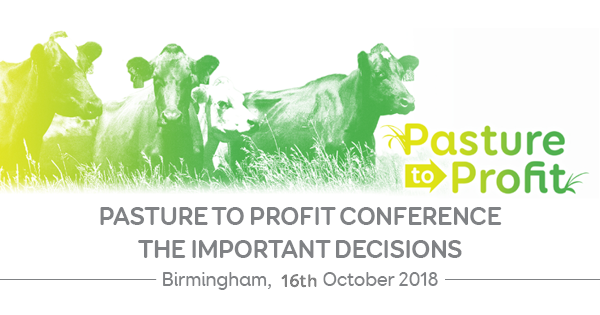 The Important Decisions - Why you should attend?

In what is possibly the most challenging time for British and Irish dairy farming in decades, the Pasture to Profit conference 2018 will focus on how to make the important decisions when faced with uncertain times. We have brought together a group of experts from around the world to help you manage and respond more effectively to risks in order to strengthen your farming business.
This year's keynote address is from Professor Nicola Shadbolt, an expert in farm and agribusiness management at Massey University in New Zealand. She will discuss strategies to address risk proactively. Joining the conference by video-link, Dr John Roche, formerly a leading member of the research council at Dairy NZ is set to share his views and insight into production system research.
We have moved our Conference Networking Dinner to the evening before conference, Monday 15th at 7pm. If you would like to attend there is an option to purchase a ticket.
This is the one event in 2018 you cannot afford to miss.
Join and network with an expected 150 farmers from dairy farms and industry across the UK and Ireland.

Pasture to Profit Conference 2018 Agenda:
Registration will commence at 7.30am ready for a prompt start at 8.30am.
The conference will conclude at 5.00pm
We also welcome you to book for the pre-Conference networking dinner on Monday 15th October at 7pm; which includes a 3 course meal and drinks and guest speaker Robin Page
Morning Session 1: Farmer Panel - The Industry Labour Issue
Our farmer panel present their thoughts on attracting and retaining staff
Richard Smith – OAD milking and Our Team

Chris North – Equity Manager – From both sides of the fence

Robert Craig – Challenges of Multiple Units

Karen Halton – AYR & High input-Our Approach (plus commercial recruitment)
Morning Session 2: Decision Making in Unpredictable Times
Prof. Nicola Shadbolt; of Massey University, NZ, also Director, Editor, Board member, Fellow and Farmer shares her wisdom on The Important Decisions
Afternoon Session 1: The Important Decisions: Soil, Business and People
Breakout sessions:
James Bretherton – It All Starts in the Soil

Jo Speed – HR & Conflict Management

Nicola Shadbolt – Attributes of a Resilient Farmer
Afternoon Session 2: Research to Guide Decision Making
Sean Chubb - LIC CFP Dataset – Looking back to look forward

Dr. John Roche - Systems Research – Northland, NZ (via video link)

Mark Ryder – NZ On the Edge
Venue & Accommodation
Call Holiday Inn 0121 780 6700 – choose Option 7 and quote LIC between 9am – 5pm quoting "LIC" for preferential room rates
Rooms at the conference rate are limited & on first-come basis.
Need help or further information
Contact the LIC team on +44(0)1725 - 553008 or email admin@licuk.co.uk