Event Information
Location
Patch
5-6 Grays Brewery Yard
Chelmsford
CM2 6QR
United Kingdom
Patch's inaugural Festival of Ideas - exploring the future of culture, work, place, and innovation.
About this event
Join us for four consecutive nights of fascinating chaired discussion.
Tickets are free and you are welcome to join us for one or all of the talks!
Details on each evening and the speakers involved are below.
After each evening the bar at Patch Market will be open for drinks and a menu so small bites made by Fete.
Tuesday 16th November
BUILDING A SHARED CULTURAL VISION
How do you build a shared cultural vision? Come for an evening exploring themes of creativity, equity and community. Each speaker brings their perspectives from across the creative industries and experiences of creating projects that encourage inclusive enjoyment and engagement with the city.
Phin Harper - Open City, Director
Dr Katie Deverell - Chelmsford Council, Cultural Partnerships Manager
Anna Harding - Artist, Consultant & Space Studios CEO (fmr)
Emeka Frederick - Chuku's Nigerian Tapas, Entrepreneur & Co-Founder
Wednesday 17th November
REIMAGINING THE FUTURE OF WORK
What opportunities does technology bring to the future of work? Join us to explore how the world of work is changing and the positive potential of technology to create a more inclusive and sustainable future of work.
Matt Clifford - Entrepreneur First, CEO
John Lazar - Raspberry Pi, Chair
Henry De Zoete - Entrepreneur & Non-Executive Board Member, The Cabinet Office
Naomi Briffett - Patch Chelmsford, Director
Thursday 18th November
CRAFTING A SENSE OF PLACE
How do you 'Craft A Sense Of Place'? Join us for a fascinating evening exploring ideas of place-making, design, craft, community & belonging.
Emily King - Design Writer & Curator
Sumitra Upham - Crafts Council, Head of Public Programmes
Jane Hall - Assemble, Co-Founder & Writer
Sarah Walters - Things Made Public, Co-Founder
Friday 19th November
CREATING THE CONDITIONS FOR INNOVATION
How do you develop game-changing ideas? Join our panel from the forefront of the start-up world, as we explore 'The Conditions For Innovation.' From investment to culture & growth: Together, we will discuss the start-up ecosystem and the factors which power innovation.
Mikey Stothard - Sifted, Editor
Daisy Onubogu - Backed, Head of Network & Community
Srinivas Madipalli - Accomable, Entrepreneur & Co-founder
Professor Chris Land - ARU, Deputy Dean of Research & Innovation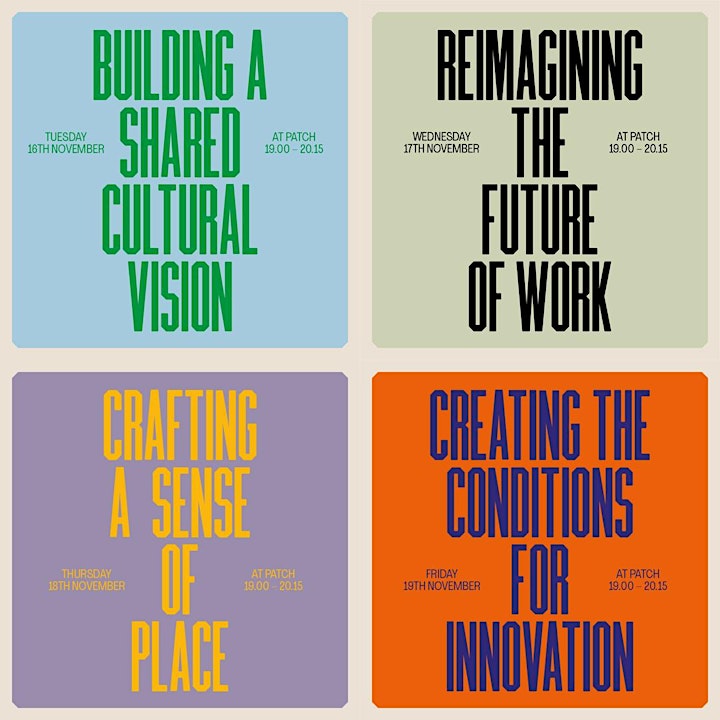 Date and time
Location
Patch
5-6 Grays Brewery Yard
Chelmsford
CM2 6QR
United Kingdom