About this Event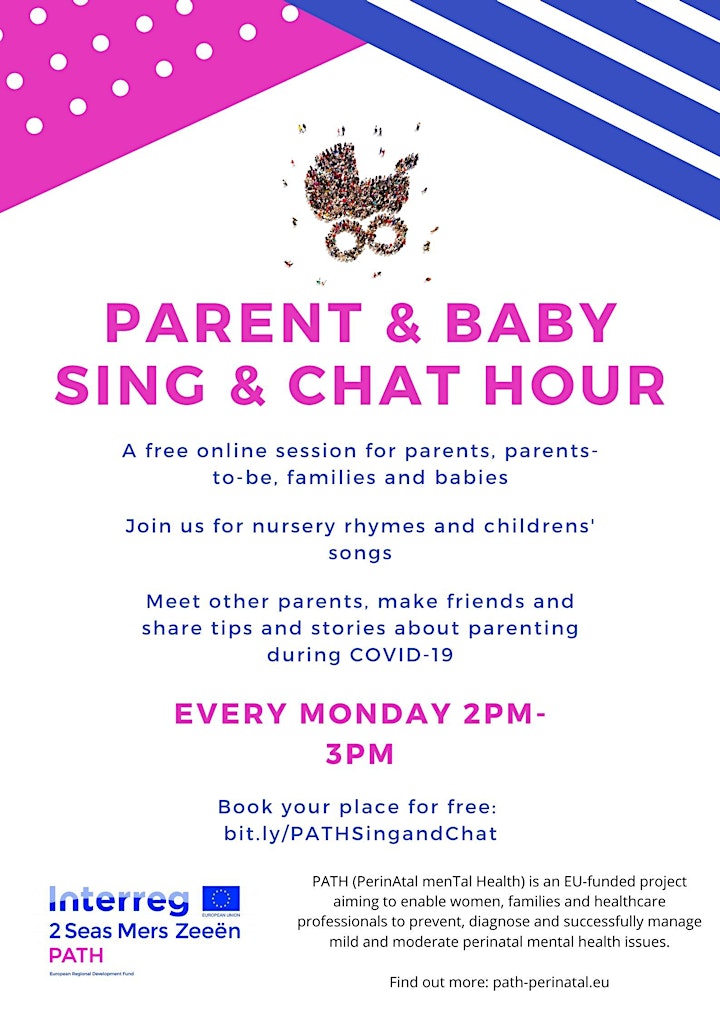 Come and join the PATH team for a free online session where parents, parents-to-be and babies can sing all the classics from Twinkle Twinkle Little Start to Wind the Bobbin Up
If singing isn't your thing, come along and meet other parents and parents-to-be to share tips and stories about parenting during COVID-19.
You don't have to join with camera or sound if you don't want to—all are welcome!
This is an informal session where you can meet other parents, get advice about employment and wellbeing and help to reduce isolation that comes from being in a lockdown.
Register now and you will be sent joining instructions on the morning of the event.
This event is being organised by Southampton City Council's Employment Support Team as part of the PATH project, which aims to raise awareness and support people affected by Perinatal Mental Health. Find out more and get information about parenting through Coronavirus: http://path-perinatal.eu/uk/covid.html
Like us on Facebook: https://www.facebook.com/2SeasPATH/
Follow us on Twitter: https://twitter.com/2SeasPATH
The event will be hosted via Zoom. Check out these video tutorials if you are not familiar with Zoom: https://support.zoom.us/hc/en-us/articles/206618765-Zoom-Video-Tutorials
This event is purely a social event and is not intended to give advice around coronavirus or mental health. If you have any concerns, please visit the NHS website, call NHS 111 or dial 999 in an emergency.
While we are keen to make this event a safe and supportive place to share, please remember this is a public event, so don't discuss anything personal that you would not be comfortable sharing in any other pubic forum.
For more information about the event, PATH or the Employment Support Team, please email employment.support.team@southampton.gov.uk