Description
** REGISTRATION REQUIRED ** CHILDREN'S ZONE NOW AVAILABLE!! **
Leading Routes is a pioneering network, established to address the issues faced by Black students and graduates, with a particular focus on supporting ambitious young people into competitive universities and professions.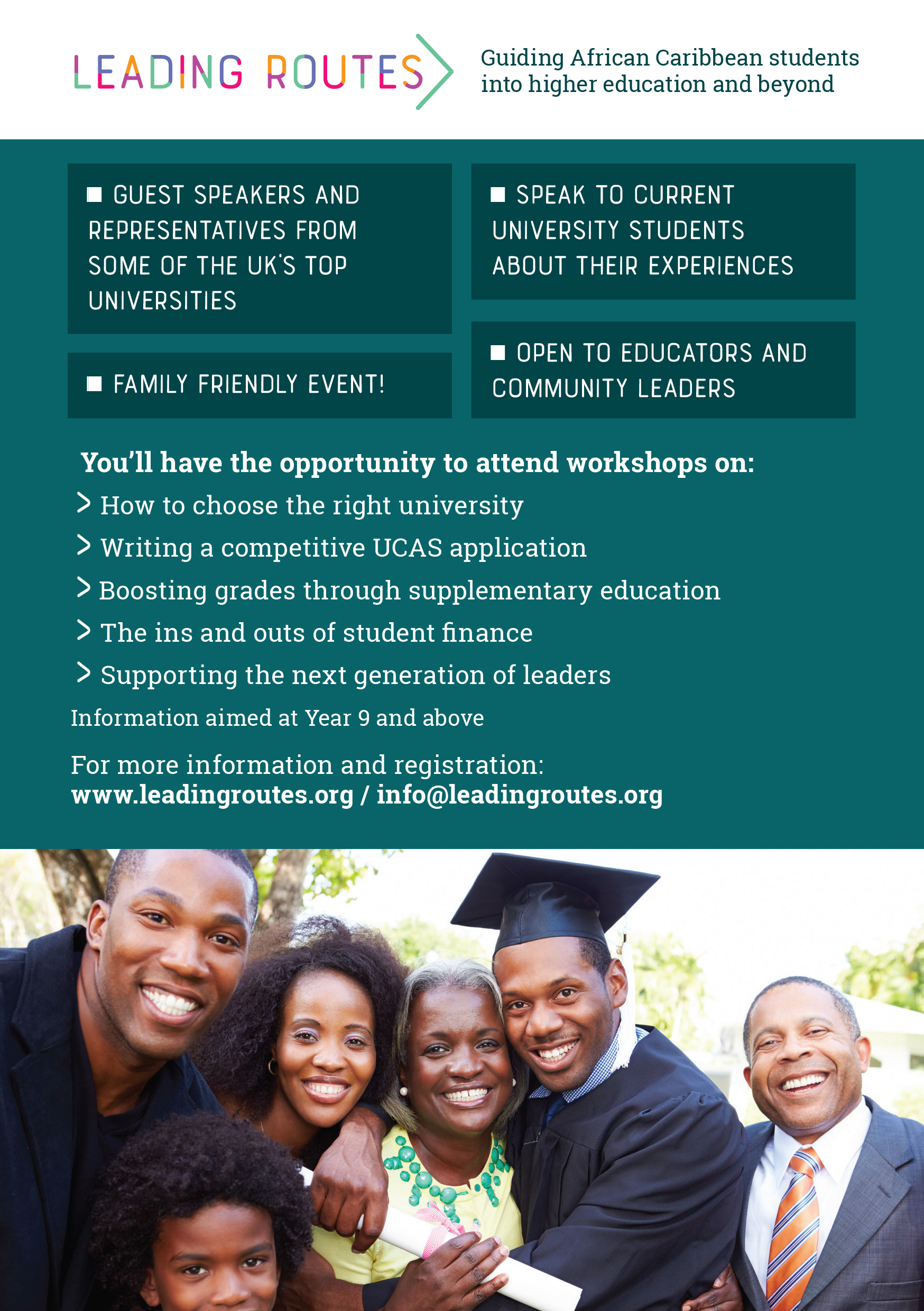 Are you a parent or carer who has asked any of the following questions?
• What do the top UK universities look for?
• Can my child afford to go to university?
• What is the best way to prepare my child for university?
• How can I support my child in making the important decisions that will affect their future?

If you have, this event has been organised for you!
We have a range of education professionals who will be delivering workshops and are available on the day to answer all of your questions about university.
Venue Details
Conway Hall, 25 Red Lion Square, London WC1R 4RL
The nearst tube station is Holborn. Chancery Lane and Russell Square are also within walking distance. Conway Hall travel and parking information.
We will be providing a fully supervised Children's Zone with fun activities and games for younger children, ran by qualified DBS cleared staff.
Confirmed speakers:
✓ Dr Kehinde Andrews - the UK's first professor of Black Studies at Birmingham City University; author of 'Resisting racism: race, inequality and the Black supplementary school movement'.
✓ Sophie Tuhey - Education Partnerships Manager at UCL; governor of Newham Collegiate Sixth Form Centre and Founder of the Young Governors' Network; previously Widening Participation at both UCL and King's College London.
✓ Amber Cuttill - Pembroke College, University of Cambridge; previously Widening Participation at UCL, and the School of Medicine and Dentistry at Queen Mary, University of London.
✓ Amy York - University College London; previously Student Finance Presenter for Student Finance England and The Department for Business, Innovation and Skills.

✓ Yvonne Field - Founder of The Ubele Initiative; and Lecturer in Community Studies at Goldsmiths, University of London
✓ Syreeta Allen - King's College London; previously Black Cultural Archives' programme for schools and young people.
✓ Funmi Abari - Founder of The Institute of Mad Science, 2nd Year Medicine student at the University of Leeds. Recently recognised as Britain's 2nd most influential Black African Caribbean Student by Powerful Media's Future Leaders magazine.

Hosted by: Philip Udeh – Founder of Brain Füd, Community Activist and London School of Economics and Political Science (LSE) alumni.
Student panel - speak to current students from UCL; King's College London; Goldsmiths University, University of London; University of Leeds; Queen Mary, University of London and University of Oxford.
Exhibitors
Aspire Education Group - a hub of advisers and providers of inspirational education, accreditation and consultancy services who think globally and act locally.
Birkbeck, University of London - only specialist provider of evening university study, offering part-time and full-time courses by evening study at all levels.
Black Child Promotions - black owned business with the sincere mission to educate and uplift the spirit and liberate the nation of black people.
Future Leaders magazine - profiles 100 of the most outstanding black university students in Britain. A copy of the magazine will be available to all attendees, generously provided by Powerful Media.
IntoUniversity,- provides local learning centres where young people are inspired to achieve.

Let Us Learn - campaigns for non-UK born young people, who have leave to remain and long residencies in the UK, to access student finance for university.
Student Development Company, - creators of Career Ear, a mobile app which provides young people with a platform to obtain careers advice directly from professionals.
This event has been generously supported by UCL, Conway Hall and The Ubele Initiative.