Book both our Masterclasses and see your picture book characters come to life after two days of expert training.
About this event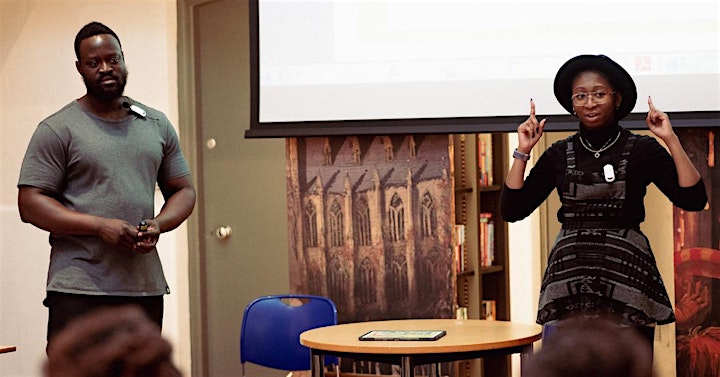 Creating appealing, engaging and authentic characters is essential to making successful picture books. In this one-day masterclass with the award-winning Dapo Adeola (Look Up!) and acclaimed illustrator Chanté Timothy, you'll explore character case studies, and use practical exercises and group sharing to transform your draft character concepts into believable characters through movement, gesture and interaction, using story to bring them to life.
During this Masterclass, you will learn:
How to tell a story through your draft character, focusing on aesthetics, personality, behaviour and overall visual appearance
How to use shape to inform the visual language of your character
How to apply gestures and expression to outline your character's personality
All you'll need to bring with you is a sketched character concept (detailed guidance will be provided by the artists when you sign up). During the masterclass, participants will be developing their draft character concepts, working on character design and visual development to produce a finished character. As part of this masterclass, you'll also receive valuable and critical feedback on your character design.
This masterclass will be delivered in-person. If you are unable to join the session in-person, we are happy to accommodate online attendance. Please email pathways@pop-up.org.uk if you wish to join online once you have purchased your ticket.
After the workshop, every participant will receive a comprehensive resource pack on character design compiled by Dapo Adeola & Chanté Timothy.
With:
Dapo Adeola is an award-winning children's book illustrator and character designer who creates characters and images that challenge expectations around race and gender in a fun and upbeat way. He is the co-creator and illustrator of the bestselling picture book Look Up!, winner of the Waterstones Children's Book Prize and the Number 1 debut picture book of 2019. Dapo also runs illustration and character design workshops in and out of schools, to help highlight the importance of representation in popular media and the possibilities of a career in illustration to children from diverse ethnicities.
Chanté Timothy is a children's book illustrator whose work explores movement, expression, and storytelling through her characters. A Pathways alumni who is published in four amazing titles, Hey You! by Dapo Adeola, My Big Mouth by Steven Camden, Happy Here introduced by Sharna Jackson alongside 10 Black British authors and 10 Illustrators, and A Black Woman Did That by Malaika Adero. Chanté's work consists of vibrant imagery focused on different themes of diversity.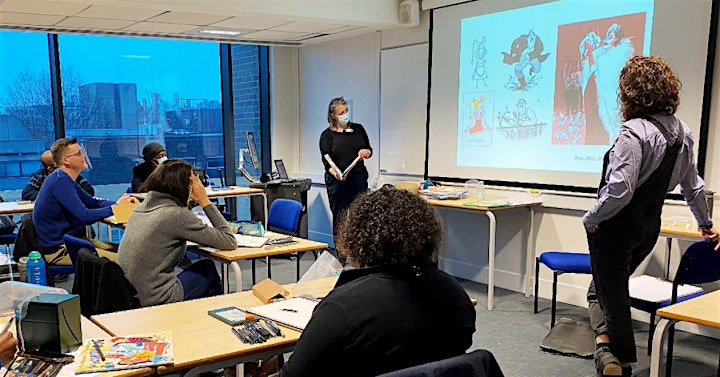 No matter how simple or complex your illustration style, observation and capturing detail from body language is vital in making authentic, convincing characters and narratives that readers can emotionally connect with. Over two half-days of playful exercises and real-life assignments you'll explore facial expressions and body language, draw from life and memory, and evolve characters, interactions and scenes with humour and empathy. Involves homework between sessions. All you'll need to bring is a sketchbook.
The first session on Sunday 19th June will be delivered in-person at Discover Children's Story Centre in London. The second session on Saturday 2nd July will be delivered online only.
If you are unable to join the first session in-person, we are happy to accommodate online attendance. Please email pathways@pop-up.org.uk if you wish to join online once you have purchased your ticket.
During the first session of this Masterclass, you will learn:
About the picture book process and industry with two experienced professional collaborators from both the illustrator and art director perspective
The value of keeping a sketchbook and gathering unique first hand reference
The benefits of observational drawing to improve capturing facial expressions and body language through in-class drawing practice.
During the second session of this Masterclass, you will learn:
How to understand techniques to further develop expression and relatable personality qualities for characters in a picture book context
How to effectively use observational study (from your homework task from the first session) to create believable characters - e.g protagonists, adversaries, sidekicks
How to bring your character to life, grow their world and develop interactions within a scene or action sequence.
With:
Sara Ogilvie is an award-winning illustrator and printmaker. In 2010, her first picture book Dogs Don't do Ballet with writer Anna Kemp was published for Simon and Schuster. It led to a Booktrust's Best New Illustrators award in 2011 which paved the way for ten years of successful picture book collaborations picking up recognition on shortlists including the Roald Dahl Funny prize, Sainsbury's Picture Book awards, and the Waterstones Children's Prize. This year, The Hospital Dog, in collaboration with Julia Donaldson, won the Indie Book Prize in the picture book category. Izzy Gizmo, written by Pip Jones, is currently being animated and orchestrated for Music in the Round based in Sheffield.
Jane Buckley - With over twenty years' experience in children's publishing, Jane has worked for a wealth of publishers including Penguin Random House, Little Tiger Press, Kingfisher, and Dorling Kindersley. Throughout her career, she's worked with a variety of award-winning illustrators such as Benji Davies, Sara Ogilvie, Liz Pichon, and Kate Hindley. Jane started her journey studying Fine Art at Nottingham Trent University, as a painter and filmmaker with a keen eye for a good story and, as a result, the picture book world soon beckoned. Through her determination and hard work, she now finds herself as the British Book Awards Designer of the Year winner and Art Director of Picture Books and Novelty at Simon & Schuster UK.
Who: All aspiring illustrators, 18 and over, with an interest in children's book illustration and for more experienced artists looking to try something new
When:
Masterclass 1: Sunday 22nd May 2022, 10.00 - 17.00 BST
Masterclass 2: Sunday 19th June & Saturday 2nd July 2022, 13.00 - 17.00 BST
Where:
Discover Children's Story Centre, 383-387 High St, London E15 4QZ or online if you are unable to attend in-person
Discover Children's Story Centre & Online
Tickets:
£170 [Early Bird, if booked by Sunday 10 April 2022]
£210 [General Admission, from Monday 11 April 2022]
Ticket price includes Eventbrite booking fee. Tickets to this event are non-refundable.
Pathways Plus is a series of Masterclasses and Short Courses for all aspiring illustrators, delivered by award-winning illustrators and highly-experienced children's book publishers. The courses provide an amazing opportunity to learn how to illustrate children's books from the best in the industry as well as giving participants a real insight into the world of children's publishing.
Pathways Plus courses can be taken as one-offs or as a package and have been developed by the same team who created Pathways Into Children's Publishing, a unique, highly-acclaimed two-year professional training programme for aspiring and emerging illustrators.
Acclaim for Pathways Plus courses:
'A great experience'
'Fun, interactive and insightful'
'The author and illustrator made the effort to attend to everyone and answer our specific queries... they were incredibly friendly and great tutors who are open and honest about what they knew'
'Having that author/illustrator and art director insight was the best thing'
'A great opportunity for networking and exchange of ideas'
All Pathways Plus courses involve:
professional advice
shared insights and experiences
practical tasks
creative guidance
resource-sharing
interaction with tutors and participants
critical feedback