Description
PATTERNITALK | PATTERN IN PRACTICE
MATTER , MIND & MATERIALS
Delve beneath the surface as we use the unifying language of pattern to bring together a diverse panel of some of the most illuminating minds from the worlds of Fashion, Art, Design, Health, Science and Technology.
Join us for an evening of fast paced presentations that will explore the powerful presence of pattern across many different specialisms and their shared impact on culture.
Our guest speakers sharing how pattern shapes their own practice include:
∞
Richard Weston | Professor of Architecture, author, inventor, designer
Richard Weston is a renowned architect and author as well as Professor of Architecture at the Welsh School of Architecture, Cardiff University. Richard featured in the BBC2 series, Britain's Next Big Thing, which charted his progress culminating in our images becoming a top selling scarf collection at Liberty of London.
∞
Isamaya Ffrench | Makeup Artist and Illustrator
Having originally studied Industrial design at Central St Martins Isamaya's clients include i-D, 10, Vogue China and POP and she has worked with Nick Knight, Rankin, Daniel Sannwald and Simon Foxton. In 2010 she became a consultant and performer for the internationally renowned Theo Adams Company who have performed for Louis Vuitton, Liberty, The ICA and most recently held a residency at Robert Wilsons Watermill Centre in New York. She is Beauty editor for USED Magazine.
∞
An expert in happiness, creativity and personal development, Björn is the co-founder of Boomtags, an organisation that conducts experiment to further the potential of the world. He gets hired by some of the biggest and most well-known organisations in the world to help them challenge their thinking, evolve their assumptions and discern the true nature of a situation. By designing and delivering learning experiences he helps individuals think differently about themselves and the world, thereby discovering more alternatives for action. His upcoming book is Corporate Detox - When Work is in the Rearview Mirror."
Daniel Bor | Neuroscientist | Author "The Ravenous Brain"
Neuroscientist Daniel Bor has spent the past decade worrying over biology's most difficult problem — what consciousness is, why we have it, and what it means for our self perception. A proposal with practical and far-reaching implications, The Ravenous Brain extends beyond biology, philosophy, or neuroscience, and touches on the fields of medicine, bioethics, and animal rights, as well as personal health and well-being.
∞
Jude Stewart has written on design and culture for Slate, The Believer, Fast Company, I.D., Metropolis, Design Observer, and Salon, [delete: Bloomberg BusinessWeek, Nextbook (now Tablet), and Austrian Radio's Diagonale]among others. Her first book ROY G. BIV: An Exceeding Surprising Book About Color is available for pre-order now from Bloomsbury UK. As contributing editor for PRINT, she writes a twice-monthly column about color and pattern. Read the interview that kickstarted their collaboration for Pattern Power HERE
∞
Robert Storey | Artist Set Designer
Robert Storey is a London based artist and designer who's work explores fine art and design through sculpture, installation and furniture. His clients include Kenzo, Victoria Beckham, Pollini, Jaeger, Harvey Nichols, Stella McCartney, Diet Coke, Vauxhall and Topshop. He has been commissioned for publications including AnOther magazine, British Vogue, i-D, Nowness, Pop and V MAN with photography collaborations including Angelo Panetta, Daniel Sannwald, Tyrone Lebon, Scott Trindle, Josh Olins and Matt Irwin.
Robert is represented globally by CLM.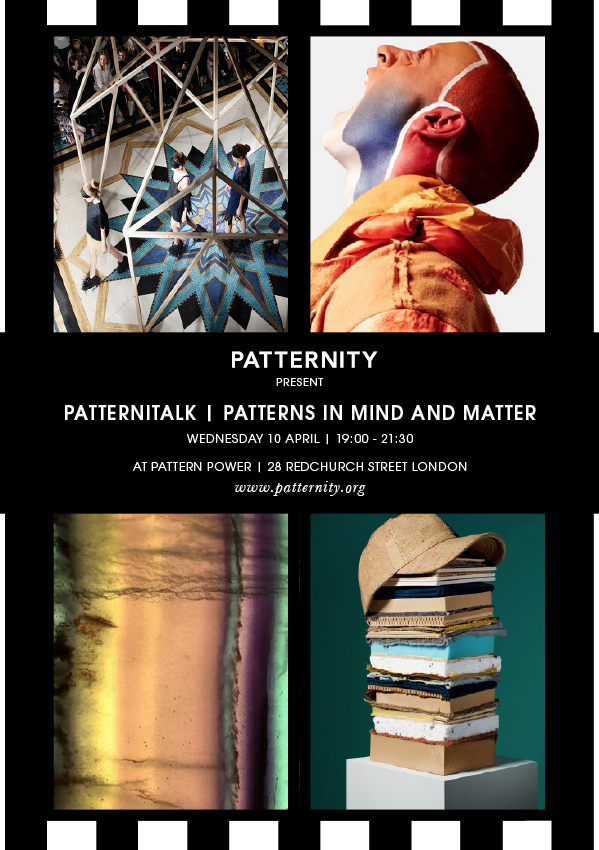 Organiser of Patternitalk: Mind & Matter
PATTERNITY
Present
PATTERN POWER
- Superstripe
 Pattern Power —Superstripe is the first in an ongoing series of annual exhibitions and events, exploring the powerful presence of pattern and it's ability to positively connect us all.
 For the month of April 2013 cult pattern pioneers Patternity take over the Londonewcastle Project Space on Redchurch Street in East London.  
 Visitors will be immersed in an intriguing and tactile world of stripes as Patternity transport their iconic curation and ethos of 'celebrating pattern everywhere' boldly into the real world. 
 SUPERSTRIPE EXHIBITION — INDUSTRY TALKS AND EVENTS
WORKSHOPS AND DEMOS — DESIGN COLLABORATIONS  
FILM AND MUSIC NIGHTS — POP UP CAFE, BAR AND SHOP
ABOUT PATTERNITY
 Patternity is an award-winning creative organisation that specialises in the exploration and application of pattern. 
 Born from a united drive to blur the boundaries between disciplines and further the awareness and understanding of the world around us, Patternity projects go beyond the surface, using pattern as a vehicle to engage, educate and inspire.
 NEW YORK TIMES
"PATTERNITY is resolutely noncliché and renders
everyday bricks and mortar moot"
 VOGUE UK
"You'll adore PATTERNITY'S exhaustive research dedicated to all
things decorated, tessellated and patterned... "
 WALLPAPER*
"Spend a few moments at PATTERNITY and you'll
look at the world through fresh eyes"
 RESEARCH ARCHIVE / DESIGN STUDIO / EVENTS
 www.patternity.org
FURTHER INFORMATION 
Opening times 12.00 – 19.00 daily 
General admission to the exhibition is free
PATTERN POWER —Superstripe is a Not - For - Profit event