Patternitalk: The Evolution Of Music

Tuesday, 16 April 2013 from 19:00 to 21:00 (BST)
Event Details
Guerrilla Science's Zoe Cormier* delivers her engaging talk on the evolution of music showcasing how patterns in sound historically affect the brain and connect us all.
This tallk will be accompanied by a special screening of "Mind Patterns" - a short film by Neuro-Philosopher Dr Dan Lloyd comissioned by Patternity for Pattern Power - Superstripe to explore the link between patterns of the brain. This is a short re-edit of Dan's extensive research that uses brain scans gathered by functional Magnetic Resonance Imaging to transform the patterns of the hemispheres into stimulating soundscapes.  
About Zoe....
Zoe Cormier is a freelance journalist, science writer and photographer with a background in biology who now specialises in environmental reporting and public science events. Her work has featured in Nature News, The Guardian, The Globe and Mail, and BBC Focus.
She has been shortlisted twice for the Canadian National Magazine Awards was the author of The Green Report, a digest of environmental news and trends published in The Globe and Mail – Canada's largest national newspaper – twice monthly between 2007 and 2009.
Zoe is also the Head of Communications for UK science outreach organisation Guerilla Science, for whom she pens philosophical treatises, takes photos of scientists covered in glitter, manages the website and presents lectures on the evolution of music.
http://www.zoecormier.com/ 
http://guerillascience.co.uk/
A MESSAGE FROM DAN LLOYD:
 Inside each of us, at every moment, a symphony plays. It's the symphony of consciousness, but at the same time it's the symphony of the brain. It plays on millions of instruments over millions of channels. 
Scientifically, Mind as Music uses brainscans gathered by functional Magnetic Resonance Imaging (fMRI) to explore the resemblance of fMRI signals to musical forms. In an fMRI scan, each part of the brain resonates at different frequencies. Although these resonators can't be heard, all the concepts of music apply. We can look at harmonies and timbres, at consonance and dissonance, at melodies, and more. Along the many dimensions of music, we can ask whether the activity of the brain is more like music than some other contenders:
Is brain activity more like music than it is like language? Is it more music than noise? Are its musical properties different in different states of mind, and are they different for healthy brains in contrast with schizophrenia and other mental illnesses? Increasingly, it seems the answers to these questions is Yes.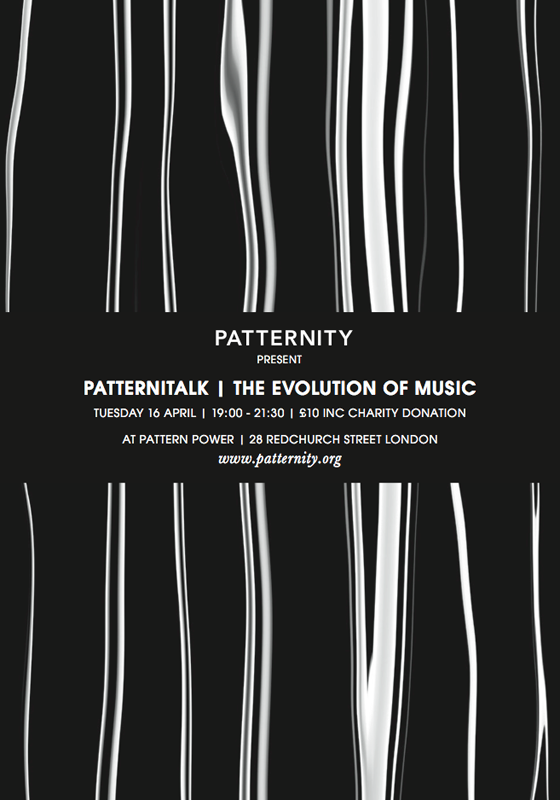 When & Where

Londonewcastle Project Space
28 Redchurch Street
E2 7DP London
United Kingdom


Tuesday, 16 April 2013 from 19:00 to 21:00 (BST)
Add to my calendar
Organiser
Patternity
PATTERNITY
Present
PATTERN POWER
- Superstripe
 Pattern Power —Superstripe is the first in an ongoing series of annual exhibitions and events, exploring the powerful presence of pattern and it's ability to positively connect us all.
 For the month of April 2013 cult pattern pioneers Patternity take over the Londonewcastle Project Space on Redchurch Street in East London.  
 Visitors will be immersed in an intriguing and tactile world of stripes as Patternity transport their iconic curation and ethos of 'celebrating pattern everywhere' boldly into the real world. 
 SUPERSTRIPE EXHIBITION — INDUSTRY TALKS AND EVENTS
WORKSHOPS AND DEMOS — DESIGN COLLABORATIONS  
FILM AND MUSIC NIGHTS — POP UP CAFE, BAR AND SHOP
ABOUT PATTERNITY
 Patternity is an award-winning creative organisation that specialises in the exploration and application of pattern. 
 Born from a united drive to blur the boundaries between disciplines and further the awareness and understanding of the world around us, Patternity projects go beyond the surface, using pattern as a vehicle to engage, educate and inspire.
 NEW YORK TIMES
"PATTERNITY is resolutely noncliché and renders
everyday bricks and mortar moot"
 VOGUE UK
"You'll adore PATTERNITY'S exhaustive research dedicated to all
things decorated, tessellated and patterned... "
 WALLPAPER*
"Spend a few moments at PATTERNITY and you'll
look at the world through fresh eyes"
 RESEARCH ARCHIVE / DESIGN STUDIO / EVENTS
 www.patternity.org
FURTHER INFORMATION 
Opening times 12.00 – 19.00 daily 
General admission to the exhibition is free
PATTERN POWER —Superstripe is a Not - For - Profit event
Patternitalk: The Evolution Of Music