Patternitalks: Fashion, Film and Form

Wednesday, April 17, 2013 from 7:00 PM to 9:30 PM (BST)
Event Details
Patternity joins practitioners from the worlds of fashion, film, art and design for an evening of fast paced presentations that will explore several different specialisms - and their shared impact on culture.
The talk will be co-chaired by Patternity and Lily Silverton, Fashion Features Editor at POP Magazine and will include an exclusive viewing of 'When Stripes Collide', a fashion film directed by Silverton and created in collaboration with Patternity for Superstripe. 
Our guest speakers sharing how pattern

how pattern, print and repetition s

hapes their own practice wil include: 
Lily Silverton | Director & Film Maker
Lily Silverton is a freelance creative director and filmmaker. 
 Lily is Fashion Features Editor at POP, the biannual fashion and art magazine, as well as heading up Special Projects thepop.com.  Working closely with brands and artists to produce new and exciting collaborative projects, her past films have featured Kitty Joseph, Wolf & Badger and Fanny & Jessy.  She is also currently working with ethical fashion giant From Somewhere on their exciting re-launch.
Katharine Hamnett | Fashion Designer CBE
Katherine Hamnett is one of the most important names in the fashion industry having promoted an ethical business philosophy since the 1980's. She is most widely known for her evocative political t-shirts with big block lettered slogans, the most famous of which are 'CHOOSE LIFE' and 'USE A CONDOM' used to raise awareness about drug abuse, suicide and HIV/AIDS.
In 1989, Katharine also began lobbying for major changes in the way the industry operated. In 2005, she re-launched the brand according to some of the industry's most strict social and environmental guidelines.
She was awarded the Commander of the Order of the British Empire (CBE) in 2011 in honour of her influence and services to the fashion industry.
Katie is a multi-disciplinary textile designer whose design research celebrates neuro-diversity. Using intuitive and empathic design methods, Katie works with people of all abilities to investigate how harnessing the sensory qualities of materials can improve a person's experience of their environment. Employing an interdisciplinary approach Katie collaborates with occupational therapists, educationalists and psychologists to generate new knowledge within this area.
Katie completed her MPhil in textiles at the Royal College of Art, where she received the prestigious Helen Hamlyn Award for outstanding creativity. Her extensive professional experience ranges from textile production in India, prop making for feature films at Jim Henson's Creature Shop and collaborating with artists and designers such as Daan Roosegaarde, exploring the dynamic relationship between people, space, and technology. Katie is also a Design London Fellow.
"Because a shared awareness of pattern can positively shape our world"
Patternity is an award-winning creative organisation that specialises in the exploration and application of pattern. Founded by art director Anna Murray and surface/textiles designer Grace Winteringham with a united drive to push the awareness and understanding of pattern. Their unique research archive, design studio and events go beyond the surface, using pattern as a vehicle to engage, educate and inspire.
Patternity has received international recognition for its authoritative approach to pattern. With a client list that includes The Barbican, Celine, The BBC, The School Of Life, Granta, Levis and Selfridges. Patternity Studio own a prestigious Wallpaper* interior design award, cited by The Telegraph as one of the world's 'Top 10 Most Influential Style Blogs' and Voted 6th in Wallpaper* Magazine's 20 'Best Things On The Web'.
∞

Belfast born Kathryn Ferguson is a filmmaker and curator. She has made many films for fashion designers, brands and musicians including Chloe, Selfridges, Sinead O'Connor, Lady Gaga, Richard Nicoll, Charlie Le Mindu, Katie Eary, and Domino Records. These films have been featured on MTV, SHOWstudio, Dazed Digital, Twin, the BBC and in Vogue.
Her experimental film work has been selected for film festivals, screenings and group shows around the world including OneDotZero, the 59th Berlinale, the V&A, the Pompidou Centre, ASVOFF, BYOB and Birds Eye View Film Festival at the BFI.
As well as her own filmmaking practice Kathryn also works as a Curator and Lecturer.  She began curating the annual Birds Eye View Film Festival's 'Fashion Loves Film' strand at the Institute of Contemporary Arts  & British Film Institute in 2008 where it continued until 2011. She completed a masters in communication, art & design at The Royal College of Art in June 2011 where she specialised in experimental film.
Since then she has been working with the British Council & The British Fashion Council as a curator specialising in the emerging genre of fashion film. Her work with the British Council has seen her travel around the world visiting cities including Sarajevo, Lagos (Nigeria), Lisbon and Ljubljana giving talks, screenings and hosting filmmaking workshops.
In October 2012, she curated an extensive fashion film exhibition called "Dressing the Screen" that opened at the UCCA in Beijing in October 2012. Her work with the BFC has seen her join a curatorial panel creating a new seasonal film festival called Fash/on Film. The Film Festival takes place at Somerset House over London Fashion Week. She also works as a lecturer at London College of Fashion & Central Saint Martins College of Art & Design.
She studied at Central Saint Martins and the Royal College of Art.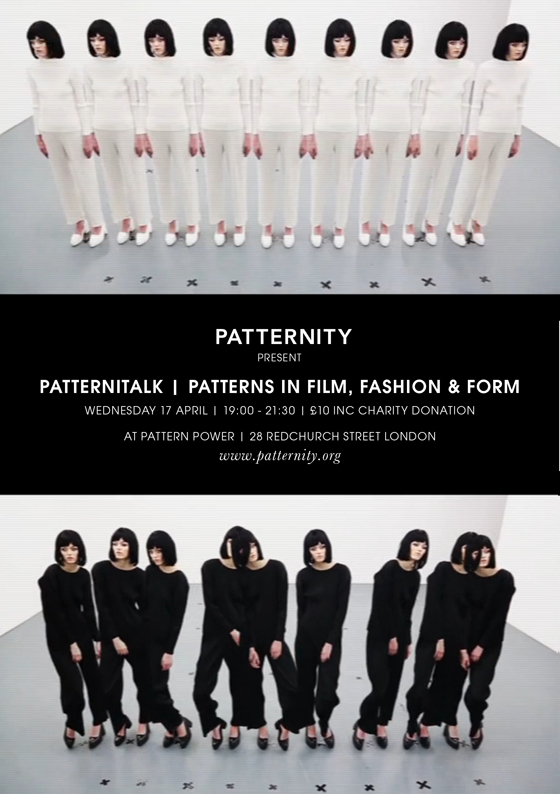 When & Where

Londonewcastle Project Space
28 Redchurch St
E2 7DP London
United Kingdom


Wednesday, April 17, 2013 from 7:00 PM to 9:30 PM (BST)
Add to my calendar
Organizer
Patternity
PATTERNITY
Present
PATTERN POWER
- Superstripe
 Pattern Power —Superstripe is the first in an ongoing series of annual exhibitions and events, exploring the powerful presence of pattern and it's ability to positively connect us all.
 For the month of April 2013 cult pattern pioneers Patternity take over the Londonewcastle Project Space on Redchurch Street in East London.  
 Visitors will be immersed in an intriguing and tactile world of stripes as Patternity transport their iconic curation and ethos of 'celebrating pattern everywhere' boldly into the real world. 
 SUPERSTRIPE EXHIBITION — INDUSTRY TALKS AND EVENTS
WORKSHOPS AND DEMOS — DESIGN COLLABORATIONS  
FILM AND MUSIC NIGHTS — POP UP CAFE, BAR AND SHOP
ABOUT PATTERNITY
 Patternity is an award-winning creative organisation that specialises in the exploration and application of pattern. 
 Born from a united drive to blur the boundaries between disciplines and further the awareness and understanding of the world around us, Patternity projects go beyond the surface, using pattern as a vehicle to engage, educate and inspire.
 NEW YORK TIMES
"PATTERNITY is resolutely noncliché and renders
everyday bricks and mortar moot"
 VOGUE UK
"You'll adore PATTERNITY'S exhaustive research dedicated to all
things decorated, tessellated and patterned... "
 WALLPAPER*
"Spend a few moments at PATTERNITY and you'll
look at the world through fresh eyes"
 RESEARCH ARCHIVE / DESIGN STUDIO / EVENTS
 www.patternity.org
FURTHER INFORMATION 
Opening times 12.00 – 19.00 daily 
General admission to the exhibition is free
PATTERN POWER —Superstripe is a Not - For - Profit event
Patternitalks: Fashion, Film and Form