Event Information
Location
Good Life Hub
Orchard Barn
Manor Farm Barns, Newbury Hill
Hampstead Norreys
RG18 0TR
United Kingdom
An immersive Pause candlelight sound bath for deep relaxation at the Good Life Hub, Berkshire.
About this event
WHAT IS A SOUND BATH?
A Sound Bath is an unforgettable experience for anyone who seeks deep relaxation, rejuvenation and an acceleration of their inward journey. Physical injuries can be healed, old emotional traumas released and new insight accessed. You feel truly, vibrantly alive.
We will start with an auric cleanse, some light stretching and gentle breathing techniques to help you settle and arrive. You are then eased into a deep muscle relaxation before being fully immersed in the healing sounds of the gong.
The atmosphere will be unhurried, internal focussed and relaxed, the space will be lit by warm candlelight as you are guided on a journey of self-exploration and discovery.
This event is limited to 15 people and will sell out fast.
Doors open at 7.00pm and the Sound Bath starts at 7.15pm. There will be no admissions once the Sound Bath has begun.
PLEASE NOTE
If you are pregnant, terminally ill, in the final stages of cancer, have severe mental illness or a pacemaker please contact danielle@pauseglobal.com before you book.
If you have ear and balance problems you may be more sensitive to sound variations.
If you are suffering from a fresh cold or a bad cough, please consider others before attending, as this event encourages deep peace and quiet.
This event is not suitable for people under 16 years of age except by special arrangement.
HOW DOES SOUND HEALING WORK?
Sound was used by the ancient civilisations for healing, and the Ancient Greeks connected the two by putting one God, Apollo, in charge of both music and healing.
Sound Healing is the therapeutic use of sound and music for healing, where the voice or instruments are used as a natural way to treat pain and illness. Sound Healing works by taking a person into a place of stillness where they can heal themselves at a physical, mental, emotional or spiritual level.
Sound Healing works through the following key principles:
1. Frequency - resonance of sound
2. Intention - power of thought
3. Entrainment - stronger force pulls a weaker force to it
Sound has the capacity to affect us on all levels - physical, emotional, mental and spiritual. Often, in order to cope with today's fast-paced world, we shut down our senses, suppress our feelings and ignore our bodies.
By causing our brain waves to change, Sound Healing can take us effortlessly into an altered state of deep awareness. This is positive because it means we can access wisdom from within that is usually drowned out by the chattering mind. In the stillness we can hear our body's wisdom and activate its natural healing ability so that we can return to health, vitality and happiness.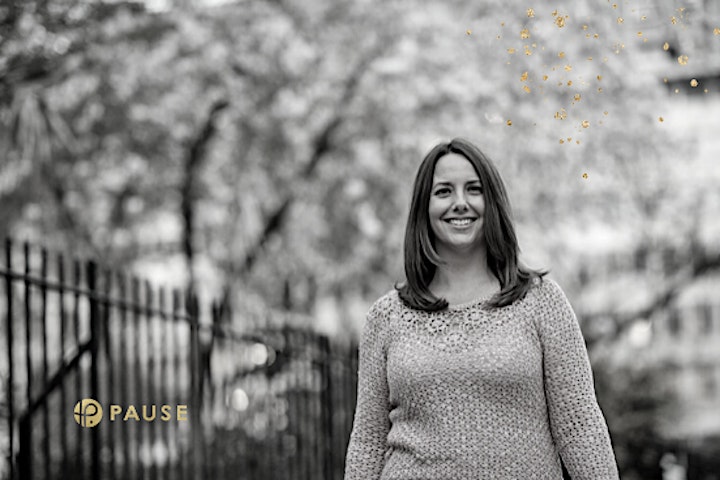 ABOUT DANIELLE
Danielle is the Founder of Pause Global, specialising in retreats and coaching for business leaders. She has a long work history as a successful executive coach, working with top-level executives at companies such as Mars, Accenture and Nike.
She is the author of Pause, Pause Every Day, Sleep Meditations and Morning Meditations (published by Aster at Octopus Publishing Group) which have collectively sold over 8,000 copies and have been translated into 10 languages.
Danielle is a fully insured and certified Sound Healing Practitioner, trained by the College of Sound Healing.
PAUSE IN PARTNERSHIP WITH
GOOD LIFE HUB
Situated in an idyllic rural setting, the Good Life Hub is a boutique coworking community providing a space for individuals and businesses to come together, to connect, and to be inspired. Whether it's a place to focus, seeing a friendly face, or help growing your business, you've come to the right place.
HAPPY LARDER CO.
We believe doing business comes with a commitment to social responsibility and a positive impact on people and the planet. Our products are ethically and sustainably sourced from some of the finest tea gardens around the world, and while the quality of our products speaks for itself, what it doesn't tell you is the work we do behind the scenes.
With every product purchased, we contribute to charitable organisations supporting women and children who have experienced domestic violence and human trafficking. We also work with organisations delivering education and economic empowerment programs as a path to prevention and more positive life outcomes. With Happy Larder Co., every cup you drink makes a difference!
HOW TO FIND US
The Good Life Hub is located in Hamsptead Norreys in West Berkshire.
Approximate drive times are:
London: 1 hour 15 mins
Reading 30-40 minutes
Newbury 15-20 minutes
How to find us:
Directions from the B4009, turn into the road between Hampstead Norreys Primary School and the Village Hall. Continue down this road, past the school on your left and the park on your right. Just after the Church on your left the road will curve left and you will enter through a set of gates. Good Life Hub is at the bottom of the driveway on your right, with ample parking on either side of the building.
ACCOMODATION
If you are travelling to the event and wish to book an overnight stay, Manor Farm Courtyard Cottages are situated next to the Good Life Hub. https://www.stayatmanorfarm.co.uk
CANCELLATION POLICY
Tickets are non refundable, however you can book with confidence with our money back guarantee if the event is cancelled due to any government restrictions.
Date and time
Location
Good Life Hub
Orchard Barn
Manor Farm Barns, Newbury Hill
Hampstead Norreys
RG18 0TR
United Kingdom
Refund policy