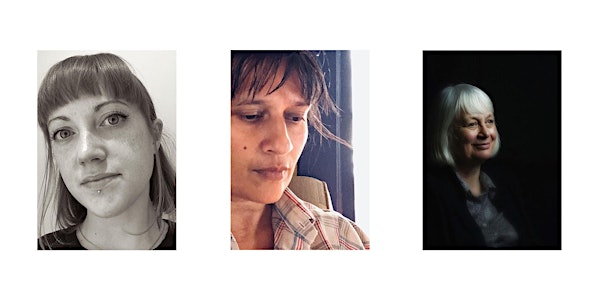 Pavilion Poetry launch - Martha Sprackland , Bhanu Kapil & Linda Anderson
Event Information
Location
University of Liverpool - School of the Arts Library (1st floor)
19 Abercromby Square
Liverpool
L69 7ZG
United Kingdom
Pavilion Poetry launch - Martha Sprackland , Bhanu Kapil & Linda Anderson
About this event
CITADEL – Martha Sprackland
Author biography
Martha Sprackland is a writer and editor from Merseyside, now living between London and Madrid. She was co-founder and poetry editor of Cake magazine, was assistant poetry editor for Faber, and is one of the founding editors of multilingual arts magazine La Errante. She is the editor of independent press Offord Road Books. In 2018 she joined Poetry London as associate editor, and in 2019 became poetry editor. She teaches for the Poetry School. Martha's debut pamphlet, Glass As Broken Glass, was published by Rack Press in 2017; a second, Milk Tooth, was published by Rough Trade Books in 2018. This is her first collection.
Juana of Castile (commonly referred to as Juana la Loca – Joanna the Mad) was a sixteenth-century Queen of Spain, daughter of the instigators of the Inquisition. Conspired against, betrayed, imprisoned and usurped by her father, husband and son in turn, she lived much of her life confined at Tordesillas, and left almost nothing by way of a written record. The poems in Citadel are written by a composite 'I' – part Reformation-era monarch, part twenty-first century poet – brought together by a rupture in time as the result of ambiguous, traumatic events in the lives of two women separated by almost five hundred years. Across the distance between central Spain and the northwest coast of England these powerful, unsettling poems echo and double back, threading together the remembered places of childhood, the touchstones of pain, and the dreamscapes of an anxious, interior world. Symbolic objects – the cord, the telephone, eggs, a flashing blue light – make obsessive return, communication becoming increasingly difficult as the storm moves in over the sea. Citadel is a daring and luminous debut.
HOW TO WASH A HEART – Bhanu Kapil
Author biography
Bhanu Kapil is the author of five books of poetry/prose: The Vertical Interrogation of Strangers (Kelsey Street Press, 2001), Incubation: a space for monsters (Leon Works, 2006), humanimal [a project for future children] (Kelsey Street Press, 2009), Schizophrene (Nightboat, 2011), and Ban en Banlieue (Nightboat, 2015). Her blog can be found at https://thesparklyblogofbhanukapil.blogspot.com.
Bhanu Kapil's extraordinary and original work has been published in the US over the last two decades. During that time Kapil has established herself as one of our most important and ethical writers. Her books often defy categorisation as she fearlessly engages with colonialism and its ongoing and devastating aftermath, creating what she calls in Ban en Banlieue (2015) a 'Literature that is not made from literature'. Always at the centre of her books and performances are the experiences of the body, and, whether she is exploring racism, violence, the experiences of diaspora communities in India, England or America, what emerges is a heart-stopping, life-affirming way of telling the near impossible-to-be-told.
How To Wash A Heart, Kapil's first full-length collection published in the UK, depicts the complex relations that emerge between an immigrant guest and a citizen host. Drawn from a first performance at the ICA in London in 2019, and using poetry as a mode of interrogation that is both rigorous, compassionate, surreal, comic, painful and tender, by turn, Kapil begins to ask difficult and urgent questions about the limits of inclusion, hospitality and care.
THE STATION BEFORE – Linda Anderson
Author biography
Linda Anderson is Professor of English and American Literature at Newcastle University where she was the founder of both the Newcastle Centre for the Literary Arts (2009) and the annual Newcastle Poetry Festival. She has written extensively about autobiography and feminist theory but more recently has published widely on Elizabeth Bishop, including the monograph, Elizabeth Bishop: Lines of Connection (Edinburgh University Press 2013), and has co-edited a collection of essays on poetry archives, The Contemporary Poetry Archive: Essays and Interventions (Edinburgh University Press, 2019), Originally from Scotland, she was an editor of Writing Women for many years, has worked to establish innovative poetry archives at Newcastle University, including the Bloodaxe Archive (http://bloodaxe.ncl.ac.uk) and has published a poetry pamphlet, Greenhouse, with Mariscat Press, 2013.
Linda Anderson's much anticipated first collection travels across time and space, employing a range of voices, including historical ones. At the heart of the collection, though, is always the moment of encounter, the moment when things appear strange, before they settle into a pattern or become known. This is as true of the explorer Charles Kingsley, awed by the Caribbean landscape, as it is of the poet herself, confronted with moments of vision or almost vision, either in her own travels, or in the ordinariness of a domestic life. Nothing is quite secure in this collection: memory destabilizes with its resurrections; seeing has many angles and cannot be taken for granted; borders fluctuate and crossings abound. And although not afraid to draw on ideas from many sources, these poems often explore how thinking masks a fragility, the knowledge of our mortal selves. What are the fragments that make a poem, the book asks? How are they held within a form? And how do we negotiate the multiple memories, ideas, sights, meetings, and losses which constitute us and our complex selves.
Date and time
Location
University of Liverpool - School of the Arts Library (1st floor)
19 Abercromby Square
Liverpool
L69 7ZG
United Kingdom