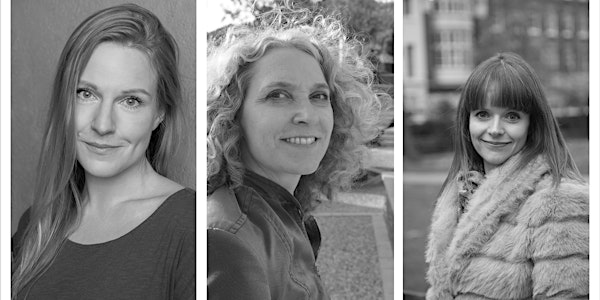 Pavilion Poets 2021: Alice Miller, Alice Hiller & Sarah Westcott
Meet our Pavilion Poets: Alice Miller, Alice Hiller and Sarah Westcott
About this event
Alice Hiller is a writer from London and Dieppe. She is the author of The T-Shirt Book (Ebury Press), and holds a PhD from UCL. Her journalism has been published in the Observer supplement and her reviews in The Poetry Review, Poetry London, The TLS, Magma, Literary Imagination and Essays in Criticism. She was the founding Reviews Editor of Harana Poetry and interviews poets in depth about 'saying the difficult thing' on her alicehiller blog. Hiller was a Jerwood Arvon Poetry Mentee for 2017-2018 and shortlisted for the Arts Foundation Poetry Fellowship in 2019. Her poems have appeared in Poetry London, Stand, The Cambridge Literary Review, Magma, tentacular, one hand clapping, perverse and elsewhere. Hiller founded and runs a free poetry workshop aimed at supporting and developing poets working with 'less welcome' materials. She curates the Estate of the émigré sculptor Oscar Nemon, about whom she has also written.
Alice Miller is the author of three poetry collections and a novel. Her previous collection, Nowhere Nearer (Pavilion, 2018) was a Poetry Book Society Recommendation, and her novel, More Miracle than Bird (Tin House, 2020) was a New York Times Book Review summer reading selection. A graduate of the Iowa Writers' Workshop and the International Institute of Modern Letters, Alice is on the faculty of the MFA programme at Cedar Crest College. Born and raised in New Zealand, she lives in Berlin.
Sarah Westcott's debut collection Slant Light, Pavilion Poetry, was Highly Commended in the 2017 Forward Prizes. Her pamphlet Inklings, published by Flipped Eye, was a winner of the Venture Poetry Award and a Poetry Book Society's Pamphlet Choice. Sarah's poems have appeared in magazines including Poetry Review, POEM, Magma and Butcher's Dog, on beermats, billboards and buses, and in anthologies including Best British Poetry The Forward Book of Poetry and Staying Human (Bloodaxe, 2020). Sarah was a poet-in-residence at the Bethnal Green Nature Reserve in London and Manchester Cathedral poet of the year in 2016. Recent awards are the London Magazine poetry prize and the Manchester Cathedral prize. She was a news journalist for twenty years and now teaches poetry at City Lit in London.