Description
IDR's Pay Planning for 2020 conference is an opportunity for pay practitioners from across the economy to come together and hear from colleagues, peers and specialists about the challenges facing those concerned with reward issues.
On 19 September 2019, Incomes Data Research (IDR) will be hosting a day-long conference, presenting the findings of our survey of employers' reward intentions for 2020 alongside an examination of the labour market/economic outlook, and case study presentations from key private sector employers.
The conference is aimed at helping employers think about and plan their reward strategies for the coming year. It offers delegates opportunities for hearing how other organisations have tackled reward issues, including using pay to support recruitment and retention and linking pay to employee engagement. It also provides the chance to meet other reward specialists and discuss current topics with them. Networking can take place before, during or after the conference.
Agenda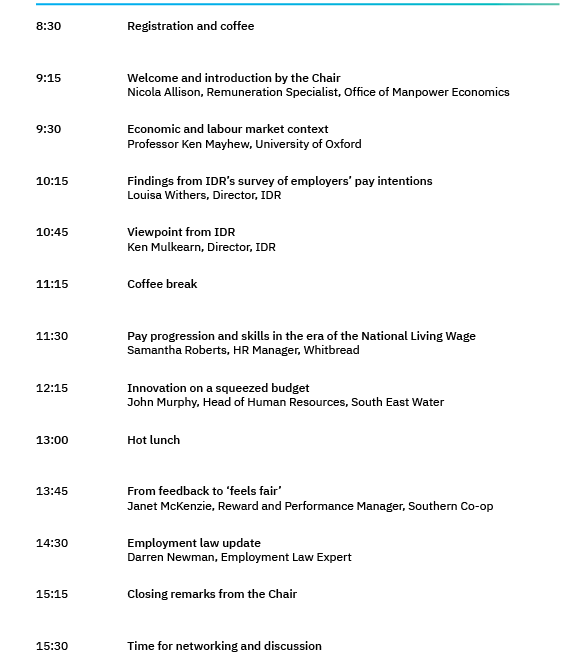 All attendees will receive a complimentary copy of IDR's Pay Climate bulletin which will include the summarised findings of our Pay Planning for 2020 findings (read more about Pay Climate here)
There will be tea/coffee, pastries and fruit in the morning and a hot buffet lunch. Tea/coffee will be available in the afternoon as well.
Tickets are available for £330+VAT per person.
IDR is an independent pay and benefits research organisation, set up after the closure of IDS in 2015 by former senior employees. IDR continues to publish analysis and commentary on a range of pay and pay-related topics, including the annual Pay Planning survey.
All questions regarding this conference can be directed to sales@incomesdataresearch.co.uk or 01702 669 549.
We look forward to seeing you there.