FX settlement, cash and collateral management have never been more of a challenge and markets more in need of a wake-up call.
About this event
Whether related to FX settlements, collateral movements or inter-entity payments, the goals are the same. Eliminate settlement and operational risk and reduce the cholesterol in the processes to maximise the use of your assets and increase capacity.
Join Baton Systems on May 27th at 11am EDT/ 4pm BST for 'PAY21' - a digital show dedicated to transforming payments and collateral management.
Baton are delighted to welcome special guests in alphabetical order:
Chris Giancarlo, former Chairman of The Board of the CFTC, and renowned industry commentator will be sharing his market insights in Fx Settlements and Cash Management.
Colin Lambert, Co-Founder and Publisher at The Full FX will discuss liquidity management, the rise of digital assets and the impact of new technology on the FX market.
Mariam Rafi, Managing Director, Global head of Financial Resource Management, Futures, Clearing and FXPB at Citi will be discussing the market challenges and innovation in collateral management.
We will be sharing our perspective on the three key themes for settlements and payments: risk management, liquidity management, and funding. Learn from industry leaders how the Baton platform, built on distributed ledger technology (DLT), is transforming the movement of assets across the world's largest financial markets.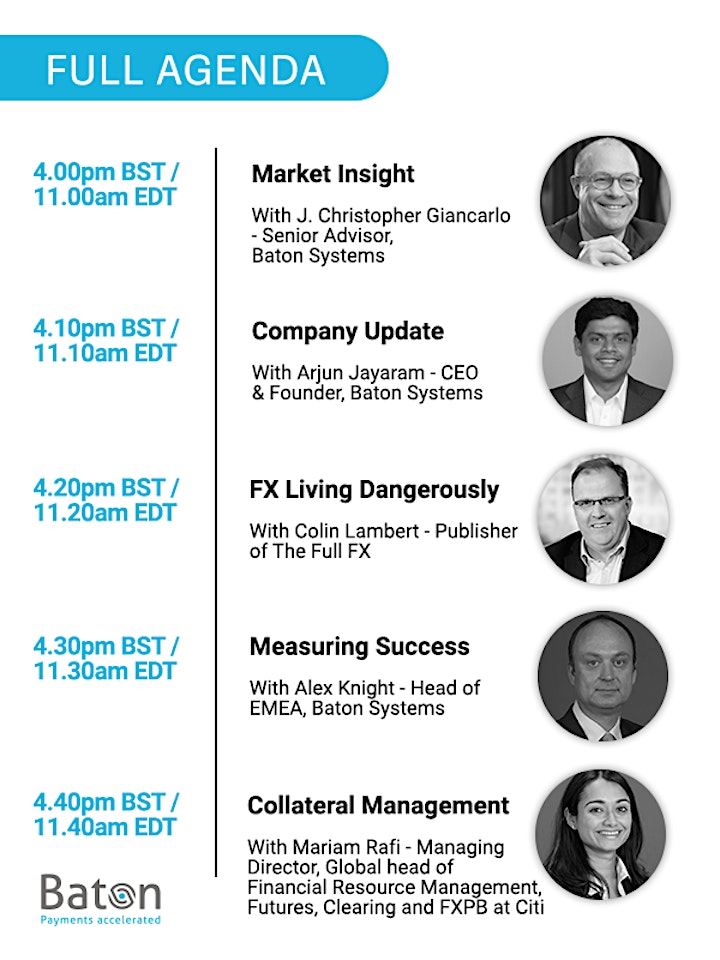 Organizer of PAY21 - Transforming FX Settlement, Cash & Collateral Management