Sales Have Ended
Registrations are closed
Thank you for registering for OHE's Paying for Cures Webinar on the 26 May. You will shortly receive an email from ABPI Events which will include you individual joining instructions for the webinar. Please email events@ohe.org if have any questions. Best wishes, OHE
Sales Have Ended
Registrations are closed
Thank you for registering for OHE's Paying for Cures Webinar on the 26 May. You will shortly receive an email from ABPI Events which will include you individual joining instructions for the webinar. Please email events@ohe.org if have any questions. Best wishes, OHE
Want to know how you can help increase access to cutting-edge therapies – & fuel greater innovation? Join us on our Paying for Cures Webinar
About this event
Paying for Cures Webinar
At a time when health systems had to shift their resources to deal with the COVID-19 crisis, it becomes more important than ever to find effective ways to provide access to the most needed treatments.
Breakthrough medical research is delivering new curative therapies that once seemed out of reach. With the current restrictions on health care access, such one-off therapies eliminating the need for follow up care become particularly valuable.
The advent of cures is raising important questions about affordability and the long-term sustainability of health systems. Simply put, healthcare systems are not set up to pay for cures where the benefits may accrue over many decades.
So how can you help improve outcomes – for patients and industry alike? We will be exploring:
What makes cures different in HTA?
What is uniquely uncertain about cures?
How can we understand the impact of this uncertainty on patients, payers and manufacturers?
What innovative financing mechanisms are acceptable and beneficial to payers and industry
What lessons we've learned from recent experience
Want to know how you can help increase access to cutting-edge therapies – and fuel greater innovation? Join us on 26 May for the first OHE Connects virtual event, 'Paying for Cures'.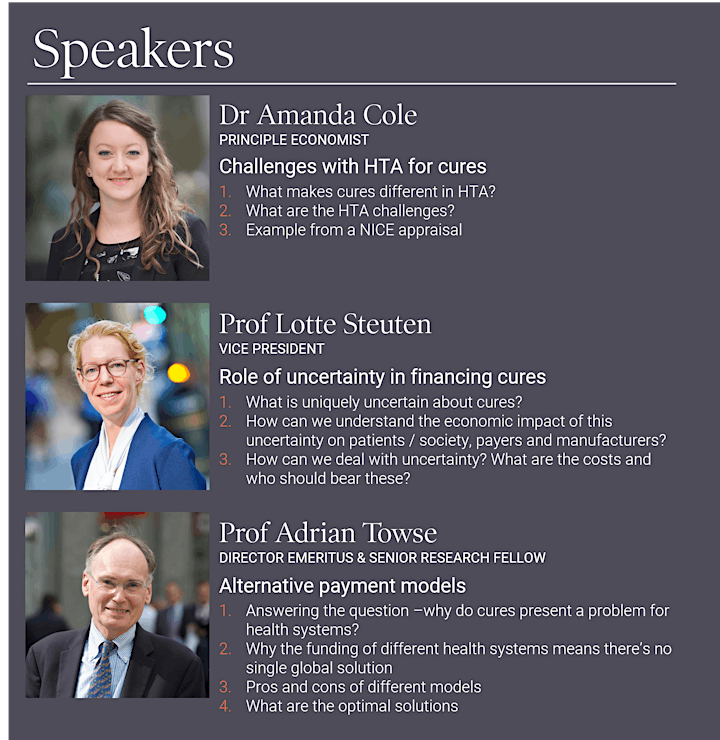 Learn during lockdown with OHE
OHE launches a new interactive series of online events.
In response to the 'new normal' of remote working and the challenges it's presenting OHE is pleased to announce we are moving online.
Like most organisations, OHE is facing the challenge of how to communicate all of the cutting-edge research and insights we're working on when we have had to postpone our Masterclass Series until later on in the year and with other conferences and keynotes cancelled.
OHE's programme of events has been designed to keep you up to speed with industry relevant insights. In our webinar series we're revisiting some content from our successful 2019 Pricing and Reimbursement Masterclass Series , as it is more relevant than ever, to provide rich and highly focused insights into some of the industry's most pressing challenges.
Join OHE's world-leading researchers and engage with our experts on these complex issues.
As the world's oldest and most well-respected health economic research institute, we're uniquely placed to bring you the latest in research, expertise and real-world evidence, as well as first-hand advice from global thought leaders.
The 2020 OHE Annual Lecture is also moving online as part of our virtual series. It's on the incredibly salient topic of how the world should pay for a COVID-19 vaccine. The development and administration of a safe and effective vaccine, offering population-wide protection, is the ultimate solution to ridding the world of the scourge of COVID-19, saving lives, and allowing people to pick up their livelihoods and way of life. In this lecture OHE's Adrian Towse will set out the options for funding development and manufacture for vaccines and their strengths and weaknesses, including what is likely to happen if there is no regional or global collaboration on the way forward. Join us on Thursday 25 June and to register or to find out more, please visit our website.
Organiser of Paying for Cures Webinar