PD 12 - Addressing Non-Communicable Diseases During the COVID-19 Pandemic
Sales Have Ended
Registrations are closed
This event has ended.
Sales Have Ended
Registrations are closed
This event has ended.
This high-level panel discussion will discuss sustainable ways to address non-communicable diseases amidst the COVID-19 pandemic.
About this event
This is a hybrid event. Participation shall take place both online, via Zoom (link to be shared upon registration). If you are attending in person, the panel discussion will be held at the World Health Summit, in Saal 2 - America, KOSMOS, Karl-Marx-Allee 131a, 10243 Berlin, Germany.
The world has spent more than US$ 16.55 trillion on COVID-19 response – 15.9% of the global GDP. This amount can fund all targets and indicators under Sustainable Development Goal (SDG) 3 up to 2030.
As we have been focused on responding to this unprecedented health crisis for almost two years now, concentration of resources to mitigate the pandemic has happened at the expense of other urgent health priorities, particularly non-communicable disease (NCD) care.
COVID-19 has been putting pressure on already fragile health systems all around the world, and NCD patients are suffering catastrophic consequences as a result, struggling to get proper access to treatment. This is all the more concerning as underlying NCD conditions are driving higher COVID-19 mortality rates, as shown in our research.
As the world is still navigating through this pandemic, The Defeat-NCD Partnership is hosting a high-level panel discussion at the World Health Summit to reflect on sustainable ways to address both COVID-19 and NCDs in an integrated way.
This event will bring together stakeholders from governments, multilateral development banks, the World Health Organization, the United Nations, and the private sector to highlight the intersection of COVID-19 and NCDs as well as reflect on practical solutions and partnerships to leverage COVID-19 response efforts to support better health outcomes for NCDs. The event will also showcase examples of political commitments to ensure better access to NCD care.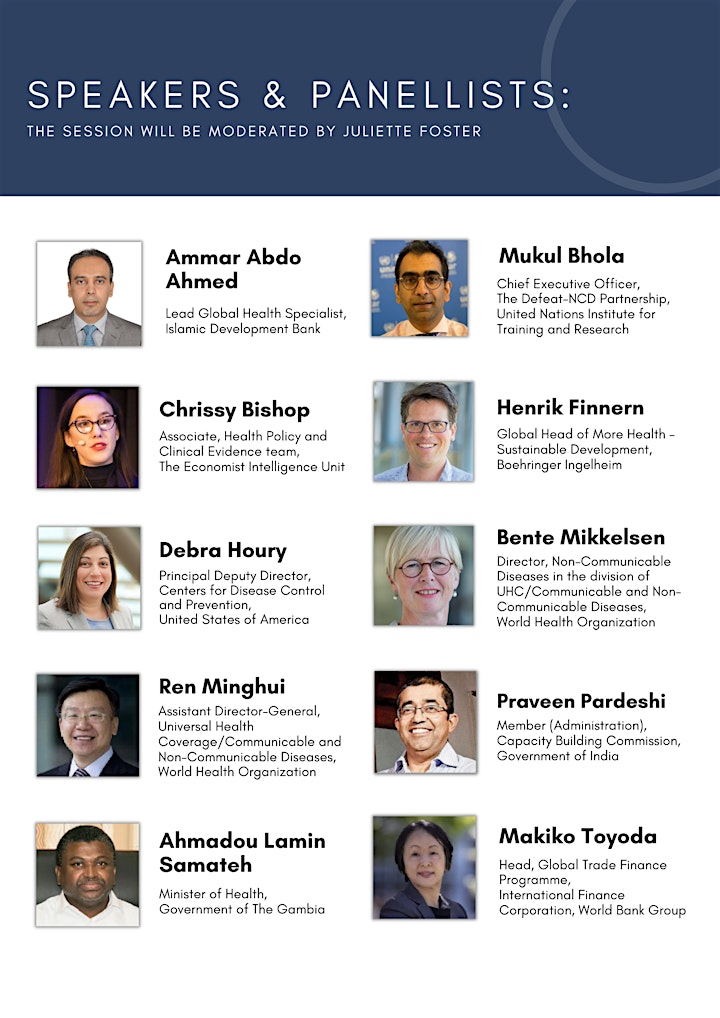 Organiser of PD 12 - Addressing Non-Communicable Diseases During the COVID-19 Pandemic
The Defeat-NCD Partnership is a practical response to the widespread call for action on NCDs. Formally launched alongside the UN General Assembly in 2018, we are a 'public-private-people' partnership anchored in the United Nations but extending well beyond to include governments, multilateral agencies, civil society, academia, philanthropies, and the private sector.
Our vision is clear — universal health coverage for NCDs. To achieve this, our core mission focuses on assisting approximately 90 low-resource countries via comprehensive action across four interconnected service pillars: national NCD capacity building, community scale-up of NCD services, affordability and accessibility of essential NCD supplies, and sustainable NCD financing.
Fifteen million people die prematurely every year from non-communicable diseases like cardiovascular disease, chronic respiratory disease, diabetes and cancer. In 2016, non-communicable diseases were responsible for 41 million of the world's 57 million deaths (71%). The burden is greatest within low- and middle-income countries, where 78% of all non-communicable disease deaths, and 85% of premature deaths, occurred.