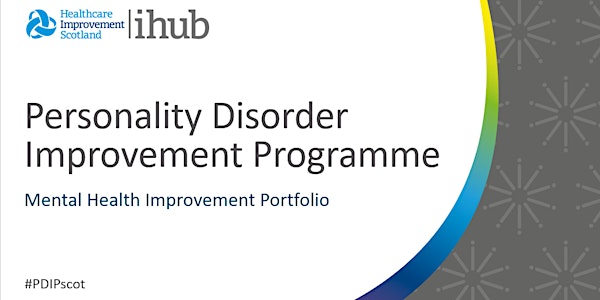 PDIP – Integrated Care Pathways and Specialised Services Webinar
Sales Have Ended
Registrations are closed
Please note that registration for this webinar has now closed. If you have already registered for the event, you will have received an email with joining information. However if you have not yet registered and wish to inquire about joining, please get in touch via email at his.mhportfolio@nhs.scot.
The MHIP are pleased to announce the second webinar of the Personality Disorder Improvement Programme on Tue 12 July from 11:00am – 12:00pm
About this event
Healthcare Improvement Scotland have been commissioned by the Scottish Government to deliver a Personality Disorder Improvement Programme (PDIP). The 14 month programme seeks to better understand the current state of service provision for people with a diagnosis of Personality Disorder and to bring together and engage with stakeholders from all over Scotland and identify key opportunities for improvement.
At this webinar you will learn about Integrated Care Pathways and Specialised Services in NHS Highland and NHS Greater Glasgow and Clyde. You will hear from:
• Dr Tim Agnew, Consultant Psychiatrist and Psychotherapist in NHS Highland Personality Disorder Service, Acting Clinical Lead Adult Psychiatry.
• Dr Andrea Williams, National Clinical Lead, Consultant Medical Psychotherapist, NHS Greater Glasgow and Clyde Clinical Lead for Personality Disorder.
• Dr Michele Veldman, National Clinical Lead, Consultant Clinical Psychologist, Clinical Lead NHS Greater Glasgow and Clyde for Dialectical Behavior Therapy (DBT) Service .
This webinar is aimed at anyone interested in improving the services for personality disorders.
Privacy Notice
On signing up for the webinar you are complying with our privacy notice and you will also be providing personal details. Our purpose for collecting this information is so we can facilitate the webinar or live broadcast event and provide wider access to its content.
What information do we collect and why do we collect this information?
When you sign up to take part in one of our webinars we ask you for:
name
job title ( if applicable)
organisation (if applicable)
We may ask you for additional, non-personal questions in relation to the topic of the webinar.
Privacy during and after the webinar:
The webinar will be held on Microsoft Teams. During the webinar, your video and audio will be disabled except for the Q&A session. We would encourage participants to use the chat box facility.
We intend to take a recording of the webinar which will be published on our social media channels and our website. We may use comments made on the webinar in future documents however this will be anonymous.
How we will use this information
We will use this information to ensure you can join the webinar and provide follow up information in relation to the webinar such as joining instructions or post event communication.
Any additional questions we ask is to provide insight in relation to the topic of the webinar. This information may be presented during the webinar and used to improve our services. We may state your name during the webinar if you have submitted questions to ask in advance.
If you have given consent for us to contact you regarding future events, your information will also be used for this. You have the right to withdraw any personal information at any time. To do this, please contact his.mhportfolio@nhs.scot.
Where will your data be stored?
The above noted personal information is stored within the Eventbrite servers to facilitate joining the webinar. It should be noted that Eventbrite holds data on servers outside the European Economic Area (EEA). While Eventbrite is signed up to the EU-US Privacy Shield, and its' procedures have been updated to align with new data protection laws, we advise that you read the current Eventbrite terms and conditions and privacy policy before providing your personal data. Eventbrite will flag its own purposes for processing bookers' personal data, connected to marketing and so on.
If you prefer not to use Eventbrite, please contact the team directly at his.mhportfolio@nhs.scot.
As disclosed in the HIS Retention Schedule, we will keep your anonymised personal data for a maximum of 5 years for the analysis of statistics and trends pertaining to engagement.
E-Mail addresses, Phone numbers and Display Name will be stored in the virtual meeting room, within Exchange Online. MS Stream (Video Recording) and within our own internal system. Your information is not shared with any third parties, with the exception of the above noted third party servers.
You have the right to ask us for a copy of your information, or to delete or correct it if you think it is inaccurate. You can ask for data you have given us to be sent to you in electronic format. At any time you can ask us to stop or limit the processing of your personal data.
Your right to complain:
If you have a query or concerns about how HIS processes your personal data, then you can contact the HIS Data Officer via: his.informationgovernance@nhs.scot.