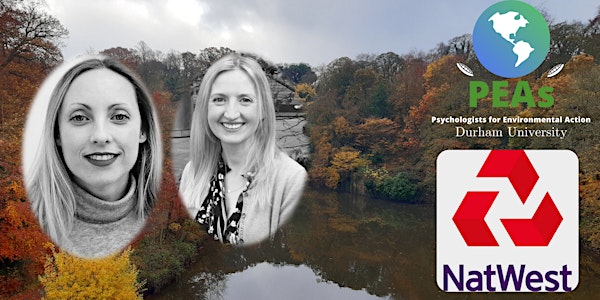 PEA Talks: Panel Discussion with Natwest Bank
Applying behavioural science at NatWest to support the bank's purpose, including sustainability. A panel discussion
About this event
This month we are not hosting one of our regular talks but are instead inviting members of Natwest's Behavioural Science Team to answer your questions about applying psychology and sustainability to business, banking and industry.If you want to know about applying psychology and behavioural science to business, how behavioural science can be used to influence people to act more sustainably, any questions about careers in psychology or anything else, then come along and have a chat!
THIS EVENT IS AVAILABLE TO DURHAM STAFF AND STUDENTS ONLY
Featuring:
Dr Anna Koczwara
Anna is a chartered occupational psychologist with a PhD exploring social and cognitive components of decision-making in the workplace. She has worked across industries, including banking, government and academia. Anna leads the Behavioural Science CoE at Natwest, supporting colleague and customer propositions bank-wide.
Hannah McQuoid-Mason
Hannah is a senior psychologist with over 15 years experience in business delivery and strategic consultancy roles, including a period at the London Stock Exchange. At Natwest, Hannah leads a multi-disciplinary team partnering with our customer facing business to apply behavioural science in support of our strategy.