Journey through your senses with forest bathing, reducing feelings of stress and anxiety. Reconnecting with the natural environment.
About this event
Peace in the Park - Forest Bathing / Shinrin Yoku
This is forest bathing and beyond. Sessions are an intuitive and unique mix of healing and forest bathing.
Small groups of not more than twelve for a deeper experience.
'There is a silence into which the world cannot intrude. There is an ancient peace you carry in your heart and have not lost.'  ( Quote A Course in Miracles)
I invite you to step aside, let go and share a quiet time of listening and being, amongst the trees and the natural environment.
I hold a space for you, allowing you to get the best from your time in the natural environment, guiding you intuitively.
The natural environment meets us where we are, we can be free to be ourselves, let go and immerse ourselves in the peace and love of nature.
The session consists of a variety of invitations to participate, which include
A sensory experience, journeying through our senses within the healing, natural environment. 
Connecting with the golden light within
Breath work
 Peace & Love active meditation - this releases tension, calms the mind and extends feelings of love
The Sol Forestal experience
We explore alone, deepening our connection with the trees, our wise elders
Gratitude
Silent contemplation 
Time to pause and reflect
We tune into the season and the vibe of the woods, feel the oneness with nature, our home
Tree Hugging
Sound therapy
Benefits of Forest Bathing, Shinrin Yoku
Reduced stress
Increased sense of wellbeing
Increased relaxation of the body, aiding sleep
Time spent  out in nature is proven to improve well-being, boosting the immune system NK cells.
You will experience feelings of a better connection to nature and with a deepening knowledge and clarity on any issues you may have at the moment.
The time in the woods can truly change your life. 
We will  work with and acknowledge, the energies of nature, depending on the time of the year.
This is a great introduction to time in nature, forest bathing and meditation. For the more experienced, an opportunity to deepen your practice.
You will pick up tips and techniques that you can use to maintain wellbeing and a feeling of peace, whenever it is needed.
You will experience a greater sense of peace.
Peace in the Park - forest bathing events featured or mentioned in
Time Out
The Independent
Testimonials
'I feel energised after a forest bathe with Jane'
'This is necessary for my mental wellbeing'
'I found peace again'
'Thank you, I left feeling so relaxed'
We meet at the gates 9.30 am prompt - we return to the gates about 11.30am ( do arrive a little bit earlier so that we depart at 9.30am)
Contact me for further information 
I'm also guiding Peace in the Park - retreats, day events and Peace in the Park -Twilight
The retreat on July 23rd- 25th sold out before general public advertising.
Follow me to be kept up to date on the 2022 retreat programme.
Jane@peaceloveheal.co.uk
07712 005769
 #meditation #nature  #feelgreat  #stressfree  #anxietyrelief  #forestbathing #innerpeace #shinrinyoku
FAQs
What are my transport/parking options for getting to and from the event?
There is parking along Conduit Lane next to the woods, or the tram goes to LLoyd Park .
What do I need to bring into the event?
We walk and sit on the ground, so bring a mat or something to sit.
Bring water.
How can I contact the organiser with any questions?
Jane@PeaceLoveHeal.co.uk
Jane is a qualified forest bathing guide / leader and wellbeing therapist.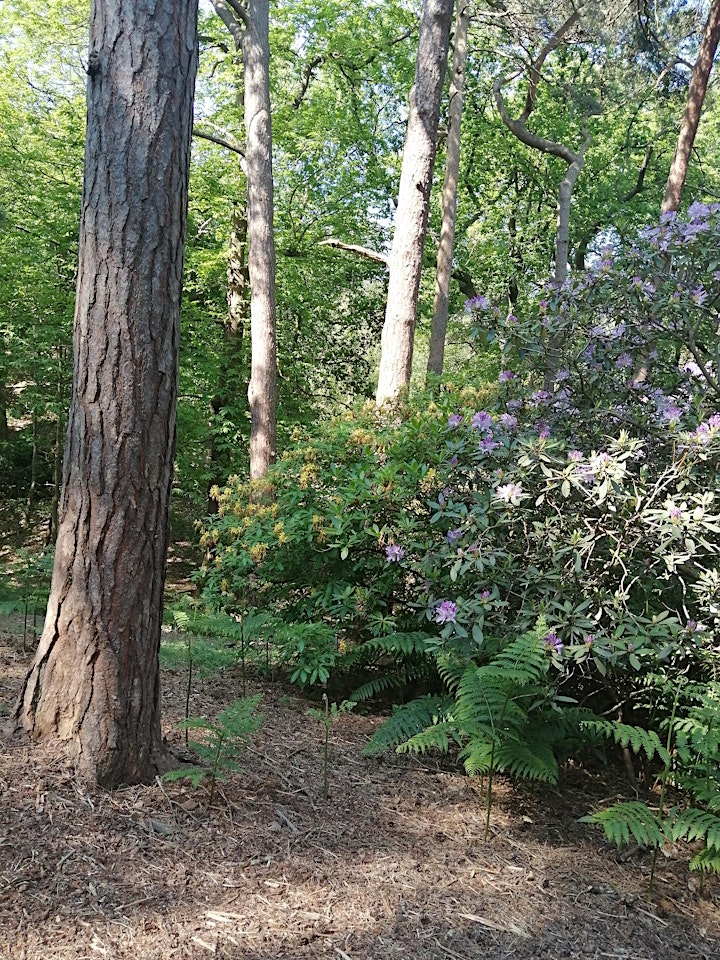 Organiser of Peace in the Park - Forest Bathing, Shinrin Yoku with Jane Innis
Forest Bathing, nature therapy and healing in the natural environment
This is a time when we are all hearing the call to be out in the natural environment, becoming natural environment returners.
Come and join.
We have an inherent connection with the earth and the natural environment. As we start to remember this we are drawn to spending more time in the natural environment. This is where we can heal.
We can let the natural environment be our wise elder and facilitate healing. We can move from information and knowledge, to connect with our deeper inner wisdom. The natural environment helps to awaken us to this wisdom.
My key teachings to fully embrace rewilding ourselves back into the natural environment are-:
Let trees be your wise elder, your healer.
Nature meets us where we are.
We are nature
There is something so comforting about these points. If this resonates with you, if you are feeling overwhelmed, emotional pain, anxious, that something is missing in life, a deep yearning for inner peace, or just lost and confused, come and try a Peace in the Park event.
Peace Love Heal
I believe our journey and purpose is about  Peace - acceptance, Love - extending love and self awareness of when love is challenged by fear and ultimately to Heal. 
This is the heart centred core of all approaches.
When we do this out in the natural environment, with others, we can experience profound changes and healing.
A little bit about me
Forest therapy guide and wellness practitioner using cbt, hypnotherapy, vibrational therapy and healing.
My healing journey started in 1999, when I completed  my first Reiki, level one course. The experience was profound and started  me on a  journey through various energy and healing modalities. Years later Reiki 2 and then my Master levels followed. The other healing and wellness modalities, include  spiritual healing, kinesiology balanced health, meditation, card reading, flower remedies, coaching, hypnotherapy, CBT and Forest therapy guide. I bring experience from all these modalities into my events and sessions, working with the natural environment to bring about change and healing.

Peace