Peace, Poverty and Betrayal: A New History of British India
Event Information
Refund policy
Contact the organiser to request a refund.
Eventbrite's fee is nonrefundable.
Zoom lectures presented by The British in India Historical Trust. This month's speaker is RODERICK MATTHEWS.
About this event
PEACE, POVERTY AND BETRAYAL: A NEW HISTORY OF BRITISH INDIA
Roderick Matthews
How can we explain Britain's long rule in India? Not by 'divide and rule' but by 'oblige and rule': the foundation of common purpose between colonisers and powerful Indians. Roderick Matthews argues that this was more a state of being than a system: British policy was never clear or consistent; the East India Company went from a manifestly incompetent ruler to arguably the world's first liberal government; among British and Indians alike there were both progressive and conservative attitudes to colonisation. It was this very diversity and ambiguity of British-Indian relations that drove the social changes that led to the struggle for independence.
Roderick Matthews is the author of Peace, Poverty and Betrayal: A New History of British India (Hurst 2021). He studied history at Balliol College, Oxford, and is a freelance writer specialising in Indian history and politics. His other books include Jinnah vs. Gandhi.
The talk will be recorded.
This is a paid event.
General Admission: £5.00
General Admission to this lecture and the two others listed at the foot of this page. This 'all three lectures' ticket is available for purchase until 17 January and can bought on the booking page for 'Ruling the Savage Periphery'. Select the green 'Tickets' button and you will find the 'All three lectures' ticket listed there: £15.
Additional donation (optional) to promote scholarship by funding essay and book prizes for excellence in historical writing on the British in South Asia between 1600 and 1947: £1 suggested.
Please contact the organiser if you would like to attend the lecture but are experiencing financial hardship during the pandemic. Or if you have any queries.
Hurst has offered attendees a 25% discount on orders of Peace, Poverty and Betrayal. Details will be given in the email confirming your registration.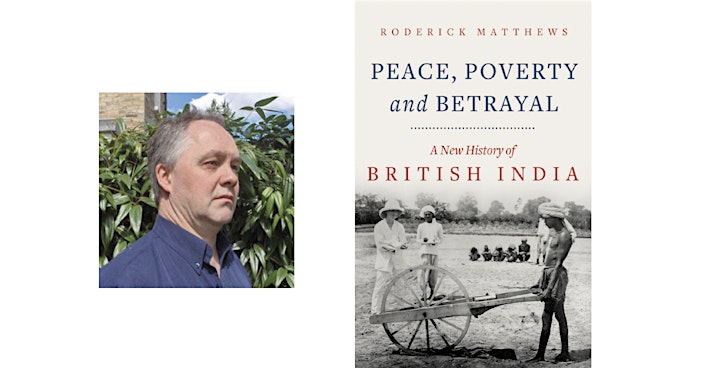 Reviews
'This brave and intelligent book will satisfy neither empire loyalists nor today's rabid nationalists, which is all the more reason to applaud its author and relish the clarity of his analysis.' — John Keay, Literary Review
'Matthews explores with great delicacy and intelligence… how Britain became itself, at home, more liberal and democratic, while, as an imperial power, becoming the opposite.' — A. N. Wilson, The Catholic Herald
'A radical re-appraisal of British rule in India that challenges current thinking on colonialism in the subcontinent. Radical, because unlike recent books, particularly those on early 18th and 19th century India, it has some positive things to say about the English who entered the subcontinent as traders and left as rulers . . . This is a thoughtful, thought-provoking book with enough to keep the reader travelling through four centuries of our former relationship with India.' — Rosie Llewellyn-Jones, Journal of Asian Affairs
Date and time
Location
Refund policy
Contact the organiser to request a refund.
Eventbrite's fee is nonrefundable.
Organiser of Peace, Poverty and Betrayal: A New History of British India
The British in India Historical Trust is a small charity that promotes education in the history of the British in the Indian subcontinent (South Asia) from 1600 to 1947, and in other areas administered by or of interest to the East India Company and the Crown, by running online lectures and awarding prizes for excellence in non-fiction historical writing.
We have three lectures currently listed on Eventbrite. You may buy tickets to individual lectures or buy a ticket to all three lectures. Information on these options is given on the booking page for each lecture.
The British in India Historical Trust | Charitable company limited by guarantee no. 13404425