PEACEFUL BLISSFUL YOGA SPRING CLEANSING RETREAT DAY SHIPLEY

Sunday, 1 April 2012 from 10:00 to 18:00 (BST)
Event Details
PEACEFUL BLISSFUL YOGA SPRING CLEANSING RETREAT DAYS 2012
We are very excited about our new upcoming Spring Cleansing Retreat Days; there are 2 events which we are very happy to offer and share with you:
Saturday, 24th March in

London
London Peaceful Blissful Yoga Retreat Day will take place in a dedicated intimate Yoga space.
5 courses of Raw Gourmet Superfood Menu included through out the day.
Beginners who are already familiar with Yoga to intermediate level welcome.
Max capacity: 8 people.
Yoga mats and blocks will be supplied but you are very welcome to bring your own.
Sunday, 1st April

2012 in

Shipley near Leeds
Shipley Peaceful Blissful Yoga Retreat Day will take place in a beautiful bright and spacious hall with a kitchen and cafe area decorated with original Balinese Batiks.
5 courses of Raw Gourmet Superfood Menu included through out the day.
Beginners who are already familiar with Yoga to intermediate level welcome. 
Max capacity: 17 people.
Yoga mats and blocks will be supplied but you are very welcome to bring your own.
Please read on to find out more…
The PEACEFUL BLISSFUL YOGA SPRING CLEANSING RETREAT is an inspiring day focused on self development and holistic cleansing for health & longevity through Yoga Practices, Raw Food & Theta Healing.
Spring time is synonymous with cleansing and awakening of the life force within all living beings.  Learn how cleansing leads to longevity and happy, healthy, joyful and fulfilling life. This is the perfect time to do it, as Nature intends it!
We begin the day with a Sun Power Yoga workshop session in the morning suitable for beginners who are already familiar with Yoga to intermediate students.  We will be analyzing in depth some of the Asanas and Yogic practices related to cleansing body and mind.  We offer individual attention and hands on adjustments to ensure that all students understand and perform the poses correctly and safely in order to gain maximum benefits from their practice. The session will open with Pranayama Breathing, progress into Vinyasa Krama Practice and end with Yoga Nidra Relaxation. 
This workshop offers tools and tips which, if applied to student's daily Yoga practice, would enrich it and add deeper understanding, meaning and new sense of enjoyment to it. This time we will be focusing on the aspects of Yoga practice related to cleansing and detoxification on the physical, emotional, mental and spiritual level.  We will also learn about modern applications of Kryia Yoga – the Yoga of cleansing.
Lunch will take place in a form of interactive Raw Food Class.  Raw Superfood Menu will be served along with lecture about the benefits and use of specific foods such as:
spring water in your kitchen
coconut in all forms with focus on coconut oil and its health benefits
sprouting made easy and wonderful benefits of living foods
amazing seaweeds and how to eat them raw
micro-algae: chlorella, spirulina & blue-green algae and they role in detoxification
magnesium for health and its sources
importance of dietary fiber
healthy body ecosystem: fermented foods, kambucha & kefir, how to make them at home
when to cleanse & how to cleanse
foods to favor and avoid during cleansing
how to recognize healing crisis and how to deal with it
This presentation will contain demonstrations, nutritional information, discussion on super foods, teaching you recipes and tips on how to incorporate healthy cleansing diet into your daily life through out the year.
This part of the day also offers invaluable practical information and advice which are easy to apply and incorporate into health any enthusiast's daily routines and easy to share with family and friends.
For the afternoon there will be a Theta Healing group session with DNA Activation and Youth & Vitality Chromosomes Activation and downloads related to health and cleansing.
You will leave Peaceful Blissful Yoga Retreat Day feeling inspired, empowered, revitalized, rejuvenated and equipped with new powerful tools which are easily incorporated into your daily life and shared with your family and friends and which have power to enrich you own life's journey as well as that of those around you.
We perceive Yoga as Union and choose a Yogic holistic approach to the experience of life. Swami Vishnudevananda condensed the essence of the Yoga teachings into five principles:
Positive Thinking & Meditation
Through conscious awareness of those principles and by adhering to them in daily life one can achieve physical, mental and spiritual health, wellbeing and growth for ourselves and all those around us.
During Peaceful Blissful Yoga Retreat Day you will deepen your understanding and practice of all those interrelated aspects of living Yoga which we believe to be the essence of healthy, happy and vibrant lifestyle.  We see the meaning of Shivananda tradition principles listed above as guidelines to conscious awaken living accessible to all who are willing to embrace it.
We will cover all those aspects in this complete workshop as we dive deep into practical exploration of ourselves on all levels of our being and begin to see cleansing as a multidimensional tool for awakening.
We look forward to sharing those amazing days with you!
Any questions please ask and feel free to spread the word.
Namaste
Magda & Nicola
Peaceful Blissful Yoga donates 10% of all profits from events to Unstoppable Foundation, so thank you for your contribution and for practicing Karma Yoga with us.  More info about Unstoppable here: http://www.unstoppable.net/
When & Where
39A Kirkgate
BD18 3EH Shipley
United Kingdom


Sunday, 1 April 2012 from 10:00 to 18:00 (BST)
Add to my calendar
Organiser
Peaceful Blissful Yoga
Peaceful Blissful Yoga is about Longevity, Conscious Lifestyle and Self Development through Yoga, Healthy Diet & Theta Healing.
Peaceful Blissful Yoga are Magda Szarota (RYT200) and Nicola Ongaro (RYT200) who are Yoga Alliance registered Sun Power Yoga, Sun Aqua Yoga & Pregnancy Yoga Teachers, Yoga Personal Trainers and certified ThetaHealing® & Reiki Practitioners.
Nicola is also a qualified and experienced chef who specializes in Vegan, Vegetarian, Raw Food & Super Food Nutrition.
They are both passionate about Yoga and healthy conscious lifestyle; they live & breathe the ideals of their teachings and are very enthusiastic about sharing their skills, knowledge and experience with others.  Through their every day life style and their work they bring Yoga to life and evolve it in a holistic modern application of the traditional ancient Yogic principles as defined by Swami Vishnudevanada: Proper Relaxation,Proper Breathing, Proper Exercise, Proper Diet, Positive Thinking & Meditation.
Peaceful Blissful Yoga Blog:
http://peacefulblissfulyoga.tumblr.com/
For more info, please visit:

www.sun-power-yoga.co.uk
and find them in Sun Power Yoga Teacher Directory

www.yogaalliance.org
and find them in Yoga Teacher Directory

www.thetahealing.com
and find them in Theta Healer Search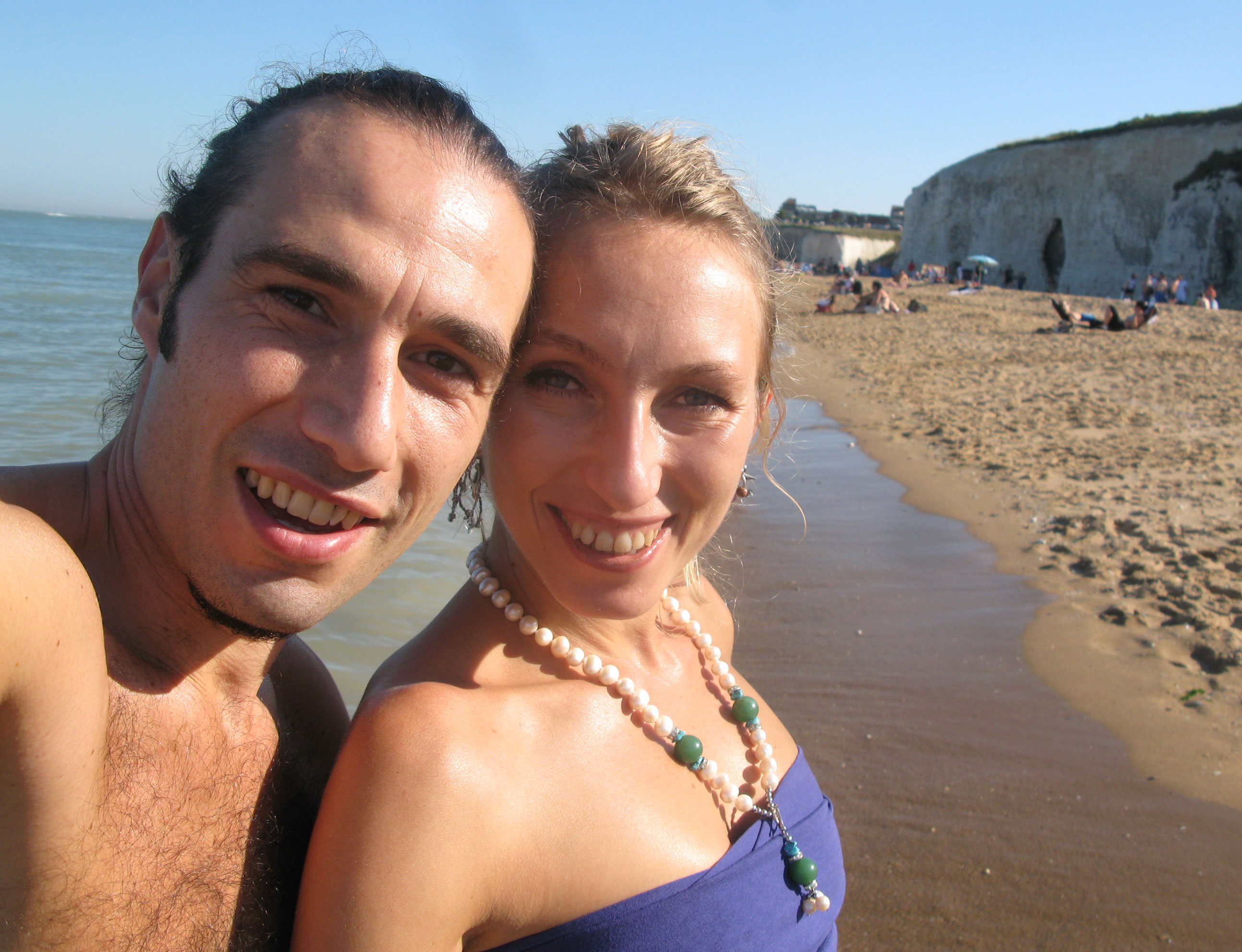 PEACEFUL BLISSFUL YOGA SPRING CLEANSING RETREAT DAY SHIPLEY