About this Event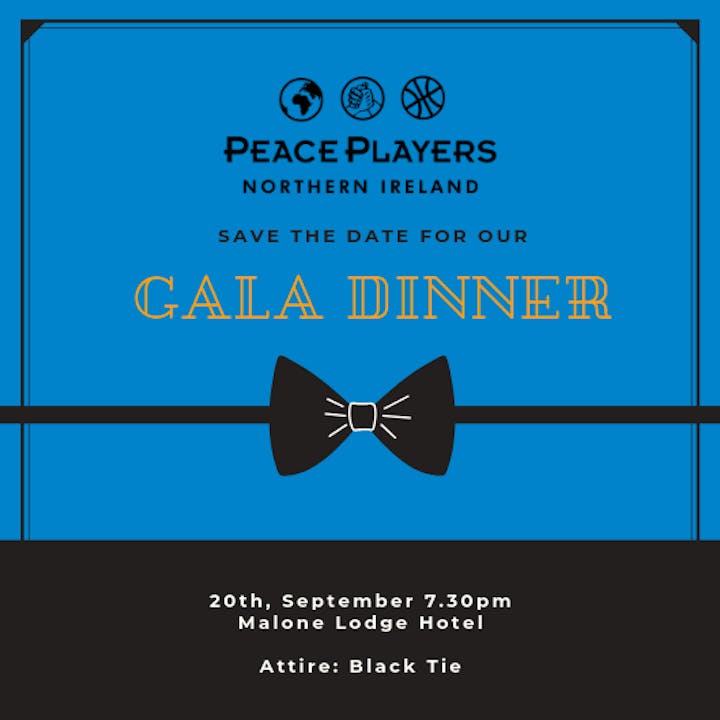 To celebrate all the brilliant work and achievements of this past year, PeacePlayers - Northern Ireland is excited to announce, and invite you to, our FIRST ever Gala Dinner!
The evenings festivities will take place at the fantastic Malone Lodge Hotel. With the purchase of a ticket you will receive a sparkling reception on arrival, three course meal, a live band and a DJ to finish the night. There will also be several opportunities on the night to win a number of prizes including an overnight stay at the Malone Lodge! The evening will kick off at 7:30 PM with the dress code black tie.
We are super excited for what we believe is going to be a brilliant night and would love if you and your friends could join us!
This event is for +18 only.
Single Tickets are available for £34.99 or you can purchase a table for 10 people for the price of 9! If you would prefer to pay via cheque or cash, please stop by the Peace House at 224 Lisburn Road. Tickets are transferable NOT refundable.
There will be a raffle and auction on the night so remember to bring cash/card!!
The Gala Dinner is a registered event in conjunction with the Community Relations Councils Good Relations Week 2019.
Stay connected with PeacePlayers - Northern Ireland by following us on all our social channels.
Facebook: @peaceplayersni
Instagram: @peaceplayers_ni
LinkedIn - PeacePlayers - Northern Ireland
Twitter - @peaceplayersni
Blog - https://norniron.wordpress.com/
PeacePlayers is a global organisation that holds the simple, but powerful belief that children who can learn to play together can learn to live together.