About this Event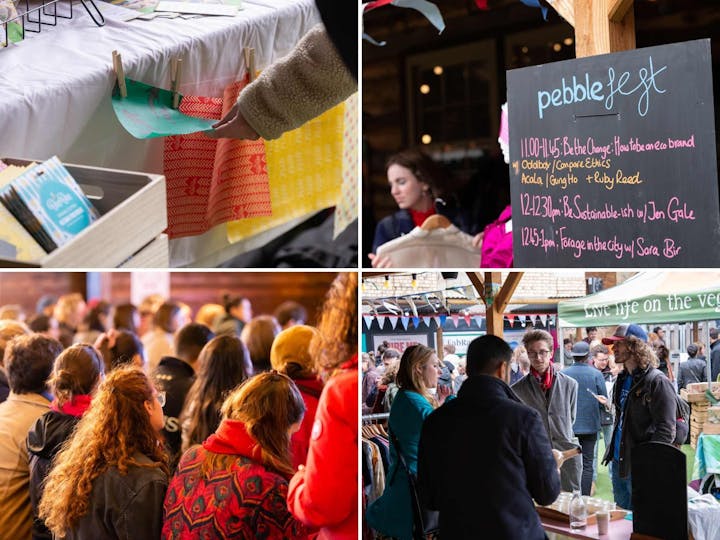 Whether you came to April's pebblefest, or sadly missed out, now's your chance to join us for pebblefestive and kick off your conscious Christmas in style.
Shop our massive ethical high street for conscious Christmas gifts
Be inspired to make 2020 your greenest year yet with #EverydayActivism
Join us for incredible talks and free hands-on workshops
Don't miss our vegan and organic beer tasting
Find your friendly community of people wanting to make a change
Plus a few more special surprises up our sleeves!
What's on in the pebble theatre?
12pm-12.45pm How to make it a leftover Christmas
Food waste app Too Good To Go in conversation with zero waste chef George Blower about the power of leftovers this winter.
1pm-1.45pm What if we harness the power of positive advertising?
Panel discussion with advertisers, creatives and activists about how advertising could have a more positive impact. With Bagboard, Skipper & Skipper and more TBC. Hosted by Eleanor O' Leary.
2.30pm-3.15pm How to make this winter of your discontent
How to make 2020 the year of community activism not clicktivism. Hear from XR Fashion, Dopper bottles and others.
3.45pm-4.15pm Freedom Brewery beer tasting
Join us for a sip (or more) of the finest vegan and organic beers and understand how brewing can be made more sustainable.
4.30-5.30 - What Is/What If - Transition Towns founder Rob Hopkins in conversation with Georgina Wilson-Powell
Don't miss this interactive session looking at how we harness the power of our imagination to solve our biggest climate problems
PLUS we'll reveal the workshops and more surprises later.
Make sure you're signed up to the pebble newsletter for a first look at the full programme, win tickets and we'll send you a FREE ebook guide to Ethical Fashion.
pebblefestive is brought to you with the help of...