Pecha Kucha Night Dundee - Volume 3

Tuesday, 22 May 2012 from 19:00 to 22:00 (BST)
Event Details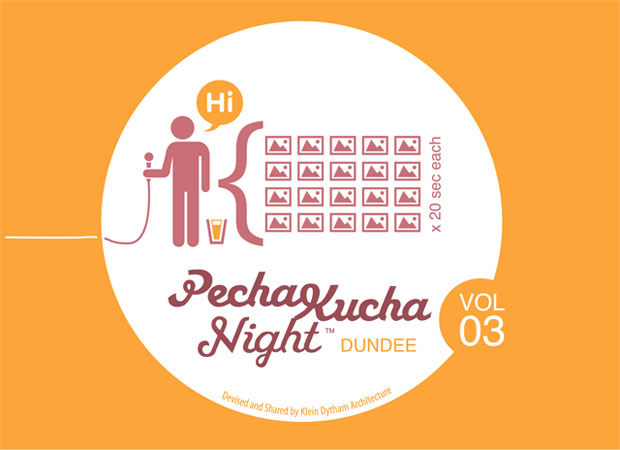 Sorry, tickets are now sold out for this event...
Pecha Kucha Night Dundee Volume 3, comes to the city on Tuesday 22 May 2012!
Now a firmly established event in Dundee's diary, Pecha Kucha Night is back for round three! Part of the cultural culinary fest that is Ignite Dundee, PKN will, as always, bring you more creative genius, insightful chat, sore face belly laughs and much more!
The mash-up of PKN presenters (and audiences!) have been brilliant - the special format gives everyone an equal platform to speak about the stuff they love/loathe, but in a speedy, straight-to-the-point kind of way! 
This means you get to sit back with a refreshment of your choice, relax and enjoy hearing from a dozen or so talented souls. Come along if you fancy leaving inspired by the amazing things your fellow local creatives get up to!  This event always sells out before any speakers are announced, so for a quick-fire flavour of what to expect before signing up - you can watch the previous videos from both events here - PKN 1 and PKN 2.
PKN VOLUME 3 – 20×20
Date: Tuesday 22nd May 2012
Time: 7.00pm – 10.00pm
Venue: Chamber East, Panmure Street Dundee, DD1 1ED (with licensed bar)
Tickets: Must be registered in advance here - there is a £4 door cover charge per person on the night.
PKN Presenters include:
Maurizio Mucciola is an architect.
He studied in Milan and New York, at Columbia University.
He worked at OMA in Rotterdam.
And since 2009 he is at Kengo Kuma & Associates in Tokyo.
He is the Project Leader for the V&A at Dundee.
And with the rest of the K.K.A.A. design team he's now in Scotland to finalise the design of the project. @VADundee
Yann Seznec is a musician, sound designer, artist, and entrepreneur living in Edinburgh. His work focuses on creating innovative, accessible, and fun musical interfaces, sound art, software, installations, and more. He is founder of Lucky Frame, a company specializing in fun and intuitive musical software. @amazingrolo
Hazel White is Programme Director of the new Master of Design for Services at Duncan of Jordanstone College of Art. Hazel and her students use design to 'help people do the things they want to do, better'. Recent projects include work with NHS Scotland, the Scottish Government and the Children's Hospice Association Scotland (CHAS). @HazeloneWhite 
Fraser Reid is the owner of Fraser's Fruit & Veg, a greengrocer based in the heart of the Perth Road in Dundee. He started the shop at the age of 25 having previously worked at Dundee Rep and Dundee Contemporary Arts. Fraser's Fruit & Veg was started with a simple idea to source and offer a wide variety of local produce to customers and to help customers have the ingredients to cook from fresh.
Jon Rogers: My life in digital years: @LEDs – a kid from village near Oxford, England; @JANET – undergraduate elecrtonic engineering; @email -  PhD digital neural nets; @google – Postdoc at RCA; @facebook – moved to Dundee; @twitter – set up Product Research group @ileddigital
Lindsey Gardiner is a bit of a promiscuous illustrator: she writes and illustrates children's books; runs her own textile label 'Quietly Eccentric'; and lecturers in Textile Design too. Her life mostly revolves around three of her main loves in life: drawing, books and dogs! Based at WASPS studios in Meadowmill, Lindsey spends most of her life there accompanied by her two little (high maintenance) dogs. Drawing and painting dogs and animals to her heart's content, her work involves a lot of stress and countless deadlines, but she believes she has her ideal job! @lindseygardiner
Lyall Bruce is a graphic designer, illustrator, co-conspirator in Creative Dundee, director of Fleet Collective and part organiser of NEoN digital arts festival. He thinks Dundee is great and recently discovered he likes dogs and gardening. @lyallbruce
Ian Forbes and Rose Hendry are filmmakers. Ian, primarily a cinematographer and Rose, primarily a director who both share a passion for creating visually driven film including short film, artists'/experimental film and music videos. Ian and Rose are both recent graduates of Duncan of Jordanstone College of Art & Design and have had their work shown throughout the UK at prestigious festivals such as Encounters International Film Festival, Aesthetica Short Film Festival and Glasgow Short Film Festival.
Samantha McEwen

 is the creative director, founder and brains behind the Luxury Unisex Street Wear Brand 'Isolated Heroes'. Since graduating in June 2011 Samantha has been on a whirlwind journey collaborating with renowned stylist Alexis Knox & creating clothing for Musicians such as Kreayshawn & Azealia Banks. She has recently been nominated for Young designer of the Year at the 2012 Scottish Fashion Awards and currently designs, produces and manufacturers all Isolated Heroes clothing from within her studio in Dundee's Tin Roof Building. @isolatedheroes
Ryan Smith is allergic to blue skies and sunshine so he packed his bags and made the ten thousand mile move from Melbourne Australia to Dundee where he now runs a bespoke design company.  A digital polymath, his skills run the gamut of the multimedia sphere.  From design to development, CEO-ing to consultancy, photography to public speaking Ryan is your renaissance man.  He enjoys white space, film grain and Detroit Hardcore – preferably all at the same time. @lostconvos
Louise Kirby

 is a textile and surface designer with a love of getting her hands dirty and desire to cover clients' products and services with her bespoke patterns and artworks.  Much of Louise's inspiration comes from Scotland's great wilderness, mixing succulent colours and energetic marks to create a distinctive signature. She balances this with working in education – creating and delivering workshops to schools and communities. One day, Louise would love to cover a Jeep in her prints… and the rest of the world. @kirbyrecipes
Gammamoth Productions

 The Maarhaysu Institute is one of very few remaining centres dedicated to the practice of Outsider Science, a term which encompasses those fields of study which are too esoteric, too dangerous or indeed too dull to receive either public funding or indeed public interest.
Gammamoth Productions are a video production company based in Dundee and Perthshire. They have been engaged in the process of restoring the decaying video library of the Maarhaysu Institute for a number of years. @gammamothproductions
What the devil is a Pecha Kucha Night anyway? Pecha Kucha Nights* were originally started back in 2003 in Tokyo, as an event for creatives to meet, network, and talk about their work in public. Since then Pecha Kucha, meaning 'chit chat' in Japanese, has spread internationally running in over 500 cities across the world. The much loved and respected format is relaxed, simple and enjoyable, with something for everyone – presenters have 6 minutes 40 seconds to show and talk through their 20 images, each for just 20 seconds – this keeps things fast and fun!
* Pecha Kucha was devised and shared by Klein Dytham architecture. The PKN Dundee event is organised and hosted by 
Creative Dundee
.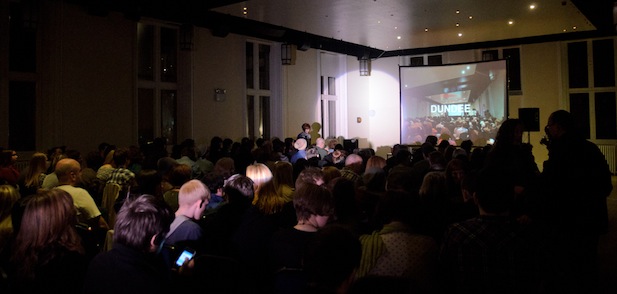 When & Where
Chamber Building
Panmure Street
DD1 1ED Dundee
United Kingdom


Tuesday, 22 May 2012 from 19:00 to 22:00 (BST)
Add to my calendar
Organiser
Creative Dundee supports creative talent to base, grow and sustain their practice in and around the city, by connecting opportunities and amplifying the city's creative pulse.