Pecha Kucha Sheffield Vol #08 - 'Universe-ity of Sheffield'

Thursday, 24 November 2011 from 19:30 to 23:55 (GMT)
Event Details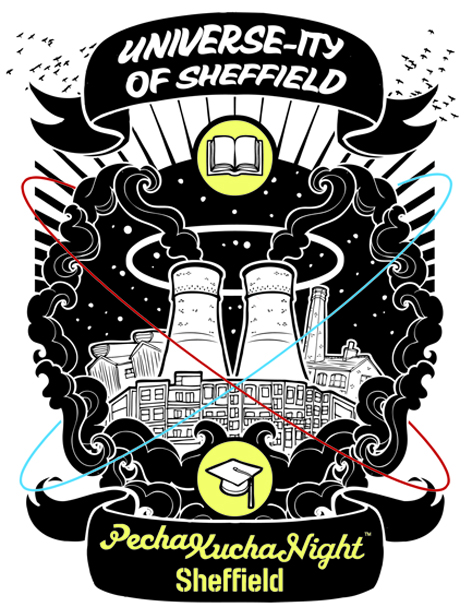 The nomadic 20x20, global-viral phenomenon that Entertains, Educates & Inspires is back!
'The Universe-ity of Sheffield'
An amazing night of presentations showcasing the passions, ideas & 'inner workings' of the
minds of some of the University's best talent, live music & a whole host of great entertainment 
3 Alumni 
Rob Barker and Matt Mella - 'Astorynauts'
The Overlap Guide to The Storytelling Universe
Mandy Toombs & Beth Taylor - 'Sex and the City (of Sheffield)'
Golddigger - charity rescuing young girls from the sex trafficking industry
Sam Jersche - 'PE CHA KU CHA KU CHA PE CHA KU CHA POW!'
Drumming the universal rhythm of Pecha Kucha
3 Students 
Rob Marchand - 'The Big Energy Upgrade'
 PhD in the future of commercial, domestic and individual energy saving
Natasha McKeever - 'Is Monogamy still valuable in the 21st Century?'
PhD in Love and monogamous relationships
Ben Dornan - 'The Wandering Mind'
PhD in the Neuroscience of distraction
3 Staff 
Caroline Parkin - 'Disease, development and disco fish'
Research Fellow, MRC Centre for Developmental and Biomedical Genetics
Prof. Mike Hounslow - 'Engineered by US: did you know they did that?' 
Pro-Vice Chancellor of Engineering
Music dept. - conceptual piece
20pieces of music/sound x 20 seconds
When & Where

Sheffield University Students' Union
Western Bank
S10 2TG Sheffield
United Kingdom


Thursday, 24 November 2011 from 19:30 to 23:55 (GMT)
Add to my calendar
Organiser
Pecha Kucha Sheffield
It's like clubbing for thinkers...
…inspiration for the creative class…
...a business social that's more a night out...
...it'll get your heart skipping and your mind racing!
Four times a year we bring together the Creative, Digital and Business communities for a evening of Inspirational Talks, Challenging and Amusing Short Videos, Live Music and Unique Entertainment.
Pecha Kucha, meaning 'chit chat' in Japanese, is a global, viral phenomenon running in over 1015 cities across the world. Sheffield became the 300th PK City on the Planet in April 2010 and has run 24 events at 21 different venues to date.
The evening is based around the 20x20 format, which was first started in Japan in 2003 by the architects Astrid Klein and Mark Dytham. Each presenter uses 20 slides, set to auto advance every 20 seconds to present their subject or showcase their work.
by Jonny Douglas and Pennie Raven
Pecha Kucha Sheffield Vol #08 - 'Universe-ity of Sheffield'