Pecha Kucha Sheffield Vol #10 - 'Inspiration'

Thursday, May 10, 2012 from 7:30 PM to 11:55 PM (BST)
Event Details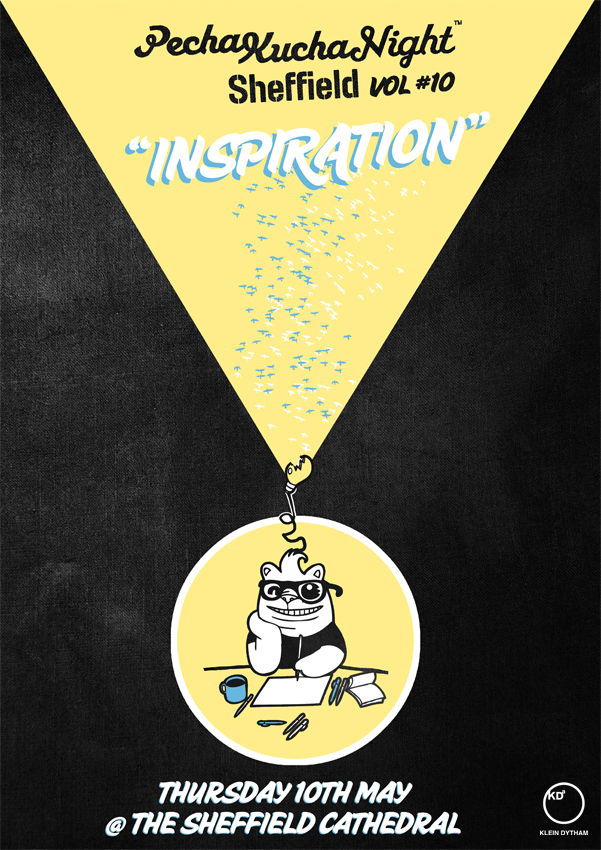 Our theme is 'Inspiration' and we've got perhaps our most dramatic venue to date!
Inspiration is a fascinating thing...

For the Creator/Artist/Designer/Maker/Leader it's an on-going battle. It's their need to constantly strive to push forward, change things, make things better…their addiction to experience the thrill of 'that moment' where they find the thing they have been searching for…and they just know it's right! There's no need to check with anyone else, they just feel it…that knowing…through-and-though, balls to bone!
 
To the observer/viewer/audience it's something that can catch them a little more off guard. It's an instant of knowing, gone in a flash, as quickly as it appeared…but they are forever changed. The brief moment when the haze fades and all becomes clear…those things that stop you in your tracks…an experience that pulls you from your reality somewhere beyond…an interaction that takes you to a place you didn't even know existed!

I'm sure you know the magic of which we speak...book now to ensure you don't miss out!
Speaker Line-up
Live Music

Steph Stephenson - Folk pop singer/songwriter
Yorkshire Unplugged finalist 2012

  The University of Sheffield Gospel Choir
Uplifting inspiring music
Vol #10 Venue
We're very proud and excited with our incredible venue for Vol #10,
ladies and gentlemen, we give you...



So return your seats to their upright and locked positions, buckle-up & get ready for the PK Ride of speakers, videos and live entertainment...tickets OUT NOW!
When & Where

Sheffield Cathedral
Church Street
S1 1HA Sheffield
United Kingdom


Thursday, May 10, 2012 from 7:30 PM to 11:55 PM (BST)
Add to my calendar
Organizer
It's like clubbing for thinkers...
…inspiration for the creative class…
...a business social that's more a night out...
...it'll get your heart skipping and your mind racing!
Four times a year we bring together the Creative, Digital and Business communities for a evening of Inspirational Talks, Challenging and Amusing Short Videos, Live Music and Unique Entertainment.
Pecha Kucha, meaning 'chit chat' in Japanese, is a global, viral phenomenon running in over 1015 cities across the world. Sheffield became the 300th PK City on the Planet in April 2010 and has run 24 events at 21 different venues to date.
The evening is based around the 20x20 format, which was first started in Japan in 2003 by the architects Astrid Klein and Mark Dytham. Each presenter uses 20 slides, set to auto advance every 20 seconds to present their subject or showcase their work.
by Jonny Douglas and Pennie Raven