Pecha Kucha Sheffield Vol #11 - 'The True Spirit'

Thursday, November 22, 2012 from 7:30 PM to 11:55 PM (GMT)
Event Details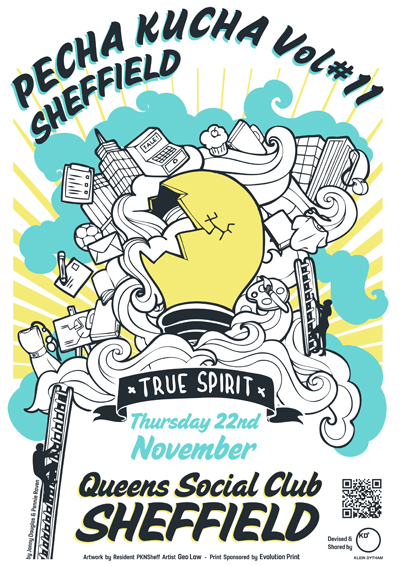 Vol #11 - 'The True Spirit'
Some of the most successful organisations and initiatives in history have grown from times of great hardship, but we are not stuck in the midst of 'a recession', we're experiencing a Global shift...the game has changed and the gauntlet can now be grasped by anyone willing to take up the challenge, but the future they create needs to be about more than just a business.
Capitalising on an opportunity no longer means 'making as much cash as possible'…as quickly as possible. If Entrepreneurship and Individuals are going to step into the breach to build a brave new world, then a lot more than money will need to be created!
Pecha Kucha #11 is an inspirational insight into the incredible journeys of some of those who know what it really takes to achieve something…how they did it and what they discovered along the way.
Speaker Line-up
Craig Turner  -  Cirque du Breaker

With his passion for movement beginning with mixed martial arts as a youth and later training in breakdance and acrobatics, Craig Turner now works internationally as a performer, consultant and workshop leader. With nearly a decade of experience in his field he has studied a variety of disciplines including tricking, diving, trampolining and aerial harness stunts. This in turn has led him to be classed as a Movement Specialist.

 Roo Piggott  -  Pioneering Virtuoso

The man who ran the Edinburgh Marathon only 10 months after being told he would never walk again admits "I thrive on the challenge – that's a huge part of running your own business." Roo Pigott, lover of anything creative, built a career in the Music and Digital sector, running several music venues, creating the world's first successful fan funded record label, managing and marketing a number of bands, and today he is Owner / Director at Decadent Lifestyles Ltd, a Sheffield-based cutting edge music, lifestyle & games mobile app creator.

Lee Strafford  -  Cloud City Architect

Co-Founder of Sheffield success story PlusNet and a previous Chairman of Sheffield Wednesday FC are two standout elements in Lee Strafford's working life. Visionary and entrepreneurial leader Lee Strafford architected the success of PlusNet as its CEO from 1997 to 2007, leading it from start-up, through IPO and finally to exit by sale to BT in 2007. Lee now spends his time mentoring, trying to still be a tech entrepreneur in an increasingly young industry and helping the City Region to modernise.

Emma Cooper  -  Digital Amusement Queen

Creative Emma Cooper is Co-owner of Team Cooper Ltd, a Sheffield based agency which holds expertise in games, social media applications, e-learning and digital marketing. Clients have included the likes of the BBC and Sky.

Emma Killilea  -  Palate Alchemist

After being diagnosed as coeliac 7 years ago, Emma Killilea decided that the wheat and gluten free offering was severely lacking. She sold her house, came to study Food Science and Marketing at Sheffield Hallam University. She later set up award winning Delicious Alchemy, with a mission to improve the lives of wheat and gluten sufferers by creating practical and desirable food products.

James Lock  -  Knight of the Real
James Lock is Founder and Director of Opus Independents; Sheffield based not-for-profit social enterprise passionate about supporting the arts, local independent traders, charities, community groups, social enterprise and local government. Opus Independents is responsible for a number of projects including Now Then Magazine, Opus Presents, Opus Distribution and a variety of live spoken word workshops and events called WordLife.
It's going to be a great show

We've got another brilliant line-up of 6 dynamic speakers, an incredible 'live' performance, more great short videos and, of course that PK magic you know and love.
Get your tickets NOW...
When & Where

Queens Social Club
4 Queens Rd
S2 Sheffield
United Kingdom


Thursday, November 22, 2012 from 7:30 PM to 11:55 PM (GMT)
Add to my calendar
Organizer
It's like clubbing for thinkers...
…inspiration for the creative class…
...a business social that's more a night out...
...it'll get your heart skipping and your mind racing!
Four times a year we bring together the Creative, Digital and Business communities for a evening of Inspirational Talks, Challenging and Amusing Short Videos, Live Music and Unique Entertainment.
Pecha Kucha, meaning 'chit chat' in Japanese, is a global, viral phenomenon running in over 1015 cities across the world. Sheffield became the 300th PK City on the Planet in April 2010 and has run 24 events at 21 different venues to date.
The evening is based around the 20x20 format, which was first started in Japan in 2003 by the architects Astrid Klein and Mark Dytham. Each presenter uses 20 slides, set to auto advance every 20 seconds to present their subject or showcase their work.
by Jonny Douglas and Pennie Raven