Pecha Kucha Sheffield Vol #13 - WoMD: 'Weapons of Mass Disruption'

Thursday, July 4, 2013 from 7:30 PM to 11:00 PM (BST)
Event Details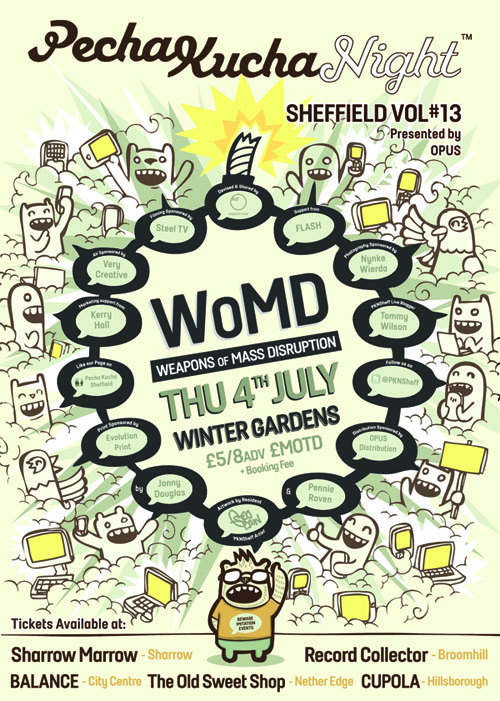 Pecha Kucha Sheffield Vol #13
WoMD: 'Weapons of Mass Disruption'
The Global, viral phenomenon that
educates, entertains and inspires!
It's like clubbing for thinkers...
…inspiration for the creative class…
...a business social that's more a night out...
...it'll get your heart skipping and your mind racing!
Change is afoot, the World is in a state of flux. Now, in a way never before seen, there has been a shift in power, from the few…to the masses!
At no other time in history have so many been able to influence so much. Our ability to connect and communicate has given each and every one of us the capability to be a catalyst for change, but with this opportunity comes great responsibility!
Social Media may spark a passion...strike a chord with a cause or another's plight and technology may enable all sorts of wondrous new avenues...but only if someone acts!
If we stand together to change things, create new beginnings, to build our own futures, what should they be…and how will they be made?
PKNSheff #13 is a showcase of the possible...of what can really be done!
Here's a bit of background on who will be speaking:
Professor Tony Ryan (OBE)
Pro-Vice-Chancellor - Pure Science
Leeds born Tony Ryan (OBE) has three degrees and during his time at the University of Sheffield, he has established the world leading Polymer Centre. Tony is a regular contributor to radio and print media and was the first professor to be made an EPSRC (Engineering and Physical Sciences Research Council) Senior Media Fellow.
Tony works on Project Sunshine, a project that unites world-leading researchers from across the faculties of Science, Engineering and Social Science at the University of Sheffield. Together, they are developing new ways to use the Sun's energy more efficiently to increase food production and provide more renewable energy.
Tony's most recent co-authored book, 'Project Sunshine: How Science Can Use the Sun to Fuel and Feed the World', explains how we are going to live, and going to have to live, in the near future.

Paul Beech
Pimoroni Ltd
What has been described as the "best-looking case that's available for the Raspberry Pi" sold over 1000 units in its first week of trading. The 'Pibow' was designed by Derbyshire-born Paul Beech of Partnership Pimoroni Ltd which states, "We are a company of Makers and Educators in Sheffield, UK".
The Raspberry Pi was created in the UK as a low cost gadget which is perfect for encouraging children to learn about how computers really work. Paul Beech, a fan of the gadget, spotted a gap in the market when he realised that cases for the Raspberry Pi were attractive but didn't necessarily appeal to children. It was from this moment of realisation that the colourful Pibow was born.
Pibow is a brand name created through the combination of words 'Raspberry Pi' and 'rainbow'. The case, which is assembled by the consumer by combining a choice of colourful layers, continues to be in demand since it went to market in 2012.

George Taylor
Chief Executive - Digital City
George Taylor, Chief Executive of Sheffield based business 'Digital City'.
Digital City is the next generation managed service provider removing cost and complexity from IT. They focus on providing internet services to the Sheffield City Region in the areas of connectivity and Internet, managed services, and cloud services.
George is an experienced strategic executive with a proven record of dramatic revenue and profit growth across a wide range of business sectors. Experienced in design, build and delivery of innovative technology business models targeted at medium and large enterprise. Ten years telecoms and data centre industry experience, and a founder member of Adapt Plc.
Taking all his skills and experience, George is stepping forth into an area he is truly passion about. His challenge, to redefine the way an entire industry is funded and progresses!
Andy Tattersall (Hons, MSc)
Information Specialist at ScHARR
In 2001, Andy joined The School of Health and Related Research (ScHARR) at the University of Sheffield. ScHARR is a centre of excellence research, teaching and consultancy across health services research, health economics and public health.
As an Information Specialist, Andy's role exists to encourage students and staff of ScHARR to utilise technologies that will enhance teaching and learning as well as collaborative working. He has an interest in research focused around the area of modern Web tools, Web 2.0, social networks and software and their application for research, teaching, learning, knowledge management and transfer and collaboration. His work aids the research of those working and studying at ScHARR and within the Medical Faculty and in the Yorkshire and the Humber RDS (Research Design Service).
Karen Sherwood
Cupola Contemporary Art LTD
Karen, educated at Sheffield Hallam University, was CEO if Rotherham Open Arts Renaissance (ROAR) between 2011 and 2012. In 2012, it was her leadership and clear vision that resulted in the organisation being the first in Rotherham's history to receive regular funding from Arts Council England.
With a trail of creative successes, it is just over 21 years ago that Karen successfully established her own independent private gallery, Cupola Gallery (now Cupola Contemporary Art Ltd). With neither financial backing nor any previous experience, she has grown the business into one of the most respected private contemporary art galleries in the North of England.
She's even writing her own book!
When & Where

The Winter Grdens
90 Surrey St
S1 2LH Sheffield
United Kingdom


Thursday, July 4, 2013 from 7:30 PM to 11:00 PM (BST)
Add to my calendar
Organizer
Pecha Kucha Sheffield
It's like clubbing for thinkers...
…inspiration for the creative class…
...a business social that's more a night out...
...it'll get your heart skipping and your mind racing!
Four times a year we bring together the Creative, Digital and Business communities for a evening of Inspirational Talks, Challenging and Amusing Short Videos, Live Music and Unique Entertainment.
Pecha Kucha, meaning 'chit chat' in Japanese, is a global, viral phenomenon running in over 1015 cities across the world. Sheffield became the 300th PK City on the Planet in April 2010 and has run 24 events at 21 different venues to date.
The evening is based around the 20x20 format, which was first started in Japan in 2003 by the architects Astrid Klein and Mark Dytham. Each presenter uses 20 slides, set to auto advance every 20 seconds to present their subject or showcase their work.
by Jonny Douglas and Pennie Raven
Pecha Kucha Sheffield Vol #13 - WoMD: 'Weapons of Mass Disruption'