Description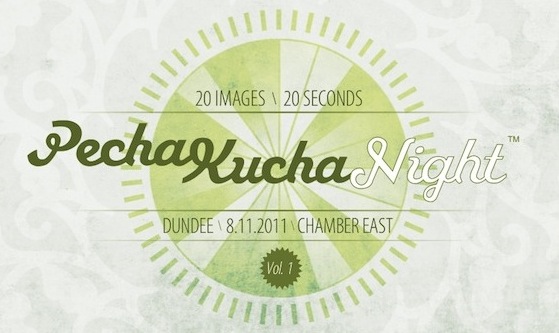 DUE TO THIS EVENT BEING SOLD OUT WITH A GROWING RESERVE LIST, IF YOU ARE NO LONGER ABLE TO ATTEND PLEASE DO UN-REGISTER! Many thanks!
Creative Dundee is excited to announce that PechaKucha is coming to Dundee, as a regular event.
PechaKucha Night was devised in Tokyo in 2003, as an event for creatives to meet, network, and hear other creatives talk about their work. Since then it's spread internationally, now running in over 440 cities across the world. The much loved format is relaxed, simple, enjoyable, with something for everyone – presenters have just 20 seconds per slide, to talk through their 20 slides.
PKN Dundee* is proud to be the latest addition to the PechaKucha network; and we're looking forward to providing you with the best selection of creative speakers from our city and beyond. You can expect a fast and fun night of drinks and chat, hearing from a mix of speakers from the worlds of architecture, photography, product design, graphic design, illustration, animation, digital, analogue, art and much much more.
Philip Long is Director of the V&A at Dundee, a groundbreaking project to establish an international centre for design on the banks of the River Tay. From 1998 until taking up his position at the V&A at Dundee, Philip was Senior Curator of the Scottish National Gallery of Modern Art. From 2008 he also led the National Galleries of Scotland's Artist Rooms project.
Rohan Gunatillake is a freelance innovation producer based in Glasgow. Rohan has a specialism in the cultural sector and is the lead producer at the Edinburgh Festivals Innovation Lab. Among his other bits and pieces, he is helping design a unique regeneration project in Glasgow, is an associate of Buddhist Geeks and has just launched buddhify, the world's first meditation app designed for modern life.
Kirsty Maguire - As a 6th generation architect; history, heritage and looking to the future come together to create Kirsty's inspiration and passion. As an eco architect, she designs low impact buildings, teaches students and professionals sustainable design at the forefront of the industry. She helps bring together materiality, local vernacular, modern design and high performance construction in Scotland and internationally, in the first and developing parts of the world.
Ross Fraser McLean - Photographer Ross Fraser McLean will condense a month spent in Northern India where he camped out with a community of Sapera caste snake charmers, against his will. He will share experiences and present photographs taken during the experience.
Louise Ritchie is Visual Artist and Fine Art Post Graduate of DJCAD exhibiting widely throughout the UK and Europe. Louise is Vice President of SSA involving projects such as the Annual Exhibition, International Cultural Exchanges such as Bridges Mosty 2011 in Slovakia and is a creative facilitator working with organisations such as Angus Council , Dundee City Council and Ginkgo Projects. Louise has also jointly formed a Peer to Peer Visual Art Network called TRIGGER.
Gary Penn is an official Game Media Legend and industry veteran of some 25 years. In that time he's enjoyed success in a diversity of roles such as writer, editor, consultant, voice actor, designer and director with a focus on magazines and games. He's been a stimulating columnist for the likes of PC Gamer and Edge, a producer for Konami and BMG and, more recently, a creative force for good on original works such as GTA, Crackdown and now Quarrel.
Hilary Grant is a textile designer, based in Dundee. She has had extensive professional experience working in textile design for fashion and in product development. Over the past year she has been developing her own product range and setting up in business. Hilary's products can now be found in design shops and independent boutiques in the UK and internationally.
Andy Milligan is an interior design researcher and Course Director of Interiors at DJCAD. He worked for Nicoll Russell Studios and for the Royal Incorporation for Architects in Scotland and in 2005 initiated the Interiors Forum Scotland. He has co-edt two books, 'Thinking Inside the Box: a Reader for Interiors in the 21st C' and of 'Interior Tools Interior Tactics: Debates in Interior Theory & Practice'. Andy is the European Coordinator for GIDE, the Group for International Design Education.
Kate Pickering is a Master of Design graduate from DJCAD. Since graduating Kate has been developing Vanilla Ink Studios, a space that will aid jewellery graduates in making the successful step into industry. Kate has worked with renowned jeweller Malcolm Appleby, telecommunications company T-Moblie and now teaches at Dundee University and DJCAD.
Dave Sapien - Originally a fine artist in ceramics and sculpture, then moving in to the digital realm with animation, progressing into web technologies then on to game development. During a relative short career in the games industry, Dave has produced and released over 30 games and apps, one of which has earned a Golden Joystick nomination. And more recently won "Best Experiential Event" at the Scottish Event Awards as part of Ingr3dients.
Stewart Waterson & Phillip Vaughan - Superman The Game - Made in Dundee... Stewart Waterson is a Director of Tiger Games in Dundee. They produce game content for mobile devices. Phillip Vaughan is a lecturer at Duncan of College of Art & Design, he is also a freelance 3D Animator.
Sink are Danil Dumnov, accordion; Tim Ghost, Violin; and Leon Soprano, saxophone. The Edinburgh-based trio draw from Balkan clssical and jazz traditions to create new and astonishing sounds. In collaboration with Tom De Majo, the artist of the PKN slides, they will hope to create a unique improvised work.
PechaKucha Night Dundee – Vol 1
When? 7-10pm – Tuesday 8th November 2011
Where? Chamber East, Panmure Street Dundee, DD1 1ED - with licensed cash bar
Entry? SOLD OUT
* PechaKucha, meaning 'chit chat' in Japanese, was devised and shared by Klein Dytham architecture. The PKN Dundee event is organised by Creative Dundee.