PechaKucha Sheffield Vol#17 - 'Put Up or Shut Up'

Thursday, 12 March 2015 from 19:30 to 23:30 (GMT)
Event Details
PechaKucha Sheffield Vol#17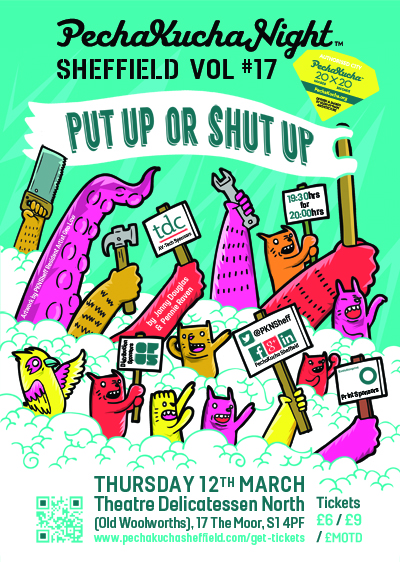 'Put Up or Shut Up'
We are some of the luckiest people who've ever lived, with the incredible fortune to exist in a fascinating, fantastical, never-before-experienced age; the four corners of the world have never been closer, at no time before have resources been more readily available or accessible, our power to find and reach people is greater than ever...and yet here we stand, on the brink of a perfect storm, lost in the torrent of injustice and contempt, clamouring for answers!
The first step in solving any problem is recognising that there is one...we all look around and know things don't feel right any more and as easy as it is to point, moan, bitch and blame, it's not actually changing anything!
Reading and sharing articles, info-graphics, stats and the latest facts is a good thing, being informed is vital, but if things are ever going to get better, then there's just one simple choice to make...
You can 'Put up' or you can 'Shut the f#@k up'!
The time has come for you to decide what really matters in your world. If we want things to be different, then you have to choose what change to instigate, when to act and who you're going to work with to make it stick. It's the only way to take back your power, start restoring some degree of fairness and give our future's a chance.
Pecha Kucha Vol#17 is drawing a line in the sand, because it's not who you are underneath, but what you do that defines you...on the 12th of March, it begins.
When & Where

Theatre Delicatessen North
(the old Woolworths),
17 The Moor
S1 4PF Sheffield
United Kingdom


Thursday, 12 March 2015 from 19:30 to 23:30 (GMT)
Add to my calendar
Organiser
Pecha Kucha Sheffield
It's like clubbing for thinkers...
…inspiration for the creative class…
...a business social that's more a night out...
...it'll get your heart skipping and your mind racing!
Four times a year we bring together the Creative, Digital and Business communities for a evening of Inspirational Talks, Challenging and Amusing Short Videos, Live Music and Unique Entertainment.
Pecha Kucha, meaning 'chit chat' in Japanese, is a global, viral phenomenon running in over 1015 cities across the world. Sheffield became the 300th PK City on the Planet in April 2010 and has run 24 events at 21 different venues to date.
The evening is based around the 20x20 format, which was first started in Japan in 2003 by the architects Astrid Klein and Mark Dytham. Each presenter uses 20 slides, set to auto advance every 20 seconds to present their subject or showcase their work.
by Jonny Douglas and Pennie Raven
PechaKucha Sheffield Vol#17 - 'Put Up or Shut Up'