Actions and Detail Panel
Peebles Hogmanay Torchlight Procession 2016
Sat 31 December 2016, 17:00 – 20:00 GMT
Description
Peebles Hogmanay Torchlight Procession 2016
After a successful first year in 2015, the Peebles Hogmanay Torchlight Procession is back again for 2016. Join hundreds of others in a beautiful procession of fire through the streets of Peebles, starting and finishing on Peebles High Street. There will also be a few food and drink stalls if you fancy a bite to eat or a warm drink. Carry a torch for charity – proceeds go to local charities. Finish the year with a new tradition!
Buy a voucher for your torch (£9) in advance online, then exchange it for the torch before the procession sets off. Torches can be collected from 3pm-6pm on Saturday 31 December, from Peebles High Street (near the Burgh Hall).
Saturday 31 December 2016, 6pm – 7:30pm approximately. The procession will depart soon after 6.30pm from Peebles High Street, and walk a route through Peebles. Assemble from 6pm (don't be late!), and torches will be lit shortly before the procession begins.
Please note:
Anyone can take part in the procession, but only those over 16 years of age can purchase a torch. Any child under 16 years old must be supervised at all times (we recommend that there's one adult supervisor per torch). We advise that children under eight years old should not carry torches, but are welcome to come along on the procession with their friends and families.
TORCHES
The torch will be similar to the one in this picture, and can only be purchased by those over 16.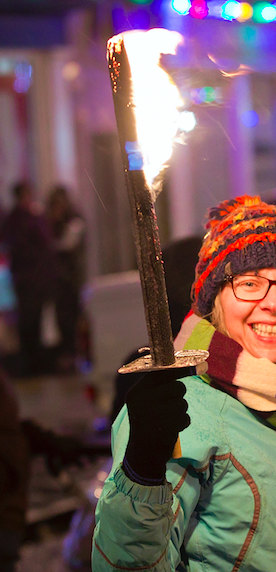 We advise that children under eight years old should not carry torches. There is an option to purchase a large glowstick torch (similar to the one in this picture) for children under eight.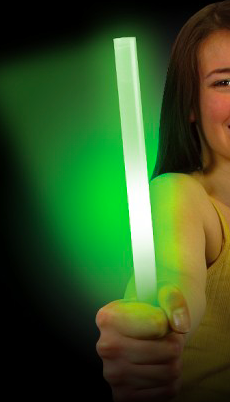 Safety warnings
- Please read all safety instructions carefully
- Torchlight Procession is an outdoor event using wax-based torches, please dress appropriately for the event and for a winter night in Scotland.
- Torchlight Procession is an incredibly safe event but we need participants to help maintain this. Please follow all safety instructions when carrying torches in this event.
- Torches are wax based (like a big candle), safety guards are supplied to protect carrier hands from dripping wax.
- Please note, when windy, wax and sparks from the torches can be blown onto clothing. Whilst easily removable (top tip – an iron and brown paper) please dress appropriately and do not carry torches if wearing delicate fabrics.
Spectators to the event are welcome but please DO NOT join the procession en-route or stand in front of the procession to take photographs.
FAQs
How do I get my torch?
Print your email confirmation/voucher and take it to the torch pick up point on Peebles High Street between 3 and 6pm on the afternoon of the event, where you'll swap it for your torch/es.
Can my seven year old carry a torch?
We recommend only children 8 or over carry torches. All children must be accompanied by a responsible adult.
Can my 12 year old buy a torch?
Only people 16 years old or over can buy torches, but it's fine for children 8 or over to carry them. Adults can buy torches for children to carry but remain responsible for those children throughout the event.
Do we need to buy one torch each to take part?
No, it's fine to share a torch between you, but as the event aims to raise money for charities we'd ask no more than four people to a torch!
Can people join in as the procession goes along?
We ask that spectators don't join in along the way. People who wish to take part should buy a torch voucher for themselves!
Is it a long walk?
No it's a short walk of around a mile through Peebles
How can I get involved?
A community event like this needs lots of helpers. Please email us at office@hillsideoutside.com if you are interested in helping out!
---
Peebles Hogmanay Torchlight Procession is supported by:
Barony Castle
BFM Properties
Holland & Sherry
MacDonald Cardrona Hotel
Renwick and Weir
Scotlight Electrical
Stobo Castle
Thomson Gray Construction Consultants