Multiple Dates
Peer case discussion - for anyone in a student-facing role in HE
Sales Have Ended
Registrations are closed
Tickets are now sold out for this session, or no longer available due to the session being able to start. If you have any queries, please email julie@plinthhouse.com
Event Information
Refund Policy
Refunds up to 30 days before event
Eventbrite's fee is nonrefundable.
Sales Have Ended
Registrations are closed
Tickets are now sold out for this session, or no longer available due to the session being able to start. If you have any queries, please email julie@plinthhouse.com
A space for you to share your experiences of managing complex cases in which a student is distressed or has complex support needs.
About this Event
We are excited to launch a new type of support for colleagues working in any student-facing role, to provide a space for you to open up about your past experiences of managing complex cases in which a student is distressed or has complex mental health support needs.
These 90-minute online sessions are designed for colleagues who are regularly working with students who are distressed or who have complex mental health support needs, but who do not have clinical training and do not work with students in a clinical capacity.
So they are perfect for a wide range of student-facing roles, such as Personal Tutors, Mentors, Disabilities Advisers, Welfare Advisers, Funding Advisers, Accommodation Wardens or Students' Union Advisers.
Our peer case discussions are something we have delivered for student-facing teams in universities for some time, but this is the first time we have set up open sessions for anyone, in any university or student-facing organisation, to join.
The sessions are restricted to no more than 12 people per session, so that everyone can contribute and share thoughts and experiences.
Whatever your role working with students, it can be tricky to know how best to support students in these tricky and complex cases. Many of you may not have regular access to group supervision, and, for some, line-management support and support from colleagues with these cases can be tricky to access, especially at the moment with remote working.
These sessions are an excellent way to ensure that you feel confident to respond to student distress and maintain effective boundaries, which are both essential if we are to avoid feeling overwhelmed and stressed in roles where we are regularly working with students with complex support needs.
As well as being an opportunity to reflect on how you have managed interactions with students in the past, these online sessions are also a great way to meet, and talk with, colleagues in different roles and organisations across the higher education sector.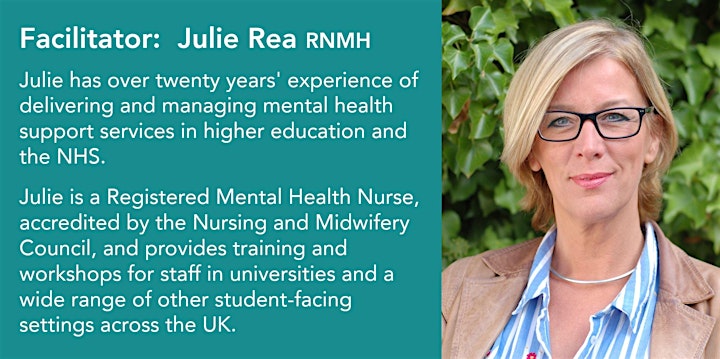 We will keep these discussions informal, and they will also be interactive. So don't expect Julie to use lots of slides or do all of the talking! We want you to share your experiences.
For each session, we ask you to think, in advance, of a complex student case you have managed in the past - perhaps a student who has presented in a way that you found challenging or left you unsure how best to respond to them.
At the start of each session, we will choose one or two of the cases to discuss (with appropriate levels of anonymity) in some depth.
These sessions are designed to help participants in three main ways
Sharing good practice and meeting colleagues from across the sector: These sessions provide a great opportunity to meet others from across the sector, to share your experience, and to learn from the experience of others.
Self-evaluation: In each session, we address how we felt, or would feel, about events and interactions when working with students, and help us consider how we might do things differently with complex cases in the future.
Retrospection: Thinking back on difficult events/ interactions with students – particularly students in distress or with complex mental health support needs.
FAQs:
Can I attend more than one session?
Yes, absolutely! You can as many sessions as you like, to have a richer learning experience. Given we will explore different student cases each time, you're welcome to attend more of these sessions, as the discussion will be different each time.
Who is the facilitator?
Julie has over twenty years' experience of delivering and managing mental health support services in higher education and the NHS. Julie was head of counselling and mental health support at Northumbria University, prior to which Julie worked in the NHS in acute admission inpatient services and as ward manager at a Regional Young People's Unit.
Julie now provides training and workshops for staff in universities and a wide range of other student-facing settings across the UK. The focus of Julie's work is on promoting mental health awareness, helping people to maintain appropriate boundaries and feel confident in responding to the distress of others.
Julie is a Registered Mental Health Nurse, accredited by the Nursing and Midwifery Council
What online platform do you use for hosting these sessions?
We use a platform called GoToMeeting, which is simple to use and very similar to other platforms, like Zoom and Teams. It works on a wide range of different devices and browsers, although we often recommend it is best to join using a laptop or desktop computer, if you can. After you purchase your ticket, you will be sent all the information you need to join the session.
Will I be sharing my webcam and microphone?
Yes, please! We want these sessions to be interactive and be as close as possible to being in a room with colleagues. So we are really keen that everyone uses their webcams and microphones to contribute to the discussion, if you are able to.
Are these sessions suitable for staff who have a specialist mental health support role in higher education?
These peer case discussion sessions are ideal for colleagues who regularly work with students with long-term mental health conditions in non-clinical specialist roles, such as disabilities advisers, specialist mentors or welfare advisers.
However, these sessions are less suited to people in clinical roles, such as counsellors or mental health nurses, who tend to benefit more from more specialist clinical supervision (which we can also provide by separate arrangement).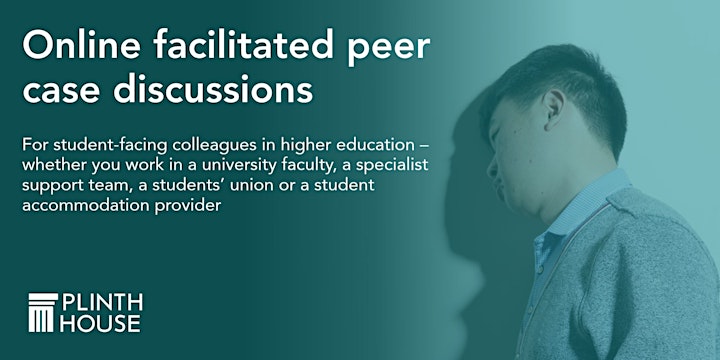 Location
Refund Policy
Refunds up to 30 days before event
Eventbrite's fee is nonrefundable.