Description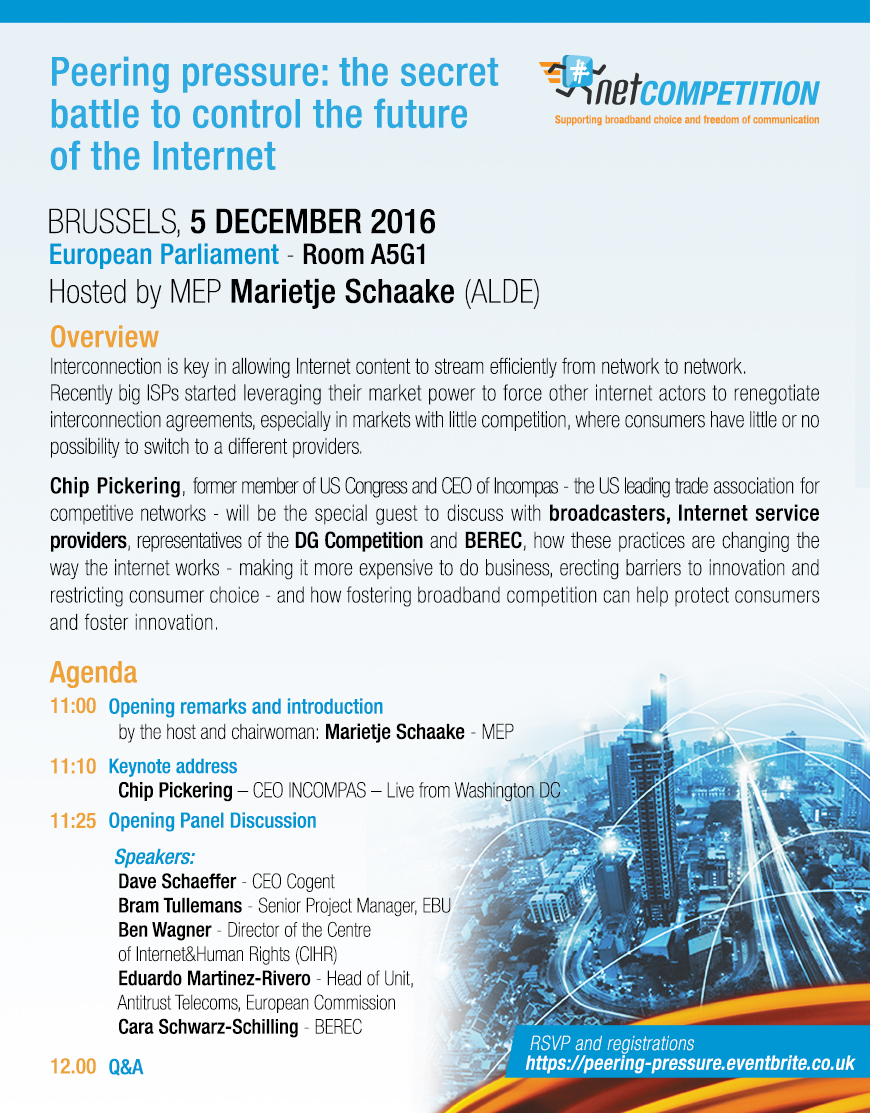 The capability of Internet content to stream efficiently from network to network – thanks to interconnection between networks - define the users' Internet experience.
In telecom markets with limited broadband competition, consumers are often experiencing degraded service, as big ISPs purposefully leverage their market power, slowing internet traffic to force other internet actors to renegotiate the agreements that underpin how the internet works. The pressure ISPs can put on their counterparts is directly related to their market power: in monopolies or duopolies, where consumers have little or no possibility to switch to a different providers, content provider and the Internet users do not have any capability to react to such practices.
Chip Pickering, former member of US Congress and CEO of Incompas - the US leading trade association for competitive networks - will be the special guest, together to discuss with member of the EU Commission, BEREC, content providers and consumers associations how these practices are fundamentally changing the way the internet works - making it more expensive to do business, erecting barriers to innovation and restricting consumer choice - and how fostering broadband competition at the gates of ISP's network can help protect consumers and ensure they can take full advantage of the innovation brought by the Internet.
FINAL PROGRAMME
11:00 - Opening remarks and introduction by the host and chairwoman: Marietje Schaake
MEP
11:10 – Keynote address by Chip Pickering
– CEO INCOMPAS – Live from Washington DC
11:25 – Opening panel discussion with:
Dave Schaeffer, CEO Cogent

Bram Tullemans, Senior Project Manager, EBU

Ben Wagner - Director of the Centre of Internet&Human Rights (CIHR)

Eduardo Martinez-Rivero - Head of Unit, Antitrust Telecoms, European Commission

Cara Schwarz-Schilling – BEREC
12:00 – Q&A