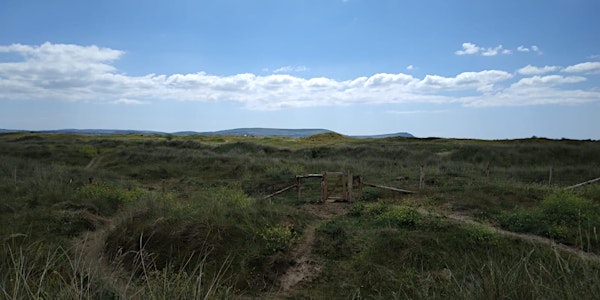 Pembrey – Site introduction, intro to sand dune ecology and citizen science
Location
Pembrey Country Park (see event for details)
Pembrey country park
Burry Port
SA16 0EJ
United Kingdom
Join the dunescapes team to learn how to monitor the health of sand dunes through the Dynamic Dunescapes App
About this event
Dwyieithog, Saesneg isod / Bilingual, English below
Ymunwch â'n Swyddog Ymgysylltu â Phobl Cymru, Hannah, am gyflwyniad safle, trosolwg o ecoleg twyni tywod a sesiwn hyfforddi sgiliau arolwg fel rhan o'r dinesydd rhaglen monitro gwyddoniaeth ym Pen-bre
Lleoliad: Parc Gwledig Pen-bre, I'w gadarnhau ar gyfer sesiwn dan do
10:00: Cyrraedd a chroeso
10:15 – 12:00: Cyflwyniad i ecoleg y twyni a sgwrs sy'n drosolwg o'r rhaglen gwyddoniaeth dinasyddion
Egwyl i ginio a teithio i'r maes parcio 8
SS 40688 99782
///date.wiggly.inversely
https://goo.gl/maps/tCsmeji7gJwPgbop6
13:00 – 16:00: Sesiwn medrau arolygu
Dewch ag esgidiau synhwyrol, dŵr, cinio/byrbrydau ac offer tywydd priodol. Lawrlwythwch a chofrestrwch i'n ap Dynamic Dunescapes cyn mynychu: https://dynamicdunescapes.co.uk/dunescapes-citizen-science-app/
Os ydych chi eisoes wedi mynychu sesiwn gyflwyno Gwyddoniaeth Dinasyddion Cymru ar-lein, gallwch ymuno un ai ar gyfer y diwrnod cyflawn neu'r sesiwn brynhawn yn unig. Os na wnaethoch chi fynychu'r sesiwn ar-lein ymunwch am y diwrnod cyfan neu cewch yr wybodaeth ar ein YouTube cyn mynychu: https://www.youtube.com/watch?v=zx0fPmyPeWE&t=1s&ab_channel=DynamicDunescapes
Mae'r hyfforddiant am ddim ac ar gyfer pawb sydd â diddordeb mewn gwirfoddoli neu sy'n dymuno dysgu mwy am ecoleg y twyni a'r project Twyni ar Symud.
Am ragor o wybodaeth cysylltwch â Hannah.Lee@plantlife.org.uk
-------------------------------------------------------------------------------------------------------
Join our Wales People Engagement Officer Hannah for a site introduction, overview of sand dune ecology and survey skills training session as part of the citizen science monitoring programme on the dunes at Pembrey coast and burrows
Location: Pembrey Country park - location of indoor session TBC
10:00: Arrival and welcome
10:15 – 12:00: Site introduction, intro to dune ecology and overview of the citizen science programme talk
Break for lunch and travel to car park 8
SS 40688 99782
///date.wiggly.inversely
https://goo.gl/maps/tCsmeji7gJwPgbop6
13:00 – 16:00: Survey skills session
Bring sensible shoes, water, lunch/snacks and appropriate weather gear. Download and sign up to our Dynamic Dunescapes app before attending: https://dynamicdunescapes.co.uk/dunescapes-citizen-science-app/
If you attended an online Wales Citizen Science Intro session previously you can join for either the whole day or just the afternoon session. If you didn't attend the online session please join for the full day or catch up on our youtube before attending: https://www.youtube.com/watch?v=zx0fPmyPeWE&t=1s&ab_channel=DynamicDunescapes
The training is free and open to anyone who is interested in volunteering or wants to find out more about dune ecology and the Dynamic Dunescapes project.
For more information please contact Hannah Hannah.Lee@plantlife.org.uk