Join us to explore the opportunities and challenges that lie at the intersection of people and mining.
About this event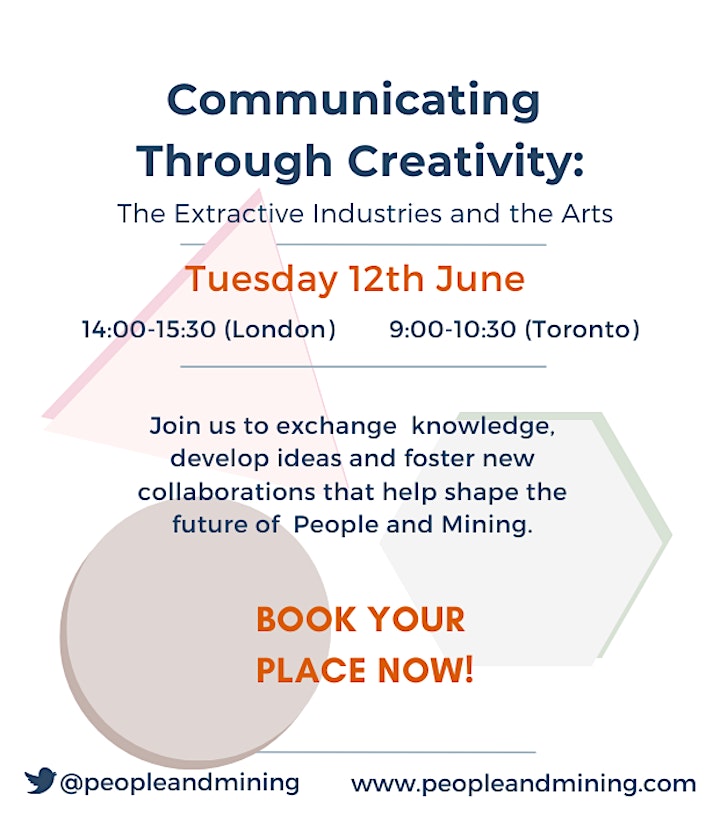 People and Mining are creating an online community and seminar series for those interested in exploring the impacts of mining on peoples' lives and wider society, both past and present.
The platform will offer a space to exchange knowledge, develop ideas and foster new collaborations. People and mining is interdisciplinary in nature, and encompasses expertise from industry, development and academia.
Our fourth online panel will revolve around the topic of Creativity for Communication, asking if, and how, the arts can be used as a tool to promote better communication between the mining industry, stakeholders, and the public.
We hope you are able to engage with us at this event and help shape the future of People and Mining.
Panellists - ANNOUNCED SOON
Schedule
14:00 – 14:05 – Welcome and Introduction
14:05 – 14:35 – Panellist Introductions and Opening Remarks
14:35 – 14:40 – Break
14:40 – 15:25 – Interactive Panel Discussion
15:25 – 15:30 – Closing Remarks and Summary
To find out more about People and Mining, please visit our website at: www.peopleandmining.com